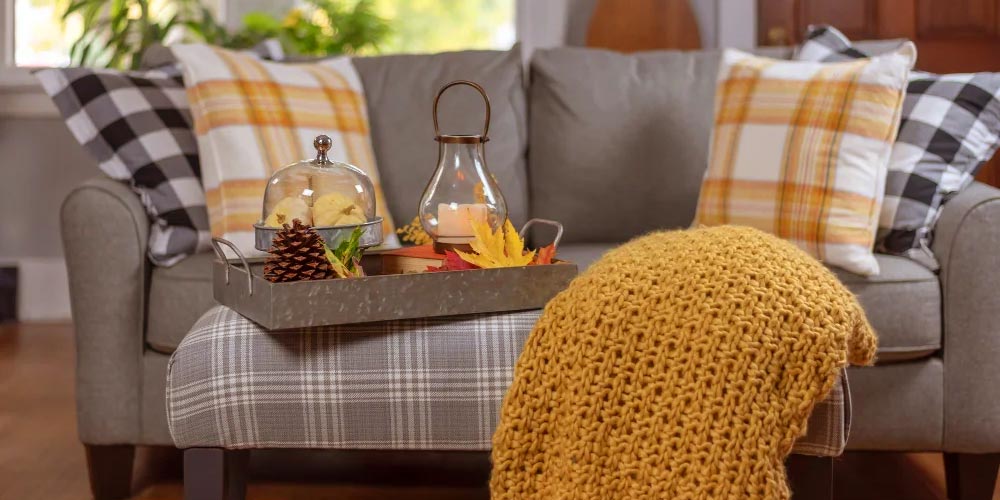 A change in seasons means a change in décor
As we wave goodbye to summer and the outdoor scenery undergoes its transformation, there's no reason why the interior of your home shouldn't reflect the same warmth and coziness. Whether you're in one of the new homes in Darlington or an old Victorian in the countryside, there are countless ways to embrace the fall season.
Here are our top tips on how to infuse the essence of autumn into your living spaces.
Autumnal colour palette
Reds, oranges, yellows, and deep greens form the quintessential colours of fall. Introduce these colours into your décor using cushions, throws, rugs, and curtains. A burnt orange cushion or a deep maroon rug can instantly evoke feelings of autumn and warmth.
Natural elements
Nothing says autumn quite like nature. Incorporate natural elements like pinecones, acorns, and branches into your interior design. Arrange them in vases or use them as centrepieces. Don't forget to add in some pumpkins and gourds, whether real or decorative!
Warm lighting
As the days get shorter and nights longer, the right lighting can make your home feel snug and cozy. Opt for warmer bulbs and add more table or floor lamps to corners. Candlelight, especially those with autumnal scents like pumpkin spice or apple cinnamon, can also set the perfect mood.
Layered textures
Autumn is all about warmth and comfort. Achieve this by layering textures. Think plush throw blankets, chunky knit cushions, and soft woollen rugs. Mixing and matching textures adds depth and a tactile quality to your space.
Rustic wood
Wood has a timeless appeal, and its rustic nature is perfectly in line with the autumn vibe. Wooden furniture, whether it's a reclaimed wood coffee table or a vintage wooden chest, can make a room feel grounded. Additionally, wooden accents, such as frames or decorative items, can give a nod to the great outdoors.
Artwork and wall decor
Switching out summer prints for artwork that embodies the spirit of fall can make a significant impact. Consider pieces that feature autumn landscapes, golden forests, or even abstracts in fall colours. Wall decals in leaf shapes or seasonal quotes can also be a temporary and fun addition.
Dried floral arrangements
While summer is about fresh flowers, autumn leans into the beauty of decay. Dried floral arrangements, like eucalyptus, wheat, or lavender, can add an elegant touch. Pair them with dried fruits like oranges for an extra pop of colour and a subtle, natural fragrance.
Seasonal bedding
Our bedrooms are sanctuaries, and changing the bedding to reflect the season can elevate the comfort factor. Opt for deeper coloured duvets, flannel sheets, or even quilts with autumn patterns. Throw in some velvet or faux fur pillows for an added touch of luxury.
Aromatherapy and fragrance
The scents of autumn can be as defining as its visuals. Diffuse essential oils like cinnamon, clove, and orange to fill your home with fall's signature aromas. Scented sachets with dried herbs in closets or drawers also ensure every corner of your home has a hint of autumn.
Revamp your fireplace
If you have a fireplace, autumn is its time to shine. If not in use, decorate the mantle with autumnal decorations – think dried leaves, candles, and garlands. If you do light it up, the warm glow combined with a cup of hot cocoa is the epitome of fall comfort.
Embracing the change of seasons in your interior design can be an invigorating experience. It not only revives your living space but also aligns your home with nature's rhythms.