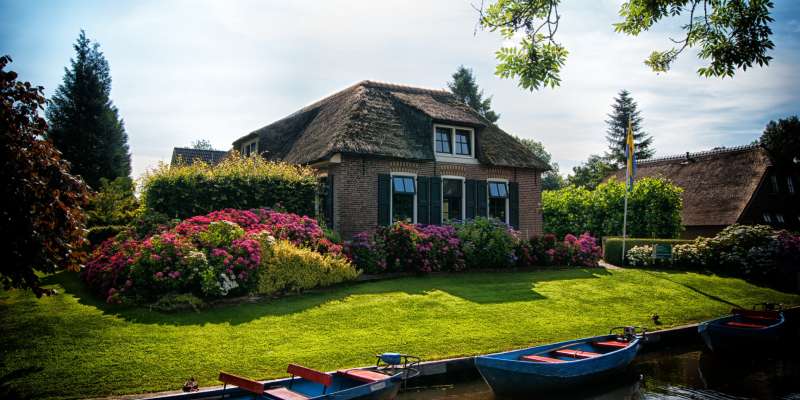 Making the landscape around your house more attractive is one of the most effective ways to increase your home value. Landscaping around your home is easy with a few helpful tools and planning. While some homeowners just hire a landscaping contractor for their yard, others take on the task themselves. If you belong to the second category, here are a few tips you can use when considering a DIY landscaping project.
1. Decide on Your Budget
While selling a house, the area around it and its exterior are the first things your potential buyer will notice, and the first impression plays a great role in getting a good deal. But how much should you invest into the curb appeal of your house? I asked this question to my friend Kristina Morales, who is an experienced Realtor from Orange County, California, and here is what she answered:
"If you are not limited in your finances and want to get the maximum return on investment, I generally suggest spending 7-10% from your current property worth on landscaping upgrades. At the same time, the numbers highly depend on the situation. It's still wise to save money where you can. If your property needs just a little boost, removing weeds and planting a few shrubs yourself may be a better idea than hiring a professional contractor to do the same job. Better spend the same amount of money for other important upgrades".
If you are determined to sell your house, learn from Kristina's post which other upgrades you can make to get the best offer for your property.
2. Where to Plant Your Garden
There may be a few places around your home you might consider for planting a garden. Some people will plant flower gardens or create elaborate outdoor patios. Others install decks or plant different varieties of trees.
Popular types of landscaping projects include:
Patios or decks – these create an open space for entertainment in your yard.
Sidewalks – whether constructed in the backyard or the front yard, sidewalks add curb appeal and different styles to your home.
Arches and arbors – if you have an area of wooded property, consider constructing an archway or arbor. This will add ambiance to your gardens.
3. Planning and Measuring
Once you decide on your landscaping project, you will need to plan the details. Start by measuring the areas. When planting trees or bushes, you need to leave enough room for walkways. A good rule is to leave a width of at least 3 feet.
Stairs should be left clear so that you can walk comfortably. The same goes with other walkways. Carefully survey the area you will landscape and look for areas you need to avoid.
4. Pick The Right Tools For The Job
Landscaping tools make the job easier and save you time and energy. The following tools can help you complete most of the types of landscaping projects faster and with better results:
Chainsaw – This is a mechanical tool everyone is familiar with. But not everyone knows that it can be powered not only by gasoline, but also by There are many types of chainsaws on the market. Electric chainsaws can be corded or cordless (battery-powered). There are chainsaws on a pole that are designed to make reaching higher or distant tree branches easier. There are even concrete cutting models.
Stump grinding machine – This is also a powerful cutter designed to remove tree stumps. It has a disc with teeth that rotates and chips away the wood. These machines come in different forms and sizes. For landscaping, it's usually fine to use a portable machine of a smaller size.
Wood chipper – This machine grinds wood into smaller pieces. It is a great tool if you need to use mulch for your project. These machines come in different sizes so you can maneuver around your yard. Most of the time, a small portable wood chipper will do the trick.
To prevent accidents, you need to follow safety measures described in the buyer's guides to any power tool or machine. The basic ones are wearing safety glasses and gloves, and maintaining your tool in a timely manner.
Here is a helpful resource with a collection of comprehensive, informative buyers' guides to various kinds of power tools you can use for landscaping, including the aforementioned ones.
5. Plan For Plumbing and Electricity
Depending on how extensive your project is, you need to plan for plumbing and electrical installations. When digging your garden, think about laying the piping or wiring ahead of time. Even if you aren't planning to install them now, it will save you some time and energy in the future.
Plumbing and electric installations will be difficult later on if you have to dig through the pavement or garden you created. Find all of your wiring before you begin the project and then carefully mark the area. This way you will not end up covering over important wires and pipes you will need access to later.
Conclusion
Use these landscape tips to put together a beautiful yard your buyer will be happy to pay extra for. Additionally, here are a few more tips on exterior improvements that add value to your home, from the professionals of the Houston subdivision of the second-largest real estate company in the USA Keller Williams Realty.