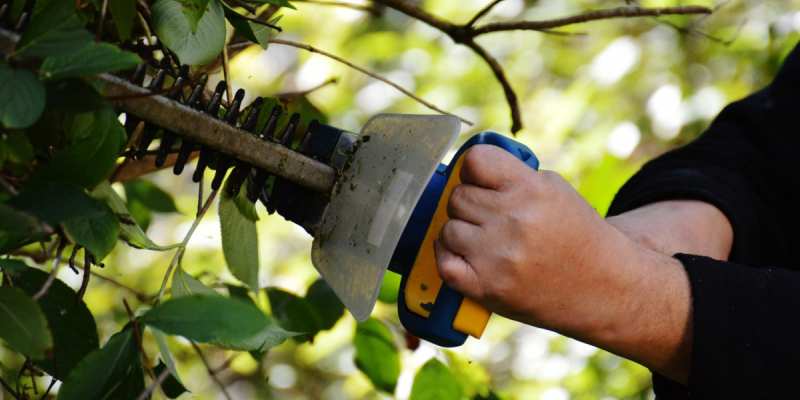 Gardening can be hard at times but can also be enjoyed with the right tools for the preparation of your garden, which tend to make work easier.
Spring and Summer are the best time for land preparation for the onset of rains and with the following tools work is sure to be done with ease.
So let's take a look at some of the most essential gardening tools you need on hand to make your life easier and your gardening time more productive.
Pruning Shears
Suitable for pruning of plants which over grow. They are best for dead tree branches which can cause damage to fresh green branches and stems. This is because they fit easily in the palm of your hand.
If you have a range of planters around your garden, it's easy to maintain them with a good pair of pruning shears. Trimming off dead leaves, stems and flower heads.
They also increase cutting strength which makes them suitable for persons with arthritis. For full effectiveness of the shears, they should be sharpened regularly and before use. Note that bushes which bloom during summer should not be pruned until they bloom.
Garden Fork
This is an essential tool for turning the soil and can dig better into denser soils compared to a spade. Those with slight curves to the spine are essential for scooping mulch or even turning compost piles.
This tool helps to expose productive soil to the surface which increases the percentage of productivity of your garden.
Hedge Trimmers
It is always good to keep your bushes in shape. Hedge trimming needs to be kept on top of regularly to make sure that they're looking trim and proper all year round.
If bushes grow too fast they will become long and leggy and this will require hedging during summer. There are however suitable hedge trimmers according to users' tastes, preferences and health issues. A few of these include;
Electric hedge trimmers (corded) –they are best suited for smaller jobs where a power source is readily available. However, you are restricted by the cord length. Electric hedge trimmers are advantageous since they offer low maintenance costs and are very light. This prevents strain on the shoulders and does not cause pain in the arms. It is best to use electric hedge trimmers since they finish the job faster compared to doing it manually.
Cordless electric hedge trimmers – these are perfect for smaller gardens and fewer hedges. They are portable, require battery recharging and are less noisy. However, they are not as powerful as the corded hedge trimmers therefore making them not suitable for heavy duty tasks. The market for this type of hedge trimmer is growing year on year, especially as the technology continues to improve. You can find a whole range of cordless hedge trimmer reviews online if you have a search. Check out as many reviews as possible to compare.
Petrol Hedge trimmers – they are the best when it comes to heavy duty jobs as they are ideal for larger properties that require a lot of heavy duty trimming. They are however more expensive than other hedge trimmers because they cut and trim faster and can also be used in damp weather. It is important to note that petrol hedge trimmers are heavy and noisy and so can cause shoulder strains and arm aches.
Other Facts to consider
Although corded electric hedge trimmers are undoubtedly more powerful, the cords can entangle themselves and so one has to be mindful about straying too far from the source of electricity/power.
Cordless battery powered hedge trimmers continue to function on maximum power until the battery runs out. Since they have to be recharged, it is always a good idea to purchase back up battery packs.
With a gas/petrol powered hedge trimmer, there could be overheating of the engine so one has to be careful when using the unit at very high temperatures
Lawn Mowers
Cut the grass initially using a strimmer close to a length that can easily be mowed. Water it and leave it for a few days then cut it conventionally with a lawn mower and scarify the whole lawn to remove weeds.
It is important to apply suitable fertilisers so that over time the lawn will be healthy, attractive and free from moss and weeds. This will be a valuable feature in your garden.
Transforming a garden takes patience and time but it's also important to decide on the best lawn mower to use based on the preference of the user.
Corded electric lawn mower –it provides endless run time and has an available power source though one is restricted by the length of the cord.
Cordless electric lawn mower – these can mow for a considerable amount of time on a full battery charge. They can be used in all ranges of the garden since they are cordless.
Petrol lawn mowers – they tend to win out for larger gardens because of their power and effectiveness. Just like petrol hedge trimmers the petrol lawn mowers get the job done since they often feature powerful motors with leading torque figures and cutting widths. However, for the more environmentally conscientious person and those with smaller gardens, a cordless electric one is the way to go.
Strimmers
Also known as grass trimmers are essential in getting rid of weeds and overgrown grass around your garden, especially around the edges. When complemented by a high quality edging system, it will really make your garden stand out.
This makes your garden neat and fertile as a result of organic manure from the decayed dead grass. They are especially suitable for a small backyard garden where getting rid of patio weed and keeping it neat is a necessity. There are many types of strimmers which include;
Electric corded strimmers–like any other corded garden tool, electric corded garden strimmers require a readily available power source and the owner is restricted by the length of the cord so they are mainly suitable for middle-sized gardens.
Gas Strimmer – require fuel to operate and this may be oil, gasoline or even both. They are environmental friendly until they start leaking. They are more expensive but worth it since they are more powerful.
Cordless strimmers–they are not as heavy as the petrol operated grass trimmers, and are also portable and suitable for large gardens.
Final word
Reinvigorating your garden can be so easy once you get hold of these essential tools, which gets the job done without a doubt. Gardens make the surrounding of our home attractive and may also be a source of subsistence food as well as bring a sense of privacy.
If you're looking for additional items to put in your garden, such as swings or dining sets, you can easily check out the full range here on our site.