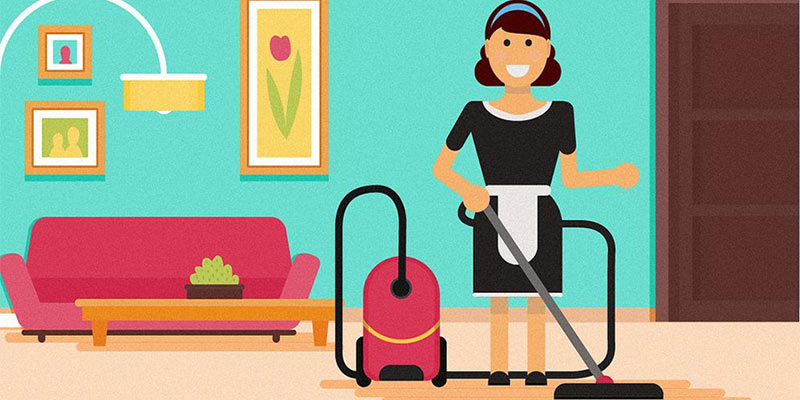 A homeowner's decision to hire a housekeeper doesn't mean laziness. Hiring a housekeeper for your home maintenance is one way to manage your time as a homeowner, worker or a parent.
Hiring someone that would help you to have a more convenient and easier life, is a huge privilege. It's also a painless way for balancing your work and for your home maintenance. To convince you more, read and comprehend these following primary reasons why you should hire a housekeeper.
You're Struggling from a Busy Family Life
When you spend most of your time in cleaning and doing other household chores, it's hard to create a time for your family outings and date nights. If your work schedule is overflowing most of the time, keeping the house clean becomes unmanageable. It may take a toll on your health as well as your relationship with your family.
Housework is one of the main issues in a family that sometimes create conflicts. Hence, hiring a housekeeper not just lessen your burden but it can also lower your stress and keep your relationship with your family intact. Because of its benefits, we can conclude that a housekeeper is a valuable time-management tool that everyone should consider.
You can Help People Getting a Job
Due to an increasing population nowadays, many individuals are struggling from seeking a job. Hiring a housekeeper will eventually create an opportunity for those job seekers.
Considering your situation, to have one is a good opportunity for them. They will work for your family while also helping her own family through salaries that you've offered.
Their Quality of Work is Reasonable
Most housekeepers can clean your house like a professional house cleaner. They possess essential knowledge and skills to keep your house clean and organized. Therefore, you can have a home ambiance that could be appealing and welcoming to your visitors.
You can Create Time for the Things you Love
Sometimes, the last thing on your mind is to clean your house after working in regular hours or just during weekends. Meaning, you can't have free existing time to do your hobbies. But, who can spend their time to do more works after doing work-related activities?
Having a housekeeper will let you have time to do the things you love. It's not necessary to hire a daily housekeeper. Having someone that will clean up your house once or twice a week or even twice a month is a great help as you can have free time for your hobbies.
You're Lousy at Cleaning
We can't deny the fact that not everyone likes to clean. Maybe they're just lazy or they are not good at it. Some people refrain themselves from cleaning. They will only let their belongings mess up until it becomes too much to handle.
Thus, hiring a housekeeper will help you maintain the orderliness and cleanliness of your house. Rest assured that they will make things clean and organize.
For your Elderly or New Baby Benefits
A housekeeper provides excellent help if you're aging parents are currently living with you. Same with if you have a new baby in the family.
A housekeeping service makes sure that the things inside your home are organized, so you can avoid potential hazards and illnesses that could be harmful to them as well to the well-being of your whole family.
Takeaway
Overall, investing in a housekeeping service is a worthwhile decision. You can find plenty of housekeepers, but be sure to hire a skilled and hardworking one. He or she should be trustworthy as well as they could be your home partner.