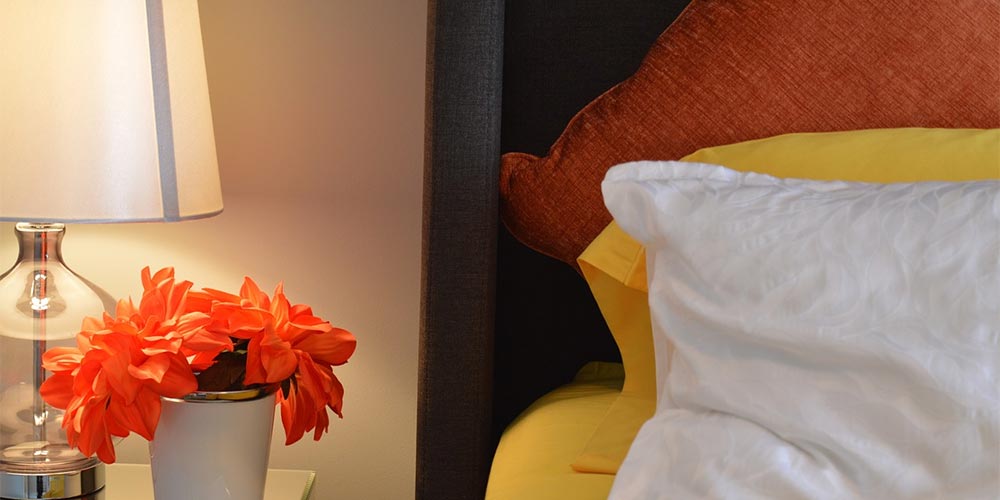 In the bedroom should bedside lamps not lacking. On the one hand, they fulfill functional aspects, but on the other hand they are also a supporting pillar for lighting moods that focus on relaxation and tranquility. Table lamps that are placed on the bedside table provide primarily glare-free light and can also be individually adjusted depending on the design.
Which lamp for the bedside table do you love? Choose from impressive designer lamps, from a simple reading lamp with a metal look to table lamps with flexible lamp arms and bedside lamps , which, thanks to their innovative design, are becoming art objects in the bedroom.
What should the bedside lamp be able to do?
While bookworms want bright, directional reading light for their bedtime reading, others like it cozy and swear by warm, subdued light in the bedroom. One has enough space next to the bed for an elegant designer lamp, the other is happy about a small, compact lamp that leaves a lot of space on the bedside table . The third person may not have a bedside table at all, but still doesn't want to do without a nice light source next to the bed. The good thing: there is the right type of luminaire for everyone.
The original designer table lamps in modern styles are often a combination of metal, wood and glass. The crazy Flos bedside lamp by Philippe Starck looks dramatic and would especially please people with extravagant taste. The interesting table lamp called "Balanced Stone Lamp" by Vivaterra was inspired by natural shapes. "Driftwood lamps" designs from Marza Shop are simple and beautiful.
The bedside lamp, one more decorative object
Headboard lighting is no longer done with the classic old-fashioned rustic fabric lampshade. The bedside lamp has become an accessory that enhances our room or that of our children. The arrival of new materials and LED lighting have transformed bedside lamps into design objects that convey modernity . We can even find lamps that can be controlled from our smartphone .
How do bedside lamps help us?
Often times when we have to get up at night, finding the main light switch that may be on the other side of the room can be difficult. In addition, in the dark, our pupils are dilated to compensate for the lack of light and turning it on can be violent and annoying for our eyes or those of those who live in the same room.
The bedside lamp is a much more subtle light that helps us complement the general lighting of the room , allowing us to lightly illuminate an area at night. It is advisable to use a warm light for a bedside lamp to avoid being annoying when turned on. Take some time to gently adjust your eyesight when lighting a lamp.
The bedside lamp is also essential for children , for them it is a reassuring element , knowing that at any time they can turn on the light without getting out of bed. It is also very practical for parents when they want to go in to see their child, not having to illuminate the entire room, generating less discomfort.