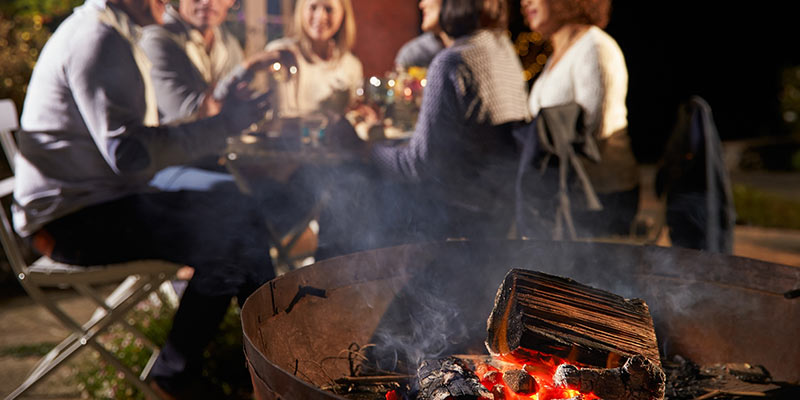 As winter kicks in and days start cooling down, you might start thinking that it is time to pack up and close your patio. However, with just a few changes you will be able to transform your outdoor area into a space you can enjoy regardless of season. Here are 5 amazing ways to warm up your outdoor space this winter.
1. Throws and Pillows for Cozying up
Encourage guests to warm themselves up along with their seats cozily using a fluffy cushion or a warm blanket. Place a basket filled with throws and pillows within close proximity so that your guests can easily grab an item once they start feeling cold.
2. Bringing Your Indoor Furniture Outside
Indoor furniture not only looks great but also feels much warmer and comfortable than traditional plastic or metal outdoor furniture. Bring out an upholstered chair or a comfy couch to add a warming touch to your outdoors instantly. If the patio can be closed up or covered, you can keep furniture permanently in the outdoors area without the risk of exposure to destructive elements such as the wind, sun, and rain.
3. Lighting Up Your Fireplace
Fire produces heat and is quite effective at heating up the area as well as people around. It is also a lovely focal point in any outdoor area that creates an intimate and cozy atmosphere instantly once you light it up. If your plan is no to install a permanent fireplace, you should consider making use of a portable and decorative wood or gas fuelled fire pit that can be covered to contain the flames as well as ashes. If you're looking for something interesting check out these in wall fireplace ideas.
4. Installation of Outdoor Heating
If you would like to take the heating up of your outdoor space a notch higher, you can install an outdoor heater. Patio heaters are available on the market that range from electric to gas, and from large to small. The best choice of heater is one that's sturdy, safe, and manufactured specifically for outdoor use.
5. Blocking the Breeze
The roof might be doing a good job of keeping rain away from your outdoor space, but you also need to block out the cold wind to keep your guests warm. When they are closed, products such as aluminum outdoor shutters and patio blinds create a formidable barrier against the cold and wind and can help to regulate the temperature of your outdoor area by retaining the warmth within.