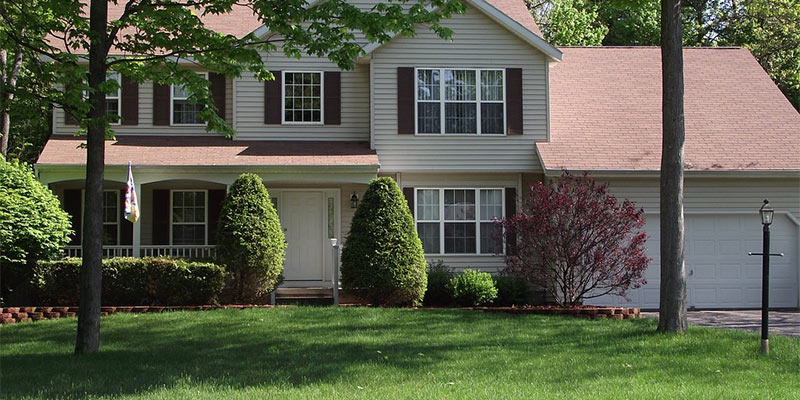 Improving your outdoor space is a certain way to add value to your property. Many people living in town's and cities dream of having a versatile outdoor space to utilise in their leisure time. For many people that are living in smaller properties it increases and improves the living space for minimal outlay.
It also increases the attractiveness of your own home by adding instant kerb-value. If you are looking to sell, then getting the outside looking as good as the inside really does impress potential purchasers.
So, top tips for rapid improvements with minimum effort and outlay:
1. Put up a shed
Outdoor storage doesn't just give you somewhere to put your outdoor stuff and bar-b-q, it can also help you clear away bicycles or tools, do-it-yourself leftovers – get them out of the house and into a shed in the garden.
These can be bought in many sizes, and there is often a corner or under-utilised area where a shed will not detract from the impression of size in the garden. There are a number of finishes, you can stain them in just about any colour, so they can be a statement piece if you want.
If you truly don't have anything to put into the shed then at least it will become a spare room for the house, obviously depending on your climate – but any additional space gives additional choice for the incoming tenant.
2. Put in a Patio
Hard landscaping can add a lot to a garden – not to mention reduce the amount of maintenance necessary. It can give you an outdoor entertaining area, or a place to stand a sandpit for children, a table for eating outside. At the very least putting in a paving walkway will ensure that no mud or sand is tracked into the house.
3. Install Decking
If you have a raised house, or a difficult area, then decking is a good alternative to paving. You can have a really versatile raised (or not) space in the garden which requires minimum maintenance, and really does increase the opportunity to utilise your outdoor space.
4. Walls/Fencing and Gates
Take a good look around your boundary. Increasingly security is a concern for people, and privacy is valued.
If your property has insecure fencing, or damaged walls, no lockable gate, have a think about how you could improve that situation.
Purchasers like to have the security of a boundary, automatic gates are proving very attractive to purchasers for both the convenience and the security aspects. This could be a very good investment.
5. Make it Low Maintenance
Whilst we all now are taking more time to use the outdoor space of properties, very few of us have the time to invest in the maintenance of a difficult garden. Take a good look at see what you can do to reduce the maintenance whilst giving a really good finish to the area.
Adding plants in pots is a fantastic way to bring colour into the area without having to cultivate areas – teamed with a hardstanding patio area can be a very attractive way of creating an outdoor 'room'.
If you don't have the time, or budget, to undertake the above you can still make improvements just by taking a good, frank look at your outdoor areas. When considering how your garden can boost your home's value consider how to tidy the space, make it looked groomed and cared for – and attractive to a viewer. If you have areas of lawn that are patchy then sprinkle some grass seed, water the lawn to create a lush look, keep hedging and grass cut back.
If you can stage an outdoor area to showcase how you can use the space all the better, remember that you are selling a lifestyle alongside a property.