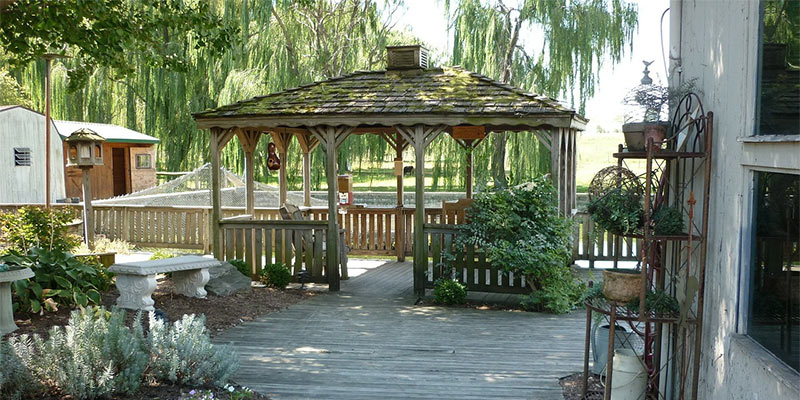 "There's no place like Home!". Yes, indeed! Our home is considered to be the best place anywhere in the world. It is where we feel safe and secure because it shelters us by all means. It is also a place where we share moments with our loved ones.
That said, everyone makes their best in creating and building an excellent home. Many households would spend time creating and planning the best home designs they can incorporate both interior and exterior.
According to foxnews.com, a home adds a great value when there's a patio aside from incredible cooking stations and lounging areas. In this article, we'd like to showcase to you the importance of building and incorporating patio designs to your dream houses to make your home more appealing and inspiring.
Multi-Level Backyard Waterfall
Nothing is more refreshing than having a multi-level patio added with some splashes of a waterfall. Having a backyard waterfall in your patio creates a wonderfully peaceful scene which brings relaxation to your visitors and family members.
Moreover, these multi-level patios with a backyard waterfall only counterparts a low-maintenance but create a high appeal to everyone. Bring nature closer to your home adds a little extra of freshness to your desired space. Pergola Poolside Patio
A pergola is known to be an outside structure which consists of roofing grid supported by wood columns and beams. It is often a great choice of every household when having a patio space because it creates a wonderful aesthetic patio design.
Also, once you incorporate a pergola near a poolside patio, it offers plenty of space for relaxation. You may also add a little dining beside a pergola which may look functional and romantic for lunch date and dinners.
Pergola Kitchen Patio
If you are someone who's inspired by a home cook, ditching a pergola kitchen patio design entails a great choice for you. You will enjoy cooking your favorite dishes when the weather's fine and you'll get to love cooking because you're also inhaling fresh air.
Additionally, it is also an incredible patio design for food lovers who want a sumptuous lunch or dinner with the presence of nature. Enjoying a delicious food together with the calmness of nature satisfies your taste buds at no cost.
Asian-Inspired Patio
Asia is known to be a home of rich cultural designs and inspirations. If you are someone who wants an irresistible Asian patio setup, then these Asian inspired patios must be an excellent choice.
An Asian-inspired patio setup is the only patio space that allows you to throw up outdoor parties. With this kind of patio design, you have the ability to cater to big dinners and lunches in the open air at the same time enjoying the company of your invited crowd.
Lastly, you can have an Asian patio in your home by drawing designs inspired by the rich culture of Asian countries like Thailand, Japan, and China.
Paver Patio
If you would like to inject a budget, space, color and architectural style when working a patio space, then having a paver patio entails a great choice. The availability of materials for this kind of patio costs inexpensive and found in any given market.
Furthermore, a paver patio is often inspired by bricks and stones available in your area. The stones used are normally cobblestones, veneer stones, and flagstones. When these stones are landscaped and work beautifully, it creates a wonderful patio masterpiece.
Sun-soaked Patio
A sun-soaked patio is a type of patio space that suits people who want to enjoy the luxury of tanned skin. If you would like to entice yourself and wanted to have a full relaxation under the heat of the sun, then this patio is an excellent choice for you.
Also, this patios is attainable when constructed with a whitewashed stone. It allows your visitors and family members to escape from a tiring day and experiencing an awesome exotic patio style right behind your backyard.
Grilling Station Patio
For someone who wants a full relaxation and reality escape during weekends, a grilling patio station must be a perfect fit. Having a portable grilling island station installed in your backyard gives you access to enjoy the full beauty of relaxation.
Besides, you may also invite your friends to your home and enjoy each other's company by merely grilling your favorite marinated meats and toasting a wine overcoming an extensive week of work pressures and stress.
Takeaway
So, what's great about having an incredible patio space? Aside from the fact that it increases the value of your home, it transcends an extension of having a functional living and recreational area of your place.
With that said, incorporating the patio designs laid out above will help you build a functional and interesting home. It will also add life to your house that instead of having a plain backyard, your place has a lot of value to offer by adding a practical patio space.
Lastly, you may also find additional patio designs and suggestions by looking up the net or seeking help from experts such as concrete contractors of killeen which will guide you in attaining a functional, low-cost, and presentable patio spaces.