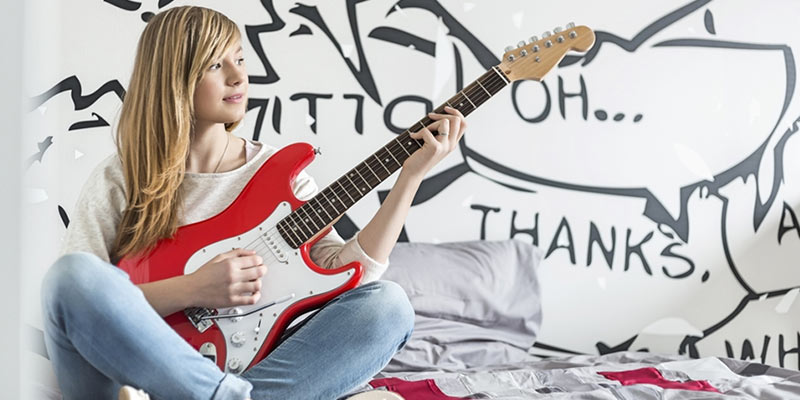 Are you getting ready to update your teenager's bedroom? We share a few ideas to suit any taste or budget.
One thing about our cute little kids is that they grow up, and become teenagers. This means that you will eventually need to remodel their room since race car beds and pink unicorns probably aren't going to appeal to their "sophisticated" teen sensibilities. Whether you live in downtown Delray or high atop the Rockies, when it comes to teens, it's all about personalization. The new look should be something that suits the young adult they've become.
There are several good ideas on how to do this, depending on what your teenager is into and your budget. Not every project has to be on the rip everything out and rebuild scale of things. Many ideas can be done over the course of a weekend, and without having to dip into your home's equity. Having your teen do some of the work can do wonders for you and your child's relationship. Not only will it be a bonding experience, helping with the project will teach them useful life skills and it will give them a sense of value to their room because they helped build it.
One colour bedrooms
One trend your teenager might be interested in is having everything one colour, or as close to it as possible. This includes the walls, ceilings, literally everything. New comforters and sheets can be bought to keep the colour specific theme going. Depending on how much you want to spend, new furniture might be in order, or you can paint or refinish the old furniture.
Repurpose the attic or basement
As our children grow into adulthood, they will need their space. And considering how common it is for children to live with their parents well into their 20s, a little extra autonomy can be good for both your sanities. What better way to give it to them than to remodel an attic or basement? You can keep it simple, or make it as trendy as a condo in downtown Delray. A project like this can be costly, but having a new room or finished basement will add far more value to your home.
Make it multi-purpose
Teenagers are always busy, and their lives are becoming more involved as they take on more of life's responsibilities. Their room should reflect this. Make it a place where they can study, chill out with friends and play games, and get away from the pressures of school for a little while.
Their Hobby-Their Life
Some of us hit the big four-O' and are still trying to figure out what we want to do in life. A lucky few have known the answer to this since they were a kid. If your teen is one of these blessed souls, make their room fit their passion. It could be music, art, science, or anything. Depending on what their passion is, other additions to the room could be made ranging from making it a mini-recording studio to a small sink to wash paint brushes.
De-kidify it
Changing a teen's room to fit them better doesn't have to be a massive undertaking. Sometimes all it takes is a few pieces of new furniture, some accents, and new posters. They don't want much; just for their room not to look like their little brother or sister's.
Add storage
The longer we live, the more stuff we accumulate, and teenagers are no different. Whether it's a teenager on the road to becoming a fashionista or a gamer who is building their library, they will need a place to put their stuff. Remodel around this idea by incorporating things like drawers under the bed, Space saving closet shelves, and maybe even overhead bins.
University
Teens might have a reputation for being lazy and only looking for a fun time. They aren't all like that, though, and more than a few have kept an eye on their futures for years – including what college they want into. Decorating their room along the lines of their dream school's theme is a way to not only make them happy but also keep them motivated during those tough times all teenagers go through. Of course, if they can't get into their university of choice, it probably means you'll have to remodel the room again.
Go team!
You are never too young to be a sports fan or to support your favourite team. Painting a bedroom in team colours along with a few pillows, posters, and bedding with team logos can complete the look. There are also sports team oriented lamps and throw rugs to kick it up a notch. The same goes for framing memorabilia like pennants, autographed balls, and helmets, or ticket stub from when you guys went to the games. Depending on how elaborate you or your teen want to go, neon lights and signs can make every day feel like game day.
Lighting
No matter what you and your teen decide to do with their room, one thing to remember is to give it a great light. The right lights can add the perfect accent to any room. This could be as simple as replacing the existing fixtures with new, environmentally friendly and energy efficient LED lights to adding recessed or track lighting and wall mounted lamps. Don't forget to add some lamps with bulbs that fall on the reddish end of the colour spectrum – not literal red lights, though. Lights on this part of the spectrum make our brains produce melatonin, which helps in sleep. Blue light, like that from electronics and many fluorescent and LED lights, makes our brains produce serotonin which helps keep us awake.
Nature inspired
Today's youth are often deeply involved in bringing about positive change in the world and engaging in causes. One primary purpose is protecting the environment. This can be worked into remodelling their room in two ways. First is to make a room look more natural. Earth tones and living greens can make a bedroom feel like a forest. Second, use only paints and decorations that are made from recycled or earth friendly materials. Teach them to not only talk the talk but walk the walk.
A minimalist approach
Less is more, at least to some people. Remodelling a room with a simple, almost utilitarian but aesthetically pleasing motif can still leave a teenager with a "neat" room they will enjoy. Now to wait and see if it can survive the storm of clutter most teenagers can create out of thin air.
More windows
Adolescents and sleeping late go together like chocolate and peanut butter, but that doesn't mean their room needs to be a dimly lit dungeon. Not only can adding more or larger windows make a room beautiful, but the mental health benefits of exposure to natural light are also well documented. Granted, adding windows or making them bigger will usually mean having to hire a contractor, so budget for not only the job itself but also for any surprises that pop up in the middle of it.
Geek out
These days, it's completely and totally acceptable to let your geek flag fly. Why not let your teen use their room to hoist that flag to the top of Everest? The sky is the limit here, and it can be as simple or elaborate as you want it to be. Superhero or gaming themed decorations and throws can be added the same way as theming a room up with a sports team or university, or you can get creative. If your teen is big into Fantasy or Dungeons & Dragons, using a thin layer of joint compound on a wall and etching a few lines in it to make it look like a castle wall is a relatively simple matter.