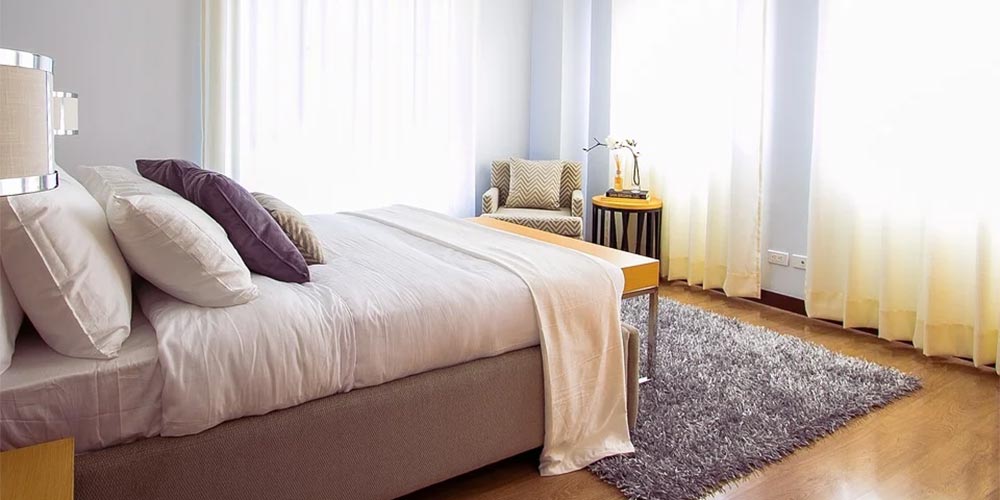 Choosing the décor to use for your bedroom can be tricky work, especially if you don't have any previous experience with designing interiors.
However, that does not mean you can't get there and design your own bedroom without any help from a professional.
If you are looking to re-design your bedroom and you want to go modern and make your room look like those you have seen in Hollywood movies, here are a few tips you can follow that will give you the wanted results.
More Natural Light is Always Better
There is no source of light that can replace the natural light that comes from having a lot of windows and not a lot standing in the way.
Big windows facing the sunny side will give you just that, providing you with lots of sunshine in those summer and spring mornings, which will allow you to wake up fresh and enjoy the coming day.
Of course, you should still make sure to have some kind of light-canceling mechanism, but modern blinds or curtains can do the job just fine when needed, without obstructing the light on most days.
Modern Designs are Usually Simple
The minimalist approach to home design may not be everyone's cup of tea, but if you want your bedroom to have a modern feel, you will probably want to minimize the amount of clutter and decorations you have in there.
From your bed frame to the carpets, night stand, and decorations, using modern and simple designs and colors will make the room look stylish and in line with what you are trying to achieve.
If, on the other hand, you like a little bit of clutter, you will want to make sure that all the elements you do bring in go well with one another, which may prove quite difficult to achieve at times.
Open Plan Suite Ideas
One of the ways modern interior designers have been achieving perfection with bedroom designs is by removing the walls between the bedrooms and adjacent bathrooms altogether, or partially.
By removing the wall or at least the door into the bathroom, you will create more space through which you can move at all times and the easiest possible access for those relaxing night baths you can have on your own or with your significant other.
Being able to quickly go from the bath into your bed without obstructions in the way will be a great experience and one that will make your living space look as modern as they get.
Put a Wallpaper on the Back Wall
If you want to make your bedroom really stand out, painting three of the walls and using a wallpaper with a fun pattern on the one behind your bed will have the desired effect.
Modern interior designers like using geometric elements for the wallpaper pattern, but you may want to use a pattern that has a unique vibe that you will appreciate for personal reasons as well.
This contemporary design trend is fairly easy to follow and won't require any special design skills from you, as maintaining a simple color palette should do the trick just fine.