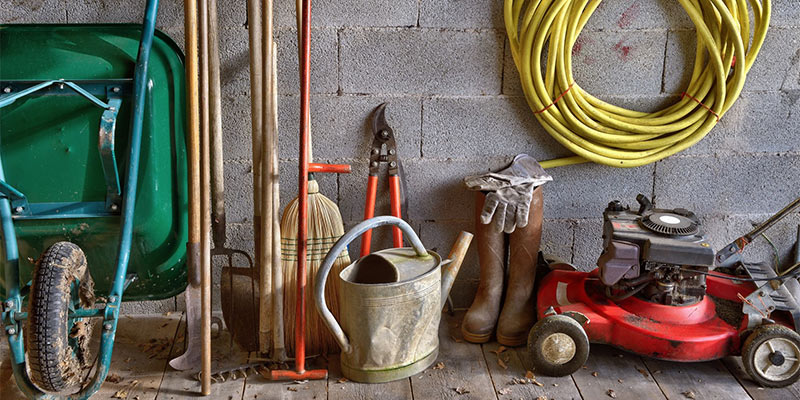 If your hobby involves gardening or if you make money out of it, gardening tools can play a big role in your fieldwork. Garden maintenance entails a lot of activities such as land preparation, digging, planting, weeding, and harvesting, to name a few. Because there are a lot of things to do, you might think that you need quite a number of tools to accomplish every task in the garden.
Going overboard in buying garden tools can bring confusion and make your garden space cluttered. Identifying essential garden tools you frequently use on a daily basis will let you know which ones you should prioritize to buy—tools that garden operations will not be able to proceed without them.
1. Shovel
A shovel or a spade is a must-have in every home. Having a shovel is handy in the backyard, whether you use it for digging to prepare your lawn and distribute garden soil or for moving earth. As non-stainless-steel shovels easily build rust when exposed to soil, mud, and water, make sure to invest in a stainless-steel one. Stainless-steel shovels are easy to use; the soil glides smoothly on it, making digging easy.
2. Lawnmower
A well-maintained lawn can enhance the aesthetics of your garden and home, and a lawnmower is the best tool to achieve this. Investing in a lawnmower saves you money because you won't need to spend on lawn services anymore. Choose to buy an electric lawnmower instead of the gasoline-operated once because it is economical and eco-friendly. Also look for quiet lawnmower models because these models are engineered to be more energy efficient than the regular noisy ones, which usually use more energy.
3. Hand trowel
A hand trowel is an essential tool any gardener should have. Whether you are working on a small or big garden, a hand trowel is needed when you're planting in pots, flower beds, planters, etc. Choose to buy a trowel with a wooden handle because it provides a better grip than metal or plastic handles. For the body, choose stainless-steel metal for durability.
4. Rake
Rakes are useful for whisking leaves and other debris. There are many types of rakes that you can find when shopping for tools. Choose the standard leaf rake if you are not sure which one to buy. There are also adjustable rakes available for hard-to-reach and narrow areas.
5. Wheelbarrow
If you need to move soil, compost, fertilizer, etc., around your garden, you need to invest in a wheelbarrow. It makes lifting and moving objects around easy. Here are some tips when buying a wheelbarrow:
Choose a two-wheeled barrow because it's easy to balance and it provides stability when working with uneven ground and heavy loads.
A single-handled wheelbarrow is better than that with dual handles because you can push and pull it using one hand.
Storing it properly, keeping it dry, and keeping the wheels properly inflated will increase the longevity of your wheelbarrow.
6. Pruning shears
A trusted pruning shear is your solution for shrubs, small trees, and bushes that need trimming. As a general rule, you should not use pruning shears for cutting any material that has more than 10 mm of thickness to avoid breaking the tool.
There are two types of shears:
A bypass pruner works like a pair of scissors and works best for living plants and green wood.
An anvil pruner works like a knife cutting something in a chopping board. It's usually used for dead wood.
Sharpening your pruner regularly will make your pruning shears last for a long time. You should not use it more than its cutting limit.
7. Lopping shears
The big brother of the pruning shears is the lopping shears, which can cut big branches and wood. It is typically built with long handles to provide greater reach, especially in very narrow spaces. The best way to use this tool is to use the blade and cut diagonally to lessen the strain.
8. Garden hose and water sprinklers
Water source is essential in every garden. Water is used for almost everything in the garden—cleaning, softening the soil, watering plants, etc. To facilitate water supply, you can use a garden hose and water sprinklers. A garden hose can be used almost everywhere, whereas water sprinklers are more beneficial if you're propagating delicate plants and flowers as well as plants in plant boxes and pots.
9. Hoe
You use a hoe for activities such as soil moving and chopping to make weeding a lot easier.
Choosing what type of hoe depends on what type of garden you have:
A sturdy and wide hoe for a vegetable garden
A small or thin hoe for a delicate garden with perennials
Here are some tips when buying a hoe:
Feel the handle of the hoe. You should be comfortable with the grip.
Look for a sharply bladed hoe because it will chop the soil better, which can result in better soil aeration and loose soil that facilitates easier weeding.
10. Garden Knife
A handy garden knife is essential and can be used for different purposes, such as cutting strings, opening garden soil sacks, and trimming fruit or vegetable plants, among others. Make sure it stays sharp. Also, you can look for a foldable knife so that you can put it in your pocket safely while working.
Now that you know these garden tool essentials, you don't need to worry about buying a lot of tools that you won't really need. These tools will get the job done in a breeze and will make your gardening activities easy and fun.