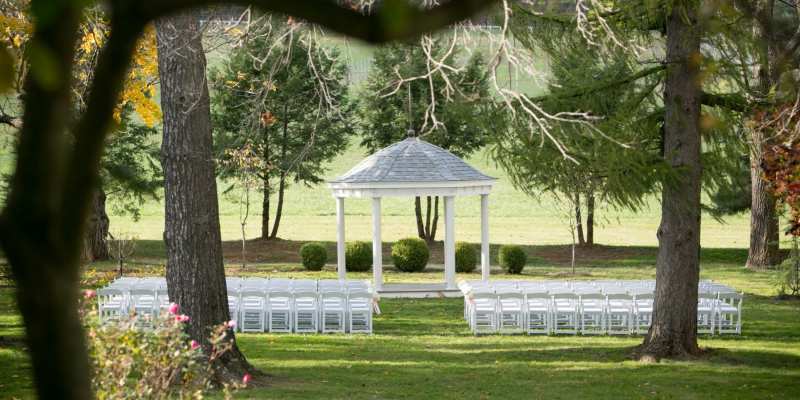 When it comes to outdoor weddings, your own garden is the best option you have. Think about it! It's super cheap, it is right at home, and you get to decorate it however you like! So, to help you plan the wedding you've always dreamed of, we've put together a list of the best and most romantic garden wedding ideas. Please say 'I do' to all of them!
1. Vintage Keys as Save the Dates
Before we get to the actual wedding, let's start off with an adorable idea for the 'Save the Dates.' How about a set of superb vintage, iron-wrought keys that will have your guests imagining The Secret Garden? They will each get an elegant key which will put them in the right mindset for the grand event.
2. Set up a Nook for Tea and Coffee
Think of this as a pick me up station where your guests can come for a little caffeine in the shape of tea and coffee. The only prerequisite is that you have to serve everything in beautiful porcelain pieces. If you want your wedding to be remembered, you can even allow your guests to keep the cups as party favors.
3. Organize an Area for Photos and Selfies
Let's face it. This is the end of the 2010s and there cannot be a party without a special décor where you can take a decent selfie. So make it easy on your guests and organize a small corner in the garden with antique furniture. You can have a few chairs, a wooden writing desk, and an armoire. They will love the contrast between the grass and the furniture and take lots of selfies!
Don't forget to make your own hashtag so that they can use it to post on Facebook and Instagram.
4. Set up Bride Headquarters in the Garden Room
Since the garden room is in the backyard, it will be a lot easier to keep your dress, makeup, and accessories in there instead of the main house. In this way, you won't have to pass through all the guests every time you need a small touch up on your hair and lipstick!
5. Offer a Wooden Box with Parasols
Since your wedding and the after party are taking place in a garden, you will have to be prepared for either a light rain or powerful sunshine. Of course, your guests won't bring umbrellas of their own. So set up a large wooden crate with plenty of cute parasols they can use to protect themselves in an elegant way.
6. Matching Wedding Arch and Bouquet
When organizing their wedding in a garden, most couples choose to get married under a wooden arch. Therefore, you can incorporate it in your selected design by decorating it with the same flowers the bride has in her bouquet.
7. Set up a Shoe Rack
Garden weddings are not very formal, especially if it's your own backyard. Therefore, here's a superb entry on our garden wedding ideas list. Organize an antique wooden shoe rack where your guests can leave their formal shoes and go barefoot in the grass. They can also borrow flip flops if they want!
8. Edible Flowers Are a Must as Garden Wedding Ideas
There simply wouldn't be a garden wedding if you didn't use as many flowers, plants, leaves, greenery, and succulents as you could find. And we don't just mean for decorating. There are a lot of edible flowers out there as well. You could easily use them for cakes, food, and beverages.
Edible flowers look especially good in cocktails and on sweets where their colors are offset in a beautiful way. If you consider it necessary, you can place a small sign over the bar saying the flowers are edible and the guests don't need to pick them off. But alert them to be careful if they know they are allergic to some of them.
Some examples of edible flowers include roses, lavender, squash blossoms, violets, marigolds, carnations, jasmine, lilac, sunflowers, English daisies, and many more.
9. Who's Up for Giant Jenga?
Your garden wedding can quickly turn into an Alice in Wonderland scenery with a few well-chosen giant games. Giant Jenga, giant chess or even a large puzzle are especially made for a garden party where the guests can actually walk on the board to place the pieces as they are playing. It will be a night to remember as most people don't get the chance to play this type of thing very often.
10. 'I Can Show You the World'
Not literally, of course, but you get the reference as we jump from Alice in Wonderland straight to Aladdin's oriental fantasy world. Our garden wedding ideas list has a little bit for every couple.
This scenario proposes you organize a corner of the garden as a lounging area with oriental rugs and lots of colorful pillowsright on the grass. Your guests will get a thrill from laying under a tree sipping cool drinks and eating wedding cake as the hours wear on.
Of course, there are many more garden wedding ideas, but we believe these are the best. They are a good place to start organizing the most wonderful day of your life, one that you will never forget. Let us know in the comment section below what ideas you have in mind for a garden wedding!