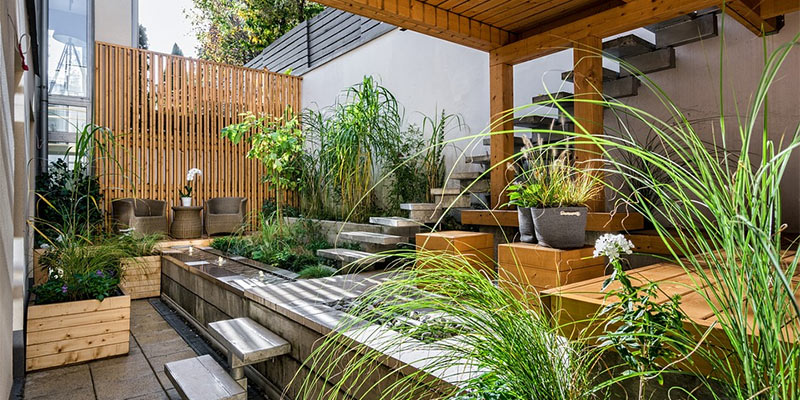 As the weather warms up, you spend more time outside on your porch or in your backyard. Winter can ruin the fresh summer look of your outdoors, here are a few ideas to brighten up space and make it look more inviting.
Decorate with Paint:
Paint adds color and protects the area from elements like rain and wind. If you have wood exterior, use a primer. You can apply one to two coats of paint. You can hire someone to do the job for you, or have a fun family day doing the entire thing yourself!
Installing the Hammock:
Hammocks add relaxing spots to enjoy natural surroundings, beautiful garden designs and add a flair to backyard ideas. They are interesting, attractive, and super cozy for summer time. It can serve as your private spot for relaxing, reading a book, enjoying the sun, or just relaxing after a long day.
Outdoor Curtains:
Outdoor space can be a real treat during nice sunny days, but if it is too hot, or if you have nosy neighbors, staying outdoors can be a bit of trouble. Outdoor curtains not only add beauty but also serve as an ethical gap between the above-mentioned troubles. They are easy to install, and they come in different styles and designs as per your need. You can also go for outdoor blinds or bamboo rollers.
Porch Swing:
Porch Swings make a beautiful and comfortable addition to your outdoors. It can be your spot to relax. It can be a great place to sit and read a book or sip your tea while watching a beautiful sunset or sunrise. Kids will also love this addition!
Decorating with Neon Colors:
Neon colors can brighten up your porch in a wonderful way. Either paint an old table in a bright neon color or paint the pots or add neon wall hangings. You can also add neon cushions, or frames or even neon-colored door and window frames! Adding neon curtains and neon lights could also be a wise option. There are some stunning neon colored table and chair sets available in the market that you can go for.
Adding a Small Garden:
Your porch can be a great place to grow a small garden. You can have flowers as well as fruits and vegetables growing at your own home! Nothing beats fresh food, now does it.
Handmade Dream Catcher:
You can use an old bicycle wheel and turn it into a dream catcher and add it as a wall hanging. Not only do dream catchers are super easy to make, but are also very beautiful and eye-catching.
Privacy Wall:
If your porch needs a little privacy, you can always make a wall by using vintage shutters. You can use wall hangings to make it all pretty or add paint of your choice and put some nice flowers to make it all cozy.
Adding Fire Pit:
Adding a fire pit can expand your outdoor space into an outdoor kitchen area for nice family nights or even for a fun family BBQ! If you are short on space, and still want to enjoy the beautiful outdoors, you can buy the fire pit that turns into a table (one with the steel lid). Works best for all weathers!
Outdoor Bar:
Nothing beats having friends over on a beautiful evening and enjoying with a few drinks. Well, you can have all that in your own space now!! Make some room for a wheeled cart and a beverage tub, add some essentials like glasses and napkins and let the fun begin!
About the Author
Brenda Tanner is a young woman who loves interior designing and home decor. She is passionate about new trends and fashion forward home décor ideas. She regularly posts at Neon Signs Depot.