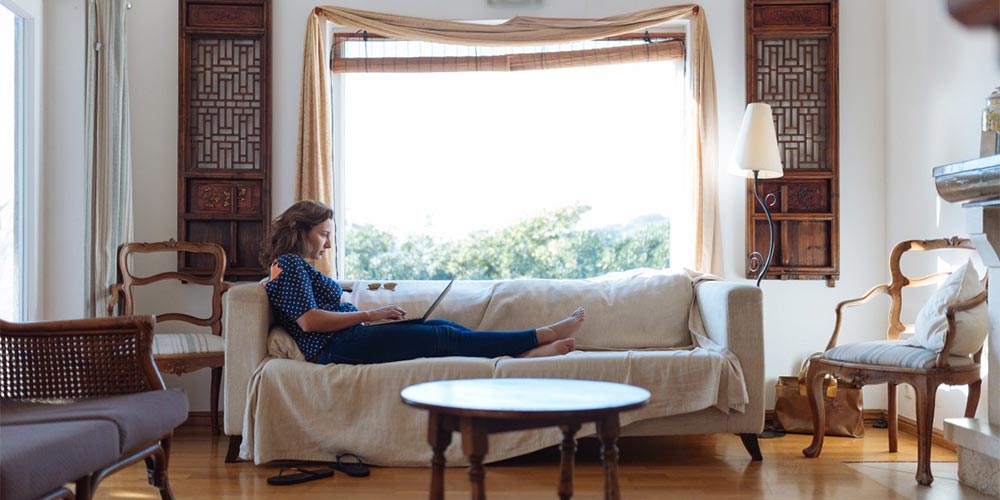 The internet has grown to be an ideal open marketplace. When buying furniture online, ensure you do your shopping from popular and secure online stores to guarantee safety of your personal information and safe delivery.
While doing online shopping, take time and research on the website by reading user reviews and reviewing the furniture as well to secure great deals. You will have to exercise some patience because getting the best quality furniture at relatively inexpensive prices online is not an easy task. The tips below can aid you in making solid purchasing decisions.
Tips to help you buy the best home furniture online
1. Go through the About page thoroughly
Do your research by reading more about the companies on the About page. Good online retailers provide enough details regarding their companies, including their history and how they handle customer service. The company's About page always has a phone number or email address. Well-known companies provide offline contacts for their customers to get in touch.
2. Ensure you read some store reviews
Many websites offer users a chance to post their reviews for online retailers after their shopping experience. Many bad reviews or low rankings can show that the company might be having some challenges. You can use Google product search that allows users to rank and review various stores.
Users can rank merchants by using between one to five stars and then submitting their reviews on the merchants and products. Always check the star rating first. You can skip stores with a one- or two-star rating, if the store has between a three- and five-star ratings, go through the reviews. Google users mostly leave straightforward reviews.
3. Look out for the return policy
Online stores should always have straightforward return policies. If a store has a re-stocking fee or the return policy is complicated, don't involve yourself in business. Choose websites that have flexible return policies. Stores need to give clients enough time to return items. Most stores give clients 30 days while others offer 45-60 days as their return policy. Check the website's shipping and re-stocking fees. Great return policies should come with free return shipping.
For some stores, customers have to cover the return shipping cost, which can be costly for heavy furniture pieces. Some stores charge re-stocking fees, which can be up to 15% of the product's purchase price. Don't go for online stores that charge re-stocking fees.
4. Shipping costs
Most online stores include their shipping policy in their about pages. Check out keenly a store's shipping policies before you decide to shop with them. Different sites use the services of different shipping companies for instance, FedEx. Don't purchase furniture before checking out their shipping policies. Free shipping does not actually mean it's free. Most stores include their shipping fees in the buying price of the products. You can also find a free shipping coupon code to save on costs. This is always a marketing strategy to attract customers. In this case, compare the furniture prices with other stores.
5. Find a coupon code
Most online stores offer online coupons to attract customers to visit their websites. You can take advantage of these coupons by shopping with sites that offer them and you can get big discounts on all your purchases. You can find coupons for several popular stores such as Lowe's at https://www.raise.com/coupons/lowes. You should also check an online store's own website and sign up to their mailing list. Several stores offer coupons to customers for simply signing up.
After signing up with the company's mailing list, you can start hunting for the store's coupon codes and voucher codes. Utilizing these voucher codes while purchasing furniture can mean you can purchase furniture pieces in bulk while saving money because of the discounts available.
6. Look for sales
Online stores offer sales mostly around the holiday seasons. If you really desire a piece of certain furniture, but it seems expensive, don't purchase it fast. The store might put the furniture on sale or post a coupon code to help you enjoy massive savings. According to Money Crashers, the best time to shop for furniture is in January and July, as you can get great deals during this time.
7. Look at the pictures
Many online stores will post several pictures of the furniture and be keen to go through all of them. Mostly, the store will post pictures of the furniture in a room that is decorated. The stores can provide links to side angles and more pictures to give the furniture more appeal.
Some store such as Walmart allows users to post their own pictures in the review sections. These photos will give other customers a glimpse of how the furniture looks like.
8. Purchase from secure online stores
Buy your furniture from websites that are secure to prevent identity theft. On the checkout process, there should be details that show the site is secure. If you are buying furniture from secure sites, the URL changes from http to https. This will mean that the site is secure.
A lock icon can also be visible on the bottom side of the web page. This shows the security of the site is guaranteed. To check on the security measures of the website, you can double-click on the lock icon.
9. Be keen on the colors
Most online stores do their best to post accurate photos. Posting photos online can affect the true colors of furniture. Darker furniture when posted online, will tend to look lighter. You can compare the colors of the furniture by looking at the piece on different computers. Some computers can change the colors in pictures. You can also go through reviews for more information on the furniture's color.
10. Furniture shipping options
After you decide on the furniture you want to buy, you have to decide on a shipping method. Shipping furniture is quite expensive and bulky items will need special delivery. Various stores provide different delivery options.
Many sites offer three types of shipping levels for large pieces of furniture and each level rises in price and get better in services.
Conclusion
While making your furniture purchases online, you can save time and money by looking out for potential scams and do enough research to get the best deals. Ensure you shop on a trusted site that offers a lower price and go for a shipping method that works for you.
Be careful to evaluate the photos and furniture descriptions of the furniture that you find. Don't always rely on pictures when choosing your new furniture.