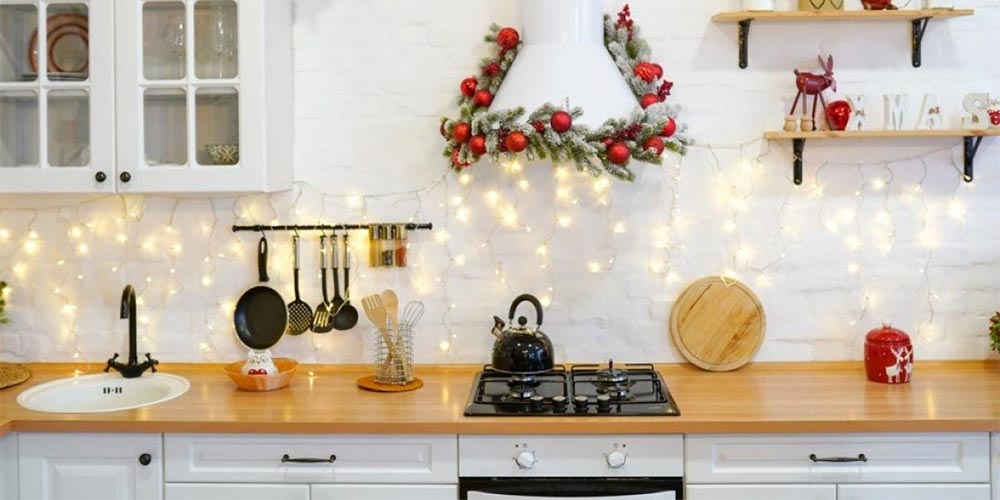 Christmas is arguably the most favorite time of the year. It is the one time you can splurge and spoil yourself, and it would be acceptable to your financial budget. This Christmas shouldn't be any different. In fact, you need to give your kitchen some ad-ons then seat back and enjoy a cup of hot tea or natural tea leaves. Suppose you've had an eye on the latest technological kitchen appliances and gadgets. Still, the price couldn't let you purchase them just yet. There's no better time than Christmas to get them. It is, after all, the season for gifts and spreading good cheer.
Here are the top fifteen kitchen additions you need to make your hosting experience this Christmas more pleasurable
1. Automatic Touchless Soap Dispenser
The coronavirus pandemic this year has taught us all to avoid high-contact surfaces as much as possible. With this touchless soap dispenser, you eliminate the need to touch that soap bottle again, thus preventing bacteria's spread in your kitchen.
2. Loose Leaf Tea in Your Kitchen Pantry
How would one survive without tea? According to Penn Medicine, research has shown that several types of tea can combat inflammation, strengthen the immune system, and even avoid cancer and cardiac disease. Although some loose-leaf tea infusions have extra health benefits than other brews, there is considerable evidence that drinking tea regularly may have a long-term effect on your well-being.
You can find different types of tea online to understand their various benefits. Ensuring you always have tea bags in your home is a perfect opportunity to show off your latest china tea set. You can also order while hosting via an online tea and coffee shop and get it delivered to your doorstep.
3. Wine and Beverage Stopper
Other than sipping tea, the festive season comes with wine opening and different guests with different preferences; red or white. Sometimes, a bottle may not get finished in one sitting, and airflow ruins the wines. With a wine and beverage silicone stopper, you can seal your unfinished wine perfectly. These stoppers work just as amazingly on some soda bottles as well as vinegar.
4. Stove Grill
Christmas comes during Winter (depending on which part of the world you are in). The stove grill gives you a double service in that it acts as a fire pit and grill all-in-one. It is of chair-high height, which makes it perfect for sitting around with the family as you all grill your burgers and hotdogs and enjoy the warmth of the fire as you anticipate an evening tea gathering.
5. Food Thermometers
While some people have sufficient culinary expertise and can easily judge the correct duration meat requires on the grill or in the oven, others struggle with this estimation. With a food thermometer, you no longer need to risk burning your steaks or overcooking your chicken. With precise temperature readings, you eliminate guesswork from your meal preparations.
6. Smart Wi-Fi Instant Pot
This smart gadget lives up to its name. It's an instant pot that can perform a wide range of tasks. You can use it to sauté, make yoghurt, cook rice, make a cake, warm food/ water for your tea, and steam. Plus, it's a pressure cooker too. It simply connects to an application via Wi-Fi, and you're ready to create your favorite dish in an instant.
7. Masticating Juicer
The masticating juicer acts to smash the fruits and vegetables. Then it gently squeezes the liquid and extracts the pulp and juice. The juice moves through a mesh, and the pulp is packed into a different jar. For those who are health-conscious and prefer their natural juice light instead of pulpy, this is the perfect addition to your kitchen this Christmas.
8. An Air Fryer
Eating healthy has numerous benefits for your general well-being, and it helps keep numerous diseases at bay. One of the greatest ways to ensure you are eating healthy is paying keen attention to your food preparation methods. With an air fryer, food that would otherwise be soaked in fat is cooked using warm air circulation. The air fryer's gastronomic chamber emits heat from a heating unit eliminating the need for oil and other unhealthy practices. Suppose you opt for the smart Wi-Fi air fryer. In that case, you can activate it without touching a single button, merely pairing it with the appropriate app.
9. Steam Counter-Top Oven
While the steam counter-top oven does not have internet access or voice control, it's still a pretty decent counter-top that makes cooking simpler. With the radiant heating and steam functions combining to keep food crunchy on the outside and juicy on the inside, no defrosting or preheating is necessary.
10. Smart Coffee Maker
Technology has really simplified our lives and reduced preparation time for so many things in the kitchen. The smart coffee maker requires no unique apps to activate; it is an Alexa-enabled device, allowing you to get your coffee brewing started while taking a shower. And with guests around during Christmas, it will enable you to multitask with ease.
11. Cookware Set
You want your kitchen to be as aesthetically beautiful as it is functional. With a new cookware set, be sure to enjoy the results of even heat distribution without scorching or burning your meals. It makes cooking a brand-new pleasant experience.
12. Classic Knife Block Set
Adding a classic knife block set to your current knife collection makes food preparation much more comfortable and organized this Christmas. Plus, it lets you get the much-desired assistance from friends and family members conveniently.
13. Instant Marinater
With grills and barbecues being the new norm during the festive season, marinating steaks are part and parcel of the barbecue package. Since there's so much happening at once, it may sometimes slip your mind to marinate your steaks. With the instant marinater, you no longer require a long marinade. This gadget uses a vacuum pump that allows you to experience the results equivalent to long marinating hours in just a few minutes.
14. Stuffed Waffle Maker
If you love the kitchen, you love to wow people with new recipes from time to time. The stuffed waffle maker lets you experiment with stuffing variations like eggs and bacon in your waffles.
15. Milk Frother
A milk frother is a great companion for anyone who appreciates a great latte. According to Healthline, milk frothers encourage you to build those creamy drinks at home and make a thoughtful and enjoyable moment for your morning routine or afternoon pick-up. It is way more cost-effective than buying your latte from the coffee shop.
With that said, you now know what you need to give your kitchen a magical touch this Christmas. Once all the above has been purchased, you can order your tea online and enjoy a natural cup of tea in your transformed kitchen