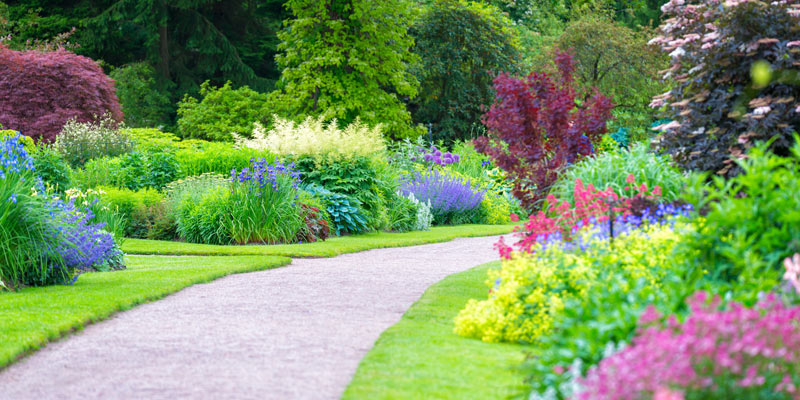 We asked one of our gardening expert friends to offer their thoughts on a few upcoming trends for 2017.
Summer is here and after months of neglect, it's time to get back in the garden and start enforcing some life back into your garden – especially as you'll be spending most of your time in it over the coming months (that's if we actually experience a proper summer!). If you want to add some style back into your garden, summer is the perfect time to do so. Below we've listed the top exterior designs trends that will inspire you with spectacular ideas for your garden space this season.
Stick to the same shades
If you're not an experienced gardener, or maybe you've just got your first home so you're unsure on where to start – when it comes to your outdoor area you should stick to the summer 16' rule of limiting your colour scheme to just two or three shades. A contemporary look, pick plants with a strict colourway so that it gives your garden an organised and classy look. Almost a minimalistic approach in terms of colour, it offers a subtle elegance to your space.
Create a contrast
In a modern day garden, its all about mixing different elements to give an attractive and appealing aesthetic. A grass area will look great when paired with smooth paving, angular designs, water features and garden sculptures. The same can be said for mixing paving with well placed gravel sections. Its all about designing a clever structure and creating separately planned areas for a purposeful finish. This allows you to form that charming contrast that catches the eye, so make sure you look to mix the rough with the smooth wherever possible.
Bring inside outside
One of the biggest trends this season, try introducing a living room outside. With vast amounts of designs in outdoor furniture sofa sets as well as stylish dining sets & tables, you can build a perfect place to enjoy your garden and to spend time with your family & friends in. Whether its big lounge cane furniture pieces or hand crafted swing sets, they're all designed with comfort in mind and they're also manufactured with weather resistant materials to survive those dreaded summer showers. Look to lay your outdoor living room out on some decking or in a square setting in a corner of your garden so you don't take away too much of your needed gardening space.
Get inventive with the structure
If you're lucky enough to own a big garden or a long one at least, install some artificial divisions to create an impression of depth. If you design a layout that obscures the natural flow and eye lines of the garden, it gives you a feeling of owning an enchanting forest that weaves and winds around, ultimately giving it an even larger impression. You should also consider inserting sleek rendered walls to add uniformity to your space – it is a more modern approach to old fashioned brick structures of past.
Hang out
If you are faced with a smaller space or courtyard type area, focus your efforts vertically. Take those plain, drab walls and maximise its vertical potential. There are now new hanging baskets that allow you to essentially place a number a plant pots in a vertical row on top of each other. You can then fill these wall-mounted planters with a mixture of plants and trailing flowers to create a fascinating display that adds texture and a vibrant colour variation to your area.