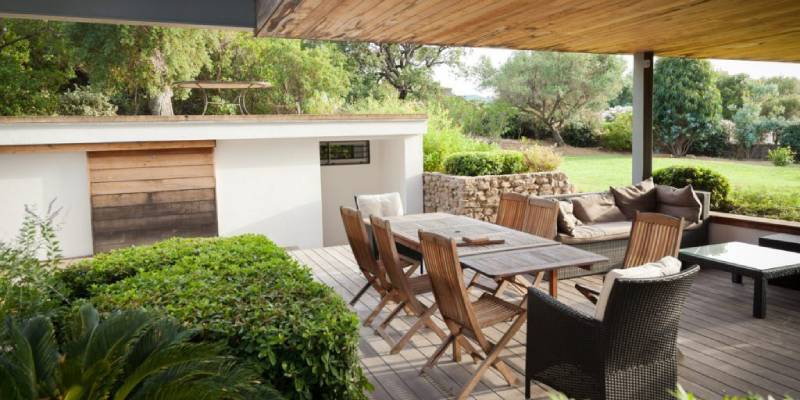 When the weather is good, the sky is clear and the sun has got its hat on (hip hip hooray), there's no better way to soak up the awesome atmosphere than in the comfortable privacy of your own outdoor space.
Or is there?
The quality of your outdoor space can have a big impact on just how relaxing your garden enjoyment can be. After all, there's no fun to be had if your back garden resembles a scrap yard or your lawn looks more like no man's land.
To get the most out of your property, here are three ways to instantly transform your garden into an outdoor oasis that's tailor-made for lazy leisure and luxury lounging.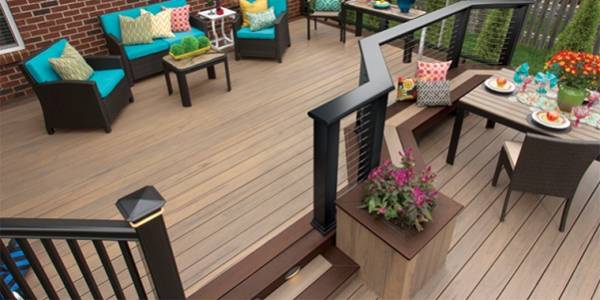 Decking has long been one of the most popular outdoor flooring options for Brits nationwide, providing stylish practicality in one woody package. However, not all decking is created equally.
Composite decking has long been the future of outdoor decking design. Immune to warping and splintering, this modern deck material never requires staining or sealing. A simple annual jetwash is all it needs to look as good as new.
Meanwhile, capped composite decking takes this durability to another level, offering extreme resistance against all kinds of elemental demands. Featuring a polymer sleeve for added protection, capped composite decking is extremely slip-resistant and unlikely to suffer mould, algae or frost.
Capped composite decking also dries surprisingly quickly for additional safety. Available in a wide variety of designs and colours, capped composite decking typically comes with a 30-year warranty, with stain and fade cover included for ultimate peace of mind.
Unlike traditional hardwood and softwood decking, composite decking is also reassuringly eco-friendly. Comprising of reclaimed wood and polymer resin, no trees have been felled in the creation of these products and the whole process is designed to keep environmental impact to a minimum.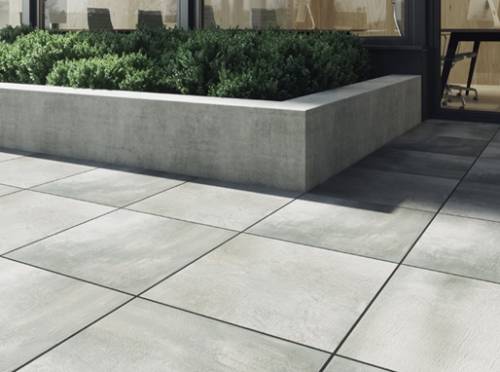 Outdoor paving is the yin to decking's yang, providing a perfectly balanced alternative for those seeking another flooring option for their outdoor design.
Much like composite decking, porcelain paving is the next evolution of outdoor flooring for the paving world. Providing all the aesthetic beauty of traditional stone tiles, porcelain pavers offer modern practicality suitable for fast-paced 21st century living.
Unlike traditional stone, porcelain paving is extremely low-maintenance, requiring very little upkeep to maintain its stunning aesthetic. Each slab is extremely resistant to scratches, stains and abrasions, specifically engineered to withstand the demands of the outdoors.
Textured for enhanced traction and grip, porcelain paving tiles are also surprisingly slip and frost resistant. With a porosity of just 0.05%, they are virtually impermeable in terms of moisture, making them the perfect surface around swimming pools and hot tubs.
With a huge variety of designs and colours available, the creative freedom of porcelain paving allows you to truly personalise your outdoor space and instantly breathe some life into your garden in one fell swoop.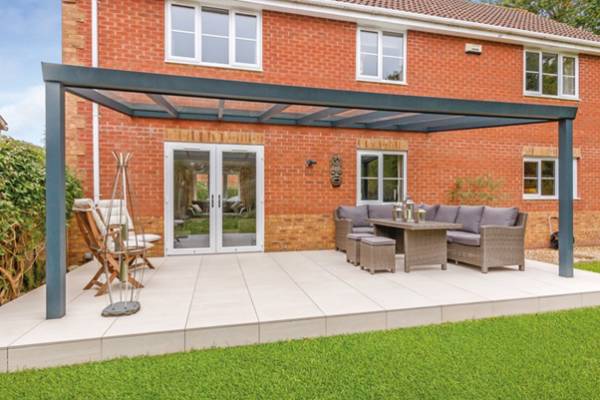 When it comes to garden luxury, few additions have the innate ability to completely transform your outdoor space quite like this last entry.
Accessorising your garden with a veranda can revolutionise how you enjoy your outdoor space. Providing sanctuary when the weather is wet, shelter when the wind is wild and shade when the sun is scorching, verandas allow you to enjoy your outdoor space year-round, whatever the weather.
Sleek, stylish and practical, garden verandas also make for the perfect location for all manner of outdoor occasions, whether its alfresco dining with the family or a social gathering with friends.
Why let the British weather dictate your outdoor enjoyment? Moreover, why limit your outdoor enjoyment to daylight hours either? Throw in some strategic lighting and a heater and you can set your own curfew and enjoy your garden long after the sun has gone to bed.
Best of all, you aren't even limited to where you place these structures. If you have a large outdoor space, you can even place a free-standing veranda in the middle of your garden, independent from the exterior wall of your house for an unrivalled outdoor escape.
Struggling to choose between the three? Who's to say you can't mix and match? These outdoor additions can be combined in a variety of ways to create the ultimate outdoor space for luxury relaxation and stylish recreation. Get creative and transform your garden today!