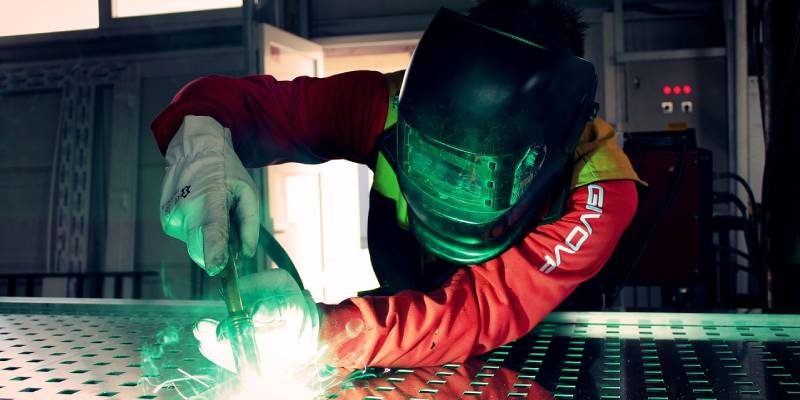 Welding might look like a hassle for those who don't have much experience or passion. But for the people who are regularly into the welding, it is no short of an art form than Picasso making his Guernica. It takes the same precision.
And also the creativity of mind to bring those small but active projects into life. Whether you have a small backyard or not, garden welding projects can be very profitable. Like a metal trellis. It can bring a different look and provide better shape for the plants and vines in the garden.
Or let's say the falling target for having some fun time with your family or making some nice bucks. You are even undercutting the price of big manufacturers. Sounds fun, right? If you have started some mental sketching already, we have 5 Welding Project for Garden for you!
Wear a welding helmet before any welding and plasma cutter work. Fixit Man Blog wrote about best welding helmet. There's also an excellent guide here about choosing the best plasma cutter with built-in compressor.
Metal Trellis for Garden Vines
A vine climbing through a metal structure gives a different look to the garden. So what you need now is a practical roadmap for making one very simple and easy for your garden.
Firstly, get some design ready in your mind or sketch it. You will need it for making a list of cuts and lengths to give the metal trellis a look you want.
Here we will work with two side ladders of L shape and one V shape for the top. Can you see the design in your mind? Great! Now prepare these items and proceed to connect them by welding. Finish other stuff like grinding and painting as well. Now you have a lovely looking Metal Trellis for Garden Vines ready!
Spoon Flower
Spoon Flower got to be the most straightforward welding project you can do for your garden. A spoonflower will add an exciting sight to the garden. All you need here is some spoon for the petals and stainless bowl for giving it the flower shape.
You will also need a ladle handle for the stem. First, cut the spoons and weld them in pairs together. Make sure to keep some of the spoons for bending them later when giving it the final shape. After giving it the proper form, weld the handle as the stem and you are all done!
Back Yard Steel Fire Pit
Making a Cool Back Yard Steel Fire Pit may sound a bit daunting, but it is not that much difficult to do either. But you need to get the design and measurement right.
For this one, we will go through the pretty basic design and standard measurements for the steel plate and the stand. You will need a 1200mm x 1200mm sheet and few 11m of 12mm steel bar here.
Cut the steel bar with precise cuts so that you can fold them together and connect the edges smoothly. Now you got the shape of the fire pit ready, all you need to do id to make an excellent resting structure with the steel bars you have got.
Metal cat
All you need is a steel sheet and a beautiful sketch or silhouette of a cat or any animal you want to make . For now you can make a lovely simple silhouette of a cat, and these sell a lot as a decorative garden item.
Cut the sheet according to the sketch and sand them well. But do not make them too sharp as people will like to touch these metal cats and you certainly dont want to hurt them.
Now add two sticks on the bottom to mount them in there. Finally, paint them in a beautiful colour, and you have got yourself a cute garden decoration item.
Yard art
Yard art is a huge trend now, and you can sell them for an excellent price. People like those miniature form of animals. You can even make something as simple as a metal garden arch.
It is a very sought after items in various yard parties and weddings and can turn out to be a regular gig for you. Best of all, it doesn't even require any welding at all.
All you need is to bend two rebars with the help of stakes in the ground and place them together with accuracy. You may add some create some rebar circles and attach them into the arched rebars with copper wires.
Conclusion
So these are the five simple but very popular welding Project For Garden. Any welder can make with little to no investment. As a beginner welder of hobby or profession, they are quite well capable of getting you started.