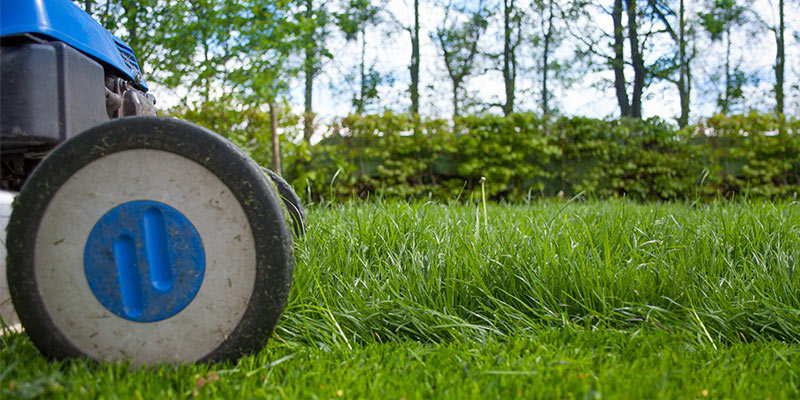 Many of us aspire to have a beautiful garden, with a lush green lawn, neat shrubs, colourful borders and pleasant seating areas. However, creating this oasis can be a lot of very hard work. Luckily, we have the benefit of power tools to help us out. These tools reduce the labour required so we can spend more time relaxing in the beautiful gardens we have created.
Here are five garden power tools I certainly couldn't live without.
Lawnmower
If you have even a medium sized lawn, then an electric lawn mower is probably high on your list of essential power tools for your garden. For most of us, a corded electric mower is the best option. These provide continuous power whenever we need and are low maintenance.
When choosing a lawnmower you will obviously be guided by the size of your garden and the type of finish you want. If you have a small lawn, then a hover mower will give you plenty of manoeuvrability and is light weight to use. For an average sized garden, a rotary mower will be the easiest and most effective machine to use.
Other features to look out for include strong metal blades, a roomy collection box and easy cutting height adjustment.
Lawn Scarifier
Mowing your lawn is only part of the work that needs to be done to keep it in tip top condition. Healthy grass also needs oxygen, moisture and nutrients. If your lawn is full of thatch and moss, then moisture and nutrients can't get into the soil and the soil can also become starved of oxygen.
A lawn scarifier will remove moss and thatch to open up the lawn and allow moisture, nutrients and oxygen into the soil, thus improving the health of your grass. Many scarifiers also have attachments that aerate the soil, which is essential if it has become compacted.
Of course, you can scarify and aerate your lawn with hand tools, but this is a huge amount of work. This is why I consider a lawn scarifier an essential power tool for my garden.
Garden Shredder
If you have a few shrubs or trees in your garden, you will know that the pruning's from these plants can soon build up to an unmanageable pile. Most of us would prefer not to fill our cars up with garden waste to take it to the tip, and bonfires are messy and not great for the environment either.
This simplest solution is to invest in a garden shredder. Not only will this reduce your garden waste down to a manageable pile, but it also allows you to put this 'waste' to good use, either as a mulch or by adding it to the compost bin. This way you don't see valuable nutrients from your garden going to the tip or up in smoke.
Pressure Washer
A pressure washer has a multitude of uses around the garden and home and makes light work of cleaning away grime, moss, mould and dirt.
A pressure washer can keep all the hard surfaces in your garden looking as good as new including paths, drive, decks, patios, fences and garden furniture. A pressure washer can also be used for cleaning windows, cars, boats, caravans and even your barbecue grill.
For a pristine home and garden, without the elbow grease, a pressure washer is definitely a must have power tool.
Rotavator
If you have a garden that is need of some renovation, or have moved into a new build house, then a rotavator could be your new best friend.
These powerful tools, sometimes called cultivators or tillers, will break up, churn and aerate the soil. Rotavating is particularly important on soil that is heavily compacted as it will improve drainage as well as aerating the soil. Rotavators are useful in preparing soil for laying turf or sowing grass seed as well as preparing beds for flowers or vegetables.
So, those are my recommendations for garden tools that will help you keep your garden looking beautiful while reducing the workload to a minimum.