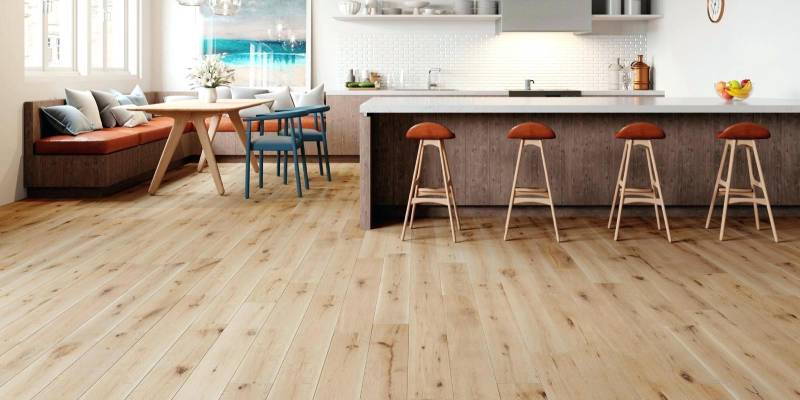 Is remodeling your home part of your New Year's resolution? Updating the flooring is the most effective thing to include in the project. Consider switching your old carpet with a beautiful hardwood floor to add a splash of style in your interior. The hardwood floor will update the feel of your interior.  However, before taking the plunge and investing in hardwood flooring, you should understand these things to avoid when cleaning your floor.
Image credit: woodflooringfitting.co.uk
Here is a catch
Hardwood flooring is low maintenance but requires particular care to keep it spick and span. It is important to know the specific cleaning requirement necessary for hardwood flooring. Lacking appropriate cleaning knowledge puts your floor at risk of getting ruined. However, this should not let you get second thoughts about this flooring option. The advantages of hardwood flooring outweigh the cleaning requirements.
Things to avoid when cleaning your hardwood flooring
Using regular household cleaners
Ammonia-based cleaners and vinegar are popular household cleaning solutions. These are known for being versatile and cost-effective. However, these are not appropriate for use on hardwood floors. Regular cleaners without a doubt remove stains and debris but might damage the hardwood finish through regularly eating away at its surface. Additionally, avoid using natural cleaning solutions such as abrasive bottle sprays and baking soda for their ability to lessen the wood's protective coating.
After professional hardwood flooring installation , ensure to look for oil-based cleaning solutions. These are ideal for hardwood floors for not damaging the wood's appearance, diminishing its protective surface, and premature wood aging. When perplexed on the ideal oil-based cleaning solution to use, your professional installers will guide you as part of their after-sales service.
Inappropriate vacuum attachment
Using a vacuum makes floor cleaning easier. However, keep in mind that not all suction tools are equal. Some vacuum attachments might have a negative impact on your hardwood flooring. With time, the inappropriate vacuum head might cause scratches on the wooden surface. This will subsequently leave additional pesky spaces for dirt and dust to hide. Your floor will become harder to clean.
Avoiding this requires avoiding any vacuum attachments with rotating brushes or beater bar having stiff bristles. These heads are very abrasive on wood material and might cause damage. Ensure to find a vacuum attachment with a soft brush. Alternatively, the attachment should also have felt component without resistance. You can as well use a vacuum having a smaller or lighter canister. This isn't heavy and is less likely to put marks or dents on your hard flooring.
Mopping with a saturated brush
It is very important to remember that wooden floors are porous making them prone to holding and absorbing moisture. This makes using a wet mop for cleaning your wooden flooring a no-to. There is a great risk of water seeping into the wooden floors. This is very disastrous since your floor might begin warping, swelling or moving with time.
Perhaps you are now wondering whether you can still go ahead and mop your hardwood flooring . Yes, you can. However, you have to avoid a saturated brush when mopping. You can just grab a dry or slightly damp mop. This is the trick to keep your hardwood floor with a polished look. Your floor will remain to look nice much longer.
Leaving too much water on the floor
You have already noticed that wood is porous making water a great enemy on your hardwood flooring. It is very hard to avoid spills on the wooden floor. Leaving too much water on this floor will make the wood to buckle with time. The water might also make various exotic hardwood floors to develop discoloured patches. This will make your floor to lose its appeal and overall value of your property.
Neglecting regular maintenance
Taking the plunge to invest in hardwood flooring  is a great idea. However, this floor requires appropriate care and maintenance with time. Regular maintenance and care is the trick to make your hardwood floor to always look like new. This might require simple tasks like sweeping regularly to eliminate dust and dirt to keep the floor clean.
Alternatively, you can always call your professional installers to restore your floor . These will repair all scratches on your floor or make replacements where necessary. The professionals will also give you appropriate assistance to ensure that your floor always looks good as new. This is the trick to extend the lifespan of your hardwood floor.
Bottom line
After installing your new hardwood flooring, it is essential to understand the best way to keep your wooden floor looking great always. When you begin noticing scratches on your floor, fixing the problem early extend the life of your hardwood flooring. It is a good idea to choose a professional team of experienced installers you can trust to offer restoration services for your floor.