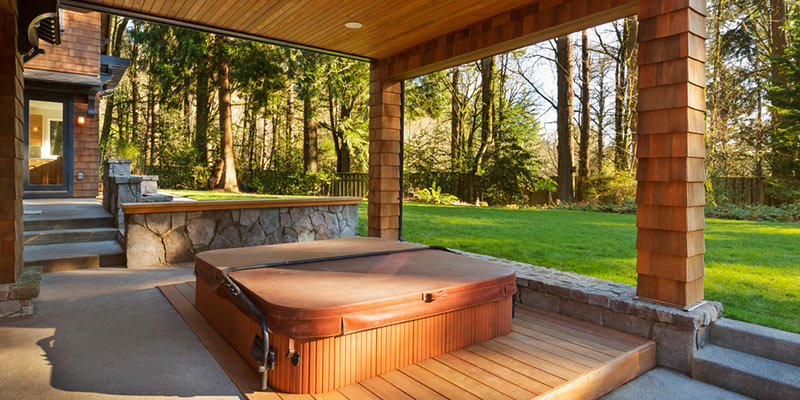 Dawn is breaking earlier each day. The daffodils are starting to appear out of grassy banks across the country. Birds are tentatively gathering nesting materials. While it might not feel like it yet, spring is well and truly in its way.
As our winter coats and hats find themselves used less and less, many of us naturally begin to daydream of increasing temperatures, better weather and the sun on your face. Now is the time to turn your mind to prepping your garden after this year's tough winter.
Feature Plants
Patios are defined by their paved surfaces, but all too often these can feel sterile without the addition of some greenery. Fortunately, adding plants to your patio is easier than ever thanks to the wide range of planters available. Consider adding some structural plants, from Fatsia japonica through to a Musa to give your patio a luxuriant tropical feel. Alternatively fill your planters with seasonal annuals, and prepare for the profusion of colours and scents.
Drinks Are On Us
Patios are best enjoyed with friends and family. To really upgrade your patio this year why not consider adding your own bar from which to serve cocktails? Garden bars needn't cost the earth, and make preparing drinks during summer parties much easier.
A Therapeutic Hot Tub
While hot tubs can be enjoyed at any time of year, they really come into their own in the spring. Relaxing in the warm water under a crisp blue sky is the ultimate way to unwind.
Somewhat surprisingly, the ongoing costs of a hot tub can be very modest indeed, while a huge range of models are available to suit almost any pocket. Just imagine the pleasure of getting home from a hard day at work, only to pour yourself a drink from the outdoor bar before slipping into your own garden spa bath.
Go Wildlife Friendly
Environmental organizations repeatedly highlight the importance of our gardens to native wildlife; from butterflies and bees, to frogs and hedgehogs.
Making your patio a little more wildlife friendly isn't just good for the planet; it also adds a huge amount of interest to your outdoor space; especially for youngsters. Consider planting nectar-rich flowers to attract beneficial insects or use an aquatic planter to create a miniature pond ripe for everything from newts to damselflies.
Add Comfort with New Furniture
Lastly, it goes without saying that no patio is complete with a suitable complement of outdoor furniture. Now is the time to inspect your patio set to ensure that it is ready for use, or to upgrade before retailers get too busy. Of course, it's not just patio dining sets that can be bought; these days you can upgrade your patio with anything from an outdoor rocking chair to a garden swing chair.
Whatever you opt for, let your creativity run wild. Turn your traditional patio into the most exciting part of your property; somewhere that your family will love to spend time this year.