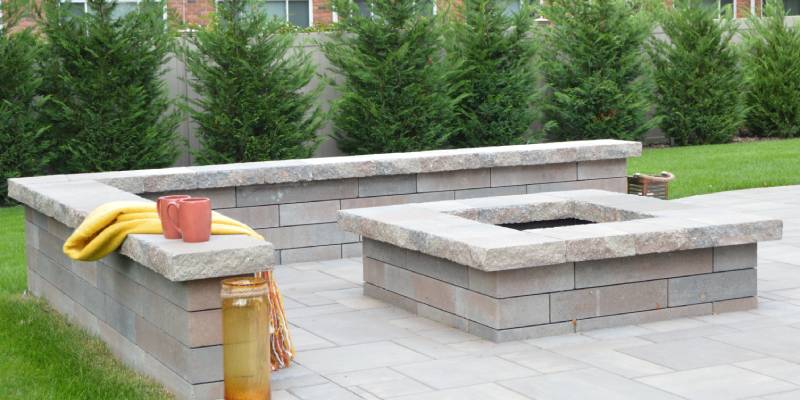 There are various landscape design choices that can enliven and transform a backyard. One popular feature is the installation of an outdoor fireplace. Here are some of the benefits of having an outdoor fireplace in the comfort of your backyard.
Stay Warm
An outdoor fireplace allows you to defy the elements and enjoy your backyard earlier in the year. It also lengthens the end of summer, as a roaring fire and a snug sweater are all you need to stargaze and enjoy a cup of cocoa outdoors as fall closes in. Not only does an outdoor fireplace enable outdoor entertainment that is independent of the time of year, but it can also protect your day-to-day outdoor living from unexpected changes in the weather. With an overhead shelter and other comforts, you can commit to hosting your friends and family despite the clouds that are making an appearance.
Build Lovely Ambience
A fire feature can be just as useful on warm summer evenings as it is in the fall. Not only does it radiate warmth, but it also washes its surroundings in a golden glow. The soft, dancing light that emanates from an outdoor fireplace can imbue an outdoor room with a sense of romance and intimacy. It is a surefire way to make an area of the landscape look more inviting.
Amplify Your Outdoor Entertainment
An outdoor fireplace does so much more than make a patio look inviting. It opens up doors to a longer and more fulfilling outdoor experience. The outdoor fireplace serves as a gathering space, perfect for long conversations and charades. It can also make your outdoor living area the perfect place to spend quiet time by yourself. Consider cuddling up by the fire with a good book to unwind after a long day at the office.
Boost the Value of Your Home
Adding an outdoor fireplace to your outdoor living space can make your property more attractive to potential buyers. An organized patio arranged around the outdoor fireplace as a focal feature can double as a major selling point. Opting for high-quality materials and a natural stone veneer can boost the value of your outdoor fireplace even further.
Keep Bugs At Bay
The smoke emerging from a wood-burning outdoor fireplace can be an excellent insect repellant. This makes an outdoor fireplace as perfectly suited to the warm summer months as it is to the cold. Natural materials like sage can be added to a fire to enhance its insect repelling capabilities and keep the mosquitoes at bay.
Enhance Your Landscape Design
A tall, formidable outdoor fireplace can add height to the silhouette of your hardscape and serve as an anchor for other elements in the same outdoor room. Outdoor fireplaces tend to draw the eye, so the shade and texture of the materials used will contribute a great deal to establishing the aesthetic theme of the outdoor living space.