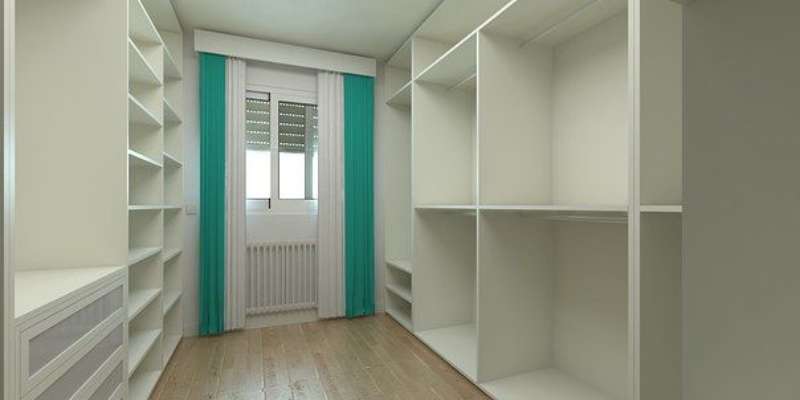 Nearly every home in the UK has a room that is overflowing with stuff. For many homeowners, this problem is mainly found in the bedroom. Wardrobe space is a luxury, and store-bought options often don't cut it.
A fitted wardrobe is the best solution for homes of all sizes. If you're ready to get your bedroom organized, then find a tradesman to design and build a wardrobe to your liking. Here are a few ideas to get you started.
1. Open-sided wardrobe
If you want to make a large bedroom feel cosier, an open-sided wardrobe may be best. This style floats in the middle of the room, with one side that is completely free of doors for easy access.
2. Wall wardrobe
No matter the size of your room, it's possible to find a tradesman to build a wall-to-wall wardrobe. Since the design is custom made, it's possible to create storage on strange angles and oddly-shaped walls.
3. Simple wardrobe
Some homeowners desire something simple. A floor to ceiling wardrobe is perfect. Have a builder create a built-in cupboard with sleek doors that blends in seamlessly with the rest of the room.
4. Illusion wardrobe
If your bedroom feels cramped, then add a mirrored surface to your fitted wardrobe. When the light reflects from the mirrors, it will instantly make the entire room feel twice as large.
5. Dual function wardrobe
Since you can never have enough storage, consider designing a wardrobe that serves two purposes. A free-standing wardrobe can hold garments on one side and house a fireplace or hold a television on the other. The sky's the limit.
6. Custom measured wardrobe
Always take exact measurements of the room before building the wardrobe. The amount of space you need depends on many factors, including how much you need to store inside. A designer will help make sure your new wardrobe is made to fit.
7. Choose the right doors
Don't settle for just any doors for your wardrobe. You need to choose the right type of doors for your needs and space. In a small room, you may not have enough clearance for traditional doors. Sliding doors may be better. Some people skip doors altogether and add either a curtain or leave it completely open.
8. Prepare before installation
Every room must be prepared before you can find a tradesman to install a fitted wardrobe. If you have carpet, laying hardwood may prevent your wardrobe from bowing. You may also need to move electrical outlets.
9. Design the interior
Every aspect of a fitted wardrobe is wholly designed to your liking. Make sure you have enough hanging rails, shoe racks, and shelving to hold all of your valued belongings.
10. Consider the investment
Fitted wardrobes are an investment. Even though you have to leave it behind if you ever move, having one will boost your selling value. Make sure you put enough thought into the design so that it can also work with a future buyer's vision too.