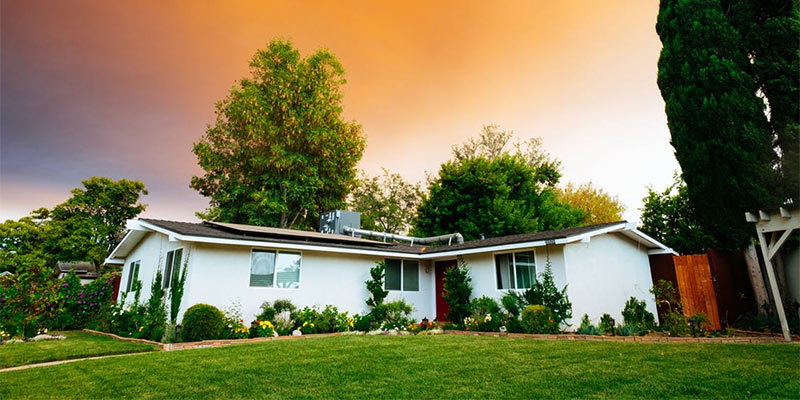 First impressions matter and this is very true if you are looking to sell your home for a good price. The first thing buyers see is your house's garden and improving it can bode well for a better price and easier sale. Here are some tips.
1. Take a Walk around the Outside of Your Home
As a homeowner, chances are that you walk from your garage into your home or from your mailbox to your front door every single day. However, a homeowners' attention is automatically drawn to the small details, grass, landscaping, lighting, front entry, walkways, and the exterior look of a house for sale. What this means is that as the seller, you must walk around the complete circumference of your home and make note of all the areas that need to be tended to.
Stand across your street and take in the big picture of the curb appeal you home offers. It is important to view your home as if you were the prospective buyer and see things as he or she would see them on their first visit. Not if any of the landscaping requires trimming and examine your sidewalk, the driveway leading to your property and your mailbox for any cracks, unsightly debris, or weeds.
2. A Little Paint Makes All the Difference
When you are looking for tips for curb appeal to transform your home, even a gallon of paint can make all the difference. If you like go for that bold color that will really make your house stand out from the neighbors, however if applicable, do make sure that the color you choose is in line with the Homeowner´s Association regulations that are currently in place. Consider using a contrasting color to paint the trim, shutters and doors of your home. Being as paint only costs around $25 a gallon, painting your home is an affordable project, it can however be time consuming. Depending on your home´s size, program at least two full days for your painting. Improving the curb appeal can be a quick way to sell your house.
3. Plant a Tree
If you really want potential homebuyers to find your home really welcoming, consider looking for a tree that can be planted in the yard. Taking the time to plant a tree in your front yard is a project that is simple yet adds longevity and life you your home. If there is ample space, place two trees that can frame your entryway of house. It will only take a couple of hours to plant a tree, and oftentimes you can find trees that cost around $25.
4. Add Flower Boxes
An easy, quick and low commitment way to add color to your home is by simply adding flowers. Flower boxes on the front porch of your home or in the windows will provide you with delightful colors and loads of curb appeal. Flower boxes are not very expensive. You will also have to buy soil and your flowers of course. Make sure that you maintain and water your flowers so the while you home is on the market, it looks its very best.
5. Make sure that all Sidewalks, Walkways and any Hardscape Areas are Clean and Maintained
Focusing only on the landscaping or "softscape" of a home is very easy to do, however do not overlook the hardscape areas such as you concrete walkways and driveways. To clean off all the grime and dirt off your walkways a pressure washer will do the trick, this will give them a fresh look. Make sure that stepping stones, paver stones and bricks are securely in place creating footing for pedestrians entering and leaving you home that is safe.
6. Look for Advice at Your Local Home Improvement Store
When it comes to improving the outdoor surrounding of your home and landscaping, it is easy to feel overwhelmed by which plants should go in the various areas of your home, as well as what varieties of shrubbery will thrive best in your geographic location. When seeking advice on choosing the best plants, turn to your local nursery and they can help you decide what will work best in your space.
Although another option is to hire a landscaper or gardener, you can save money by doing the job yourself. Never be afraid to ask for help when it comes to choosing the right plants, finding out the best way to fertilize your lawn, how you should lay down your ground cover such as gravel or mulch, etc. Keep in mind that there is ample information awaiting you right around the corner at your very own local home improvement shop.
7. Light Up the Exterior
You can quickly update your home´s look with some new light fixtures; this will also amplify your curb appeal. When you purchase new fixtures for your home, consider style and function. Make sure you opt for lights that will provide your entryway with proper lighting. For easy installation, purchase fixtures that you are able to mount in your wall the same way as your current fixtures are mounted. For more advice on choosing outdoor lighting, see this Landscape Lighting Design Overview.
If you're not comfortable installing electrical items such as lighting, outdoor sockets or an intercom system, it may be wise to consult a professional electrician instead. The extra cost will be worth it.