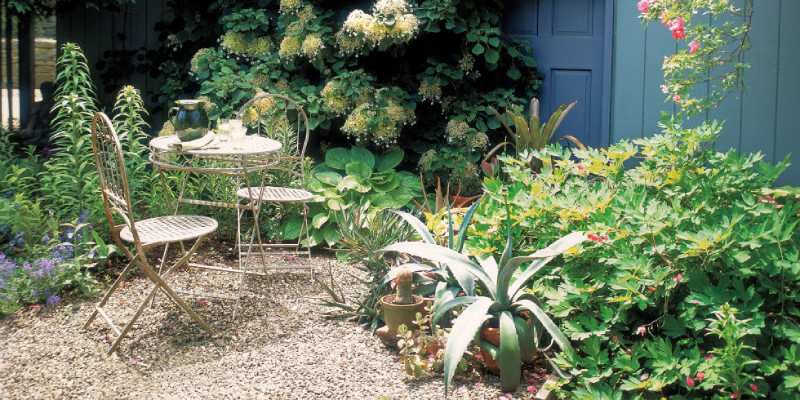 Gardening is a demanding activity. There is no denying the fact that it should come naturally to the person and can't be forced. Once you are done buying all the necessary gardening equipment like Ag spreaders, gardening hose, basic gardening tools like shovels, mowers, tailgate spreader, etc, the next step is to think about how to arrange the garden.
If you are one such beginner gardener, looking for some fantastic tips for setting up a mini garden of your own, we are here to help you. We have listed the top nine landscaping ideas here that will help you build a garden of your own quite easily –
1. Create a flower bed border – One of the oldest and simplest landscaping idea available in the world of gardening these days is to create a quick flower border. It does not take any significant effort and can be readily formed in a few easy steps. All that you need to do is to add a stone edge and do a bit of mulching to make it look more beautiful and appealing.
2. Employ some cool repetition – It is good that you want to have a lot of variety in your garden. However, strategic repetition also results in some cool landscapes. Select a few of your favorite colors, plants, and decorative stuff to get started. Think of creative patterns and you are good to go. Not just that it is easy to do, but also would push you to your creative limits.
3. Start small and gradually proceed – Well, gardening is easier said than done. It takes a lot of will power and hard work especially if you are just a beginner. Thus, it is recommended that you start small and proceed gradually.
Pursuing larger than life landscapes when you don't even know how often to water the plants can produce disastrous results. You should slowly develop a plan, research a lot and implement it in steps. Starting with a small flowerbed and work on it for two or three hours daily and you will love it!
4. Work with potted and native plants – The type of plants that you choose also plays quite an essential role in the result. For instance, beginners should prefer working with plants that require less attention. Apart from that, yet another critical gardening tip for creating amazing landscapes is that you should work with plants that are potted and native to your region.
These plants won't demand much effort or attention and will grow naturally in a beautiful way. It will keep water and pruning prices down and help you save some bucks. Also, you must Incorporate pots into your landscape as it will make the garden more versatile. With potted plants, it becomes easy to add color to different parts of the yard. Not just that, potted plants are easy to move and come handy while experimenting with various landscaping ideas.
5. Create some curved lines – Yet another tip to create a fantastic landscape is to add edges around the flower gardens. You can experiment further and add these edges in curves rather than perfectly straight lines. It will add more appeal and character to your garden and help you win a lot of compliments. So, what are you waiting for? Take your garden from boring to beautiful by adding beautiful curves.
6. Throw in some artificial grass – Talking about gardening tips and forgetting to bring artificial grass to the picture? Not fair! Gardening becomes a whole lot difficult when you have naughty kids or pets in the house. After all, all that they love doing is tearing grass and plucking flowers.
In such a scenario, you must give a shot to some cool artificial grass. It is one of the best methods to save your garden from kids and dogs as they can't do any harm to artificial grass, can they? Also, you don't need to upkeep it every weekend.
7. Illuminate the walkways – All the above tips can sure make your garden look amazing in the day, but what about the nights? Get a little extra creative and add some decorative landscape lights to the walkways and focal points. Turn these on as the sun sets and see yourself getting amazed by the scene. Yes! It is going to be that awesome. You can go an extra mile here and add lights of various shapes to create a mirage.
8. Add some outdoor seating – Okay, so you have created the perfect garden for yourself. You are all set to enjoy the landscape, but what's the fun if you cannot just sit and relax in there? Adding some outdoor seating will make your garden look more personalized and appealing. Install a minimal patio or bench in your yard for chilling with your better half. You can even install it in a corner as it will leave the garden more spacious.
9. Add a water feature – Having a natural waterfall in their garden is something that anyone would die for. However, even if you don't have one, you don't need to feel sad as you can customize your garden with an artificial water source. This will take the landscape to a whole new level and make it look more exciting and enjoyable.
Thus, these were some of the tips to make your garden look more amazing and customized. Gardening is not a very difficult task if done the right way. There is a lot that can be done to decorate your garden. For instance, you can hide the air conditioner unit with wooden casing and place lightweight pots on it.
You can even create a customized storage unit for storing your gardening equipment like Ag spreaders, garden hose, mowing tools, tailgate spreader, etc. Not only will this give these tools an all-new home but also add to the features of your garden. You can even create a walkway in between your yard and divide it into two different sections – a mini kitchen garden and decorative plants. Well, there is no end to creativity. It is all in your hands what you do with your resources and what you come up with.
About the Author
Thomas M Strother is the blogger at spreaders.com which specialize in making spreaders and dump trucks from last 24 years. They provide quality products in agricultural areas like lime and fertilizer spreader, construction and other needs from tailgate salt spreader to litter spreader. They make sure that customer requirements are full filled.