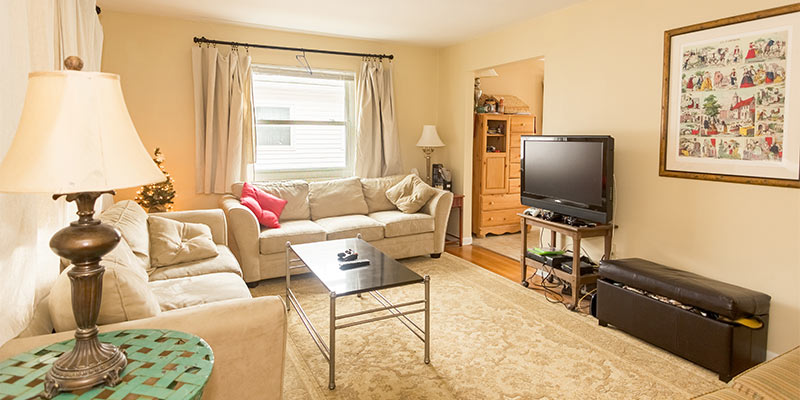 It might sound like a cliché, but sometimes livening up your living room really works as a motivation. New Year is right at the door, and as you know, it may be just the right time to make some changes in your life. So why not start from your living room? That's definitely not something usual, so you can break the cliché in that way.
Instead of turning to the bathroom and kitchen which are always on top of the list, why not start from the space where you spend the most of your time and which should, if only for that, be the real priority. It does not necessarily have to be a huge investment, just a few details can give a completely new look to your living space. Here are just a few suggestions.
Hang an Effective Piece of Art on Your Wall
These days you can find so many beautiful, stylish pieces of art at quite good prices. Choose the one that will fit in your current living room design, but also disrupt it a little a bit. It can be an oversized painting which will definitely draw attention and become the focal point, or a painting with bright colors, with unusual frame, or shape.
Anything that will bring life into your living room, something that your friends who visit regularly will definitely notice and something that will bright up your day every time you enter the room. You can further draw attention to the piece of art by using ambient lights.
Introduce a New Fabric of a Piece of Furniture
Whether you start from details such as new cushions, new rug, or you go for upholstering some of the pieces of your furniture, new fabric and pattern will definitely give your living room a different setting. Choose vintage textiles to add to the uniqueness of the space, or simply introduce something that will be your personal mark in that space.
A slightly more expensive, but far more effective way to go is to buy a new piece of furniture, like https://www.skylarshomeandpatio.com/collections/custom-sectionals-sofas-san-diego. Regardless of its size, it should be something visible and noticeable. You can also buy new covers for the sofa or armchair, anything that will simply change the setting and customize the look.
Combine Textures
If you're feeling creative don't stop at the textile, why not go further in introducing new visual elements. Don't hesitate to mix different materials such as wood, metal, glass, and create your perfect combination. Don't forget the above mentioned textile, and maybe a hint of leather as well.
Of course, you can consult some interior design sites and articles for guidance, but you can also rely on your taste, because, after all, that's your living room, you are the one who should feel comfortable in it in the first place, and it should also be in a way reflect your style and personality. Just make sure everything fits into your budget and let the room's new look emerge spontaneously.
Go Green
Adding some greenery into your home can really make an impact. You can never go wrong here. Whichever plant you choose, it won't go unnoticed and it will we make your living space more lively and pleasant. Depending on how green your fingers are, choose plants that require maintenance you can provide. This is the most inexpensive way to add color and texture to your living room. What's more, plants are more than just a decoration, they are also absorb pollutants, balance humidity and help improve the overall indoor air quality, so what are you still waiting for.
You can also make a difference with choosing the pots from different materials with interesting patterns, so plants really offer so many choices to reinvent your living space.