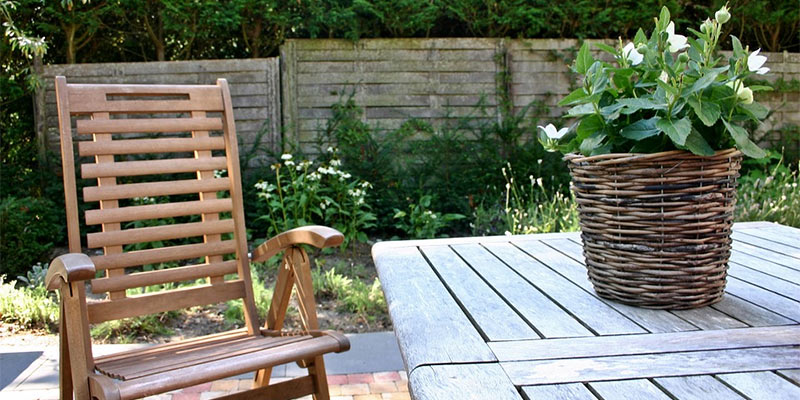 To bring function and comfort to your outdoor spaces, you should invest in great patio furniture. With comfortable, easy-to-use chairs and a spacious table, you can transform a brick patio into the perfect dining space. Outfit a cozy porch with a wicker sofa coupled with a classic wicker rocker chair, stock both with ample cushions, and you will quickly transform your porch into a second family room during the warmer months.
You should never overlook the outdoor-living opportunities in pocket gardens and balconies. If you compliment them with the proper patio furniture, the petite garden getaways will continuously beckon you outside.
When choosing the best patio furniture for your space, you should check out the following tips. Thoughtful planning ensures that you have an inviting outdoor living space for years to come.
1. Prepare a List
The first thought on your mind should be about how you would like the outdoor space to function. Do you want it to serve as a dining space during the warm summer nights? Are you planning to host your son's birthday party or the next dinner party in the space? Is a peaceful reading space more of what you want in your outdoor space?
Prepare a list of the things you wish to do in the space and then use it as a guide for determining what type of furniture you will need. If you use your 12- x 16-foot patio primarily for hosting casual cocktails, you don't have to invest in a dining table. Invest in several side tables, ample comfortable seating, as well as a fire pit.
2. Test Out Seats
Test out seats before you buy. Just as is the case with interior furniture, patio furniture that's comfortable is more likely to be used regularly unlike uninviting patio furniture, which might look good but not be so comfortable.
3. Easy Care
The bulk of your garden-side hours should be reserved for enjoying your space instead of maintaining furniture when you buy easy-care furniture for your patio. Most cedar, teak, metal, and all-weather wicker pieces are typically unfazed by what nature might throw in their way. Furniture made using such materials will maintain its lovely look for years to come.
4. Consider Storage
Store your patio furniture in a protected location, such as a basement or garage during the off season to prolong its life. Even furniture made using the toughest materials such as wrought-iron or teak will have a longer lifespan when placed in storage whenever it isn't in use. If you have limited storage space, look for foldable patio furniture or that can be easily taken part for easier storage.
5. Right Colors
When looking for patio furniture to buy, you are not limited to metal pieces; the natural tones of wood; or even the beige, white, and black of wicker. Outdoor furniture comes in a variety of colorful finishes from slick modern styles to rustic patio furniture. Reserve bold splashes of color for accent pieces and cushions for stylish longevity.
6. Invest in Quality Products
When it comes to patio furniture, the old adage "you get exactly what you pay for" holds true. Plastic resin side tables or chairs will look great on the shelf and will maintain their good looks for a couple of years out in the sun, but they will eventually become brittle and start losing their vibrant color. The same applies to some wicker pieces and wood products. Shop carefully, checking consumer reviews and reports, before you make a big purchase.
7. Look Underfoot
Place your patio on an all-weather rug to ground it. Recent advancements in textile technology have led to the introduction of many quick-drying outdoor rugs to the market. Outdoor rugs are rich in texture and soft underfoot and will lend indoor comfort to the great outdoors.
8. Invest in Dual-Use Pieces
Always invest in hardworking furniture whenever possible. An ottoman that doubles as additional sitting space for your next backyard party and a simple bench that stands alone or cozies up to an alfresco dining table are absolute must-haves for frequently outdoor spaces that are used frequently.