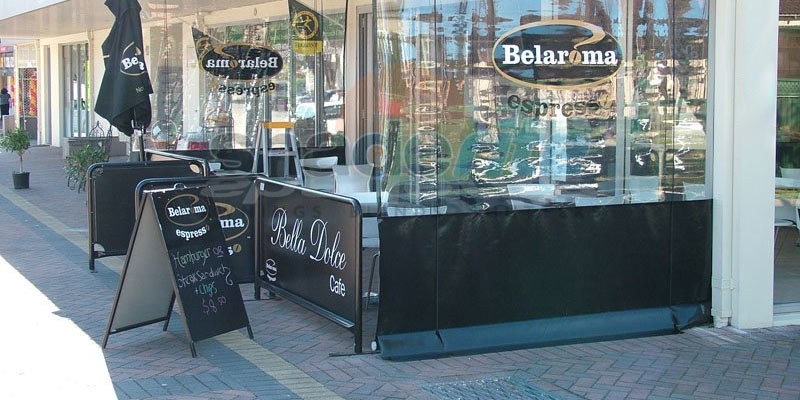 Feel like the weather is stopping you from relaxing on your favourite outdoor patio? All weather cafe blinds may just be the solution to your problem.
Your garden is your sanctuary, right? The place you take some time to relax away from the hassles of everyday life. Why not set up outdoor cafe blinds and keep it that way?
All weather blinds have gained popularity over the years. Many use them on their entertainment areas with the most common being the following:
Barbeque areas
Patios
Garden spaces
Swimming areas
Sun rooms
Veranda
Play areas
Why All Weather Cafe Blinds?
In case this concept is new to you, we'll quickly outline some benefits associated with using this blinds.
Weather Proof Solutions
Since these blinds are weather proof, they're designed to block out the sun or rain. Now, no matter the time of the year—winter or summer –you can still hang out on your outdoor spot.
But how exactly does this work?
One thing that impresses us about these blinds is their flexibility. Unlike shades you can adjust the horizontal slats to control the following:
Ventilation: The amount of wind that enters—or leaves—the enclosed area is entirely up to you. Want a bit more breeze circulating? Open them up wide. Alternatively, you can shut them to completely block wind out if it's a stormy day.
Dust control: If it's dry and dusty then you'll appreciate these blinds which will definitely keep the dust out.
Heat control: By also adjusting the slats you determine how much of the sun's rays hit the area. Did you know: It's said that by completely shutting off these blinds heat gain is reduced by up to 45%? That can even help regulate utility costs as you keep your interior cool.
Deflect sunlight: Not only is heat controlled but you can use them to redirect the harmful UV rays. This diffuses the light to ultimately reduce that uncomfortable glare.
View: It doesn't necessarily mean erecting blinds means shutting the world out. Sure, they block the sunlight but not your daytime view—simply position them correctly.
Rain: Blinds are designed to provide you with approximately 85% rain protection which is quite impressive. Enjoy the refreshing sensation without getting completely wet!
Inexpensive Option—A Solution for All Budgets
Though effective at keeping harsh weather elements at bay, you don't have to break the bank to own a set. On the contrary you'll find they're quite affordable.
Contemporary or Modern Look?
Who says blinds have to be boring? Picking a stylish set of blinds will definitely spice up your lounging area.
What look are you going for? Is it traditional or modern? These blinds are available in different styles and patterns so you can pick on to suit your individual taste. You can customize your blinds with any colour so make sure they suit your theme or match your decor. Versatile, right?
You'll be surprised how the right set of blinds will transform not only the practicality of your veranda, but also the ambience.
Get A Little Privacy
Not in the mood for prying eyes as you take your afternoon swim? By using this creative option you can create an enclosed space for a private relaxing set up.
Marketing Purposes
Mind you these aren't only for individual use but businesses as well. Ask any business owner and they'll tell you the importance of maximizing every opportunity to advertise their brand. You can use branded blinds imprinted with your company's logo on your outdoor patio as a marketing tool.
What Are the Different Types of All Weather Blinds?
Now that you know what you gain from owning a set, let's quickly go through the most common types.
Deluxe Blinds
You'll find that these are the most preferred type among many users. The fact that they're easy to operate is one of the contributing factors. As a bonus: They're quite attractive too.
Basically, they're operated using the detachable crank handle & gear system. When not in use, they roll up quite easily.
Rope & Pulley System
These work with ropes that are pulled and retracted via eyelets at the top of the blinds. Needless to say, this is the most affordable option. As stated, almost anyone can own one of these sets and enhance their home.
Before You Buy
Different Fabrics Used—Which is Best?
As mentioned earlier, these blinds are available in different fabrics. Which one you pick is entirely a matter of preference. However to some extent the fabric will determine the longevity of the blinds. You might want to take that into consideration before picking the first stylish blinds you see.
Most outdoor blinds are however made using all weather unique woven fabric which is breathable. Shade mesh made of vinyl coated polyester is the most common because:
Its tenacity.
This fabric is built to last. It won't distort prematurely regardless of constant use.
Heat is easily regulated through this fabric. End result—even and comfortable temperature.
Check the Hardware Attached
You need to check the hardware that comes with these blinds as they help keep the blinds securely in place, such as guide rods and tracks.
If you can find blinds that are sold with the necessary attachment you've found a winning option. You won't have to worry about making any additional trips to the hardware store to purchase these.
Conclusion
With that said, are you inspired to give your outdoor space that elegant look? It only takes one feature and you'll have the neighbours talking.