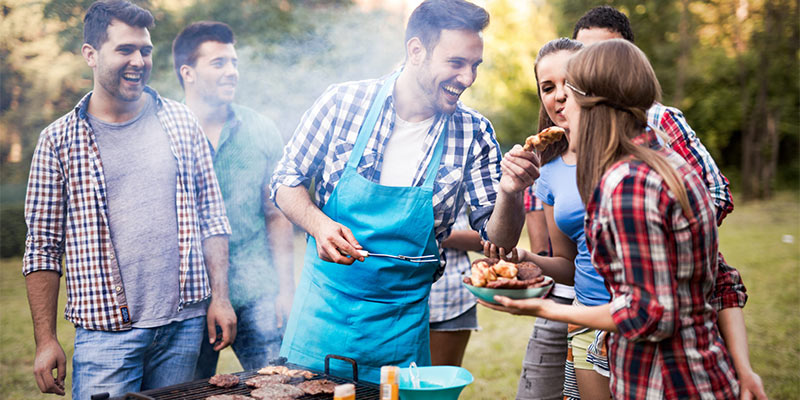 Food brings everyone together. During summer times, having a BBQ party with your family in the day is the best way to have fun with your loved funs. Chilly nights of winter are also perfect to call your family to have a BBQ party. The smell of the BBQ and the laughter of everyone help to make wonderful memories. Have you wanted to arrange a BBQ party for your family members? If yes, then I have some great ideas how you can decorate your backyard. Backyards are the best place to hold BBQ parties as the smoke can cause suffocation in indoor areas.
Decorate the tables
You can always decorate the BBQ tables with different clothes and napkins. If it is spring season then you can also go with a flowery theme by decorating the table with flowers. Always stick your theme. Choose a color scheme and decorate all the tables according to it.
Drinks stand
As the BBQ dishes can be spicy you should always have drinks around which is why it is a great idea to arrange a drinks stand which should have all soda drinks along with ice cubes and glasses.
Photo booth
Having a photo booth with funky props can be the best place to take pictures that will remind you of the great memories of this day. You can ask your teenage cousins to make some props as it will keep them busy while the elders are making the dishes.
Lighting
If you are having your BBQ party at night time then it is extremely important to have good lighting. You can setup spotlights along with fairy lights to make your backyard look astonishing and illuminating. This will help to make your pictures look brighter. You can tie the fairy lights on your plants as it will create a beautiful view.
Fans
If you are having your BBQ parties in the summers then don't forget to setup electrical fans near the tables so that your family doesn't get sweaty.
Mats and cushions
You can also have your BBQ party in a picnic style by arranging some mats and cushions. Place the mats and cushions on the ground and serve everyone there.
Projector
Another great way to decorate your backyard for a BBQ party is by arranging a projector to watch movies or old family videos.
Ice cream stand
You can also arrange an ice cream stand for your BBQ party as it can be eaten after everyone is done with the BBQ.
Flowers
As you are having a BBQ party in the backyard it is extremely important that the condition of your backyard should be good. Grow some plants and flowers in your backyard and also set plant pots at the entrance.
There are some other great tips to decorate your backyard for a BBQ party. If you are having a birthday party along with a BBQ party, then you can also decorate the area with balloons and a 'happy birthday' banner. You can also arrange lanterns.