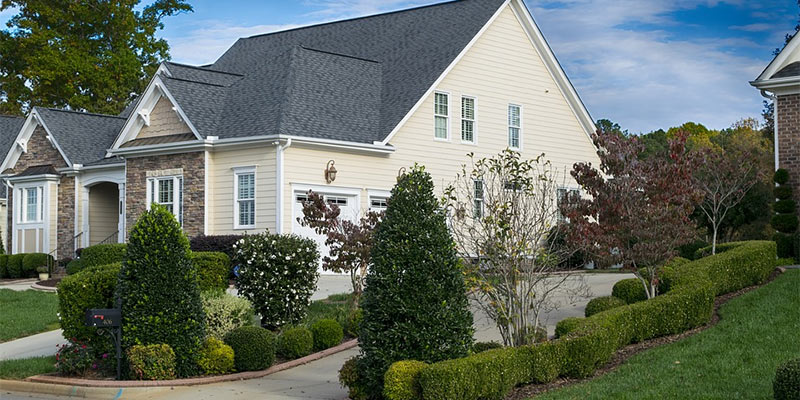 The majority of you will agree with me on this fact that home is incomplete without landscaping. If you people are planning to sell your home, then let me tell you, there are numerous parameters that might need your attention. Landscaping has been figured out as the main aspect that can increase the value of your property. As per latest research and surveys, it can maximize the property value up to 25%. Skilled landscapers offer high-quality products to refurbish your place. It will increase the worth of your place. So check out how the landscaping will increase the worth of your place.
Quickly sell the property
Majority people don't pay much attention to the front of the house. They don't invest money, but some of them always struggle hard to scour perfect landscaping design to make their outer area beautiful as per inside. These days numerous attractive designs have been introduced by manufacturers to spruce your backyard. By adding captivating features, it will boost the selling price of your place and impressive landscaping design will attract everyone so majorities will go with that.
Positive Gesture toward proper maintenance
This one is another noticeable factor that needs your attention because people who will visit your place for buying it will give the impression that you people have paid lots of attention to its maintenance. So I guess this one would be encouraging for the resident as well. It has been figured out that if you people have invested a huge amount in the renovation of the inside area of the house, then the outer area should be refurbished as well. A good value of your property is dependent on both the frontal and inner aspects of your residence.
Make your place attractive
The entrance to your place should be impressive because landscaping will leave a great impression on any person that enters your place. It could be a great, mind changing factor. Who doesn't to have a manicured lawn because that will boost home value and backyards create a spectacular view of evening tea with the family. An option like this to spend the most beautiful time with your family, definitely has an attraction for any buyer. You can make it a perfect outdoor place for barbecue, gathering, birthday parties and much more. Ability to conduct such event emphasizes the need and elaborates the value of landscaping.
Gives living space
You would be happy that it provides additional space. In warm summers people want to sit with family to enjoy the sun. Such things would grab the attention of buyers because everyone wants to maximise the home's appearance and if the front or the backyard of your house is a breath-taking view then no would like to miss this scene? Obviously, no one! Landscapers can add magnificent features to the landscaping, and all the features will give your backyard a relaxing appearance. Professionals will do little bit adjustments with driveways as well because they are directly associated with backyards and it's necessary to refurbish them as well.
Get to know about the reason for landscaping matters
Creates a relaxing environment
Everyone wants to relax the atmosphere after hectic routine so the landscaped area would create a comfortable ambience. You can have the outdoor feel at home and you don't have to go anywhere to have peace of mind. Sit there with your family and rejuvenate yourself.
Provides An Atmosphere For Outdoor Functions
<>You people just have to refurbish the outdoor area with little bit adjustments to make it spectacular. Arrange proper sitting, and you can use the outdoor area for dining as well. Various sitting options are available so you can opt any one of them as per your desire. Use this place for family gathering and other events. It will become the most desirable area of your home where everyone wants to sit.
Gives a Natural Feeling
Landscaping restores natural preservatives and gives a natural feeling. Everyone loves to enjoy the nature, so you people should add various natural aspect in all forms of interiors. The omission of these factors is difficult. It will give you a great feeling of nature.
Creates visual appearance
The main reason for landscaping is just to give their place a visual appealing. Natural ornaments refresh your eyes and will provide you rejuvenate feeling after the hectic daily routine. If you people want to enjoy natural aspects of your home, then landscape your place immediately. Numerous people don't pay attention to landscaping because of enormous investment, but expert landscapers would let you know about the various cost-effective solution as well.
Environmental reasons
Landscaping leaves an excellent impact on the environment, and the temperature remains in control, especially in summers. Breathing in fresh air and walk on the green grass improve the nerve control and adds to a peaceful environment.
These are the main landscaping facts which have been described in this blog. Landscaping is not only for backyard refurbishment. It is maximising the value of your property and leaving healthy impacts on environment and health. Various landscapers are offering cost-effective services to make your backyard breath-taking. Nowadays people are investing an enormous amount in home appearance. Get the best professionals because they will create a stunning environment to reduce your stress level. Buyers always get attracted towards manicured garden so make sure you are going to have best services in town because non-experts would sink your funds and obviously you don't want to do that.