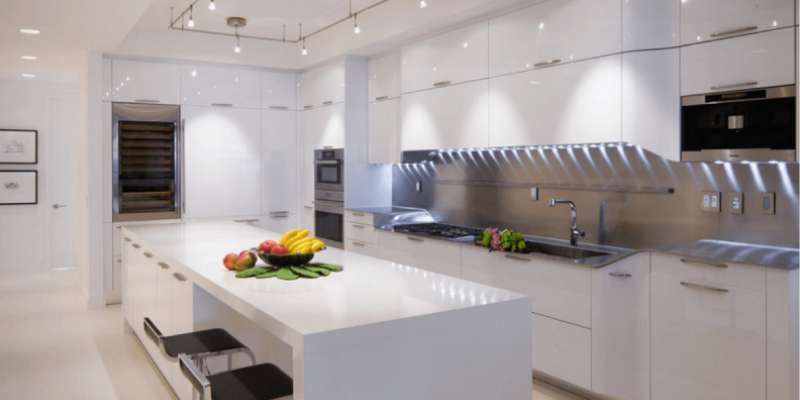 Most often than not people think too much or even spend too much trying to change their kitchen's boring appearance. In most cases, that may be simply because people are too lazy to do anything about their cliché kitchen appearance, but one factor that plays a significant role is the lack of ideas (or at least the good ones).
Hence, here are some easy and basic DIY tips that you can implement it in your kitchen to make it a bit more pleasing and a welcoming place to spend your time.
1. Painting the cabinet
Most people don't even bother painting their kitchen cabinet. It's just a piece of bulky wood structure lying on top of the cooking area, and that's basically it. However, since the cabinets take a good space in your kitchen, the simple procedure of painting it can make your kitchen look totally different. You can paint the cabinet to match the color of your kitchen wall, so it does not appear random or alien as well.
2. Repaint Your Cookie Plates
For this, it would be easier and simpler if you have plain and solid colored plates. Other plates that already have flower or pattern designs would be difficult to apply a clean coat of color on top of them. Also, you do not have to go crazy on the plate coloring (unless you're really good with drawing). Instead, you can just do an abstract color design for minimalist aspect. You can keep these plates out in the open space and use them for entertaining guest over a cup of tea and snacks.
3. Use Cup stands
Instead of the traditional method of storing the coffee cups away in the cabinet, you can simply use a cup stand to make it easier for you to access the cups whenever you require them. Also, the cup stand is a good way of displaying your fancy design cups out in the open.
4. Use enough lighting in the kitchen
You do not have to go about installing multiple CFL bulbs in your kitchen to make it a brighter space. Instead of that traditional approach, you can use dancing lights aka decorative lights in your kitchen background, especially around the dining area. A well put-together dancing light in your kitchen space can really "light up" your kitchen (literally and figuratively).
5. Use Kitchen Rug
Do not neglect the importance of installing a proper rug in your kitchen. You do not even have to run to the market to get one. Instead, you can make your own custom rug to go along with your kitchen space and your floor type. A good kitchen rug not only prevents unnecessary falls in the kitchen but also elevates the aesthetic purpose of your cooking area. You can also make a custom rug to keep it on the entrance of your kitchen as well (sort of like a welcoming mat).
6. Bring the Garden Inside
Of course, that does not mean bringing your entire garden into your kitchen. Instead, try to incorporate a mini-garden in your kitchen. Obviously, the bigger garden plants will be difficult to accommodate in your kitchen's limited space. However, you can keep the smaller herbal plants that you frequently use for your dishes. A little bit of natural green plants in your kitchen can liven up the place.
7. Paint wooden spoons
For your plain wooden spoons in your kitchen, you can simply paint the handle part of the spoons with whatever colors you want or even better; let your kids choose whatever color they want and let them paint their own spoons.
Above are just some of the easiest and simplest DIYs that you can easily implement without breaking a sweat. Of course, you can seek professional Sydney kitchen design assistance if you want a thorough kitchen renovation. In any way, implementing little re-touches in your kitchen can sum up to a significant change if done correctly.