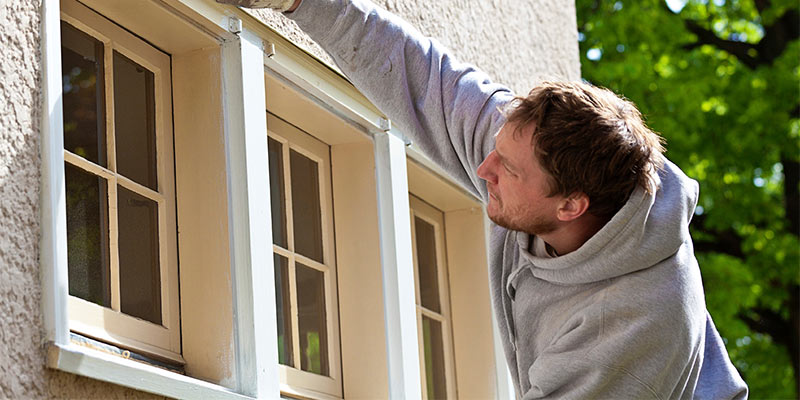 As you go about your home maintenance routine this spring, remember to pay attention to your windows, balconies, doors and exterior paintwork. It's vital to keep these in tip-top condition, as hot and cold temperatures, wind, rain and dirt take their toll. Here are some maintenance tips to help you keep everything shipshape.
Windows
All your windows and doors should be inspected on a regular basis. Repaint wooden windows wherever the existing paint is blistering, peeling or flaking. Preparation is key, so make sure the existing paint has been removed and the surface smoothly sanded. For windows that are too high up to safely reach from the outside, consider using a professional company such as MC Property Maintenance.
Doors
It's best to remove doors for painting so that all the edges, the bottom and the letter plate opening, can be properly primed and finished. If the door has glass panes, replace any bits of missing or defective putty, being careful not to damage the glass.
Maintenance checklist
Check for rotten wood, particularly at the bottom of windows, doors and window sills.
Check the condition of all joints.
Check for any loose, cracked or missing bits of putty.
Open windows and doors to ensure they move freely.
On sash windows, open weight pockets to check for any obstructions and signs of damp.
Check for draughts when overhauling windows and doors.
Regular inspections
It's a good idea to inspect your windows (and doors) thoroughly every spring. Check all the window frames. Use a metal probe to look for signs of damp and rot. If you have double or triple-paned windows, check for any signs of moisture. If you notice small water droplets, this means the seal has failed and should be replaced. A failed seal reduces the insulation capacity of your windows.
The sun can be a problem, causing paint to become dry and brittle and start to flake or peel off the surface. Repaint where necessary as soon as possible. Check the condition of weather stripping on your windows and replace these if they're worn. Lastly, make sure there are no gaps between the window casings and walls. If there are, use a latex caulk to fill these in.
Window sealing
Cold air will come into your home through any small gaps around your windows, and result in a loss of the warm air inside. This reduction in energy efficiency will lead to higher energy bills, so replace all the worn out rubber seals and, if needed, use spray-foam insulation or caulk to help seal up the windows.
Window re-painting
If you have wooden or metal window frames, it's a good idea to repaint these every 3-4 years. This helps protect them from the elements and also maintains their appearance. Always apply paint to windows that have been properly cleaned, and don't paint over any moving parts. It's also important to keep the windows open while you paint, otherwise they will stick.
Damaged windows
Fill any cracks and holes in the window frames promptly. The longer you to take to fix these, the more they will deteriorate. If you have wooden windows, use a screwdriver to clean out the rotten wood, before filling with putty. When the putty has dried, sand the surface, then apply primer and paint.
Balconies
If you have a concrete balcony, check for any damage or cracks. Water leaking into the floor of a balcony will corrode the steel reinforcing and can cause major damage. Also, make sure water is running off the balcony properly and isn't pooling. If you have a wooden-floored balcony, inspect it regularly for any damp or rotten timbers and be careful not to overwater any pot plants you have sitting on the balcony.
Exterior paintwork
Check to see if any of the exterior areas or elevations need to be repainted. If so, select a dry time of year to paint the outside of your house, and buy the best quality paint you can afford – you'll get better coverage and the paint lasts a lot longer.
Because paint doesn't adhere very well to dirty or oily surfaces, clean the walls thoroughly and allow to dry. Scrape off, or sand, any flaking paint, and then apply a good coat of primer. When the primer's dry, sand the area again carefully and paint on your colour coats. Always start at the top and work your way down, as this helps control paint streaking.