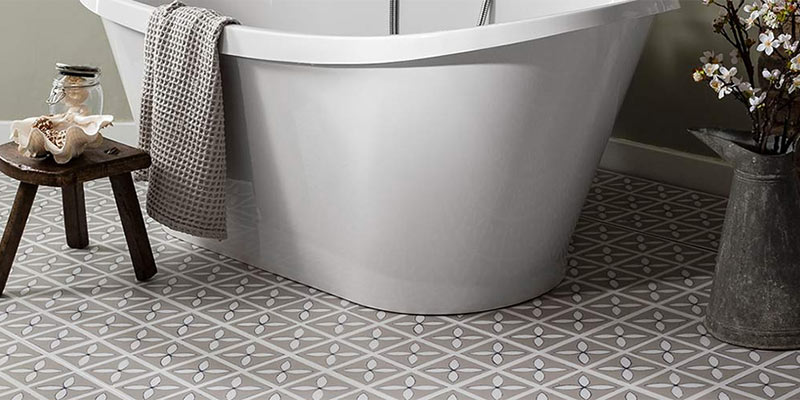 Choosing the right flooring material for your home is a big step. Whether you go for carpet or hard flooring, it's an investment into your home that should keep on giving for many years. Of course, budget is always a consideration, as is functionality and style. The good news is that there is a solution that really does tick all the boxes. Enter LVT – Luxury Vinyl Tiles that are a far cry from the cheap and often nasty vinyl sheet flooring of old.
Perhaps you love the look of a wooden floor in your home, but are worried about its suitability in your bathroom or kitchen areas? Do you wish for the beauty of natural stone but are concerned about the price tag, not to mention the mess and disruption during installation? Luxury Vinyl Tiles can solve all your problems and more. For a high quality home flooring solution that looks and feels sumptuous and indulgent, vinyl tiles are here to stay.
Choose from an array of high end designs


Luxury vinyl flooring can replicate all manner of flooring, including wood, ceramic and stone. Print and production process are now so advanced that there are more designs than ever to choose from. What's more, the results are so authentic that it can be hard to tell the difference from the original hard flooring material, except of course LVT is warm, cosy and comfortable underfoot.
Vinyl tiles come in plank, tile and solid format so that you can achieve the exact look you're after without compromising on quality. Plank vinyl flooring is a popular alternative to real wood flooring, while tiled designs mimic the pattern of a natural stone or slate floor. The result is a very realistic appearance but with all the advantages of LVT.
Easy installation and maintenance
When it comes to installation and maintenance, LVT offers maximum convenience. Luxury vinyl flooring is a doddle to install and easy to keep clean.
Vinyl tiles can be fitted in three ways. Dry back vinyl tiles are applied to the subfloor using adhesive, while self-adhesive vinyl tiles are simply stuck down. Click vinyl tiles don't require any adhesive; they are easily clicked together to form a floating floor.
This choice of flooring offers high durability – perfect for high traffic areas in your home and easily able to cope with children and pets too. And in the unlikely event that a tile should become damaged, there's no need to pull up the whole floor – simply replace the affected tile. For a high-end look to your home with exceptional usability and a luxurious feel, LVT is a great choice.
Fabulous functionality around the home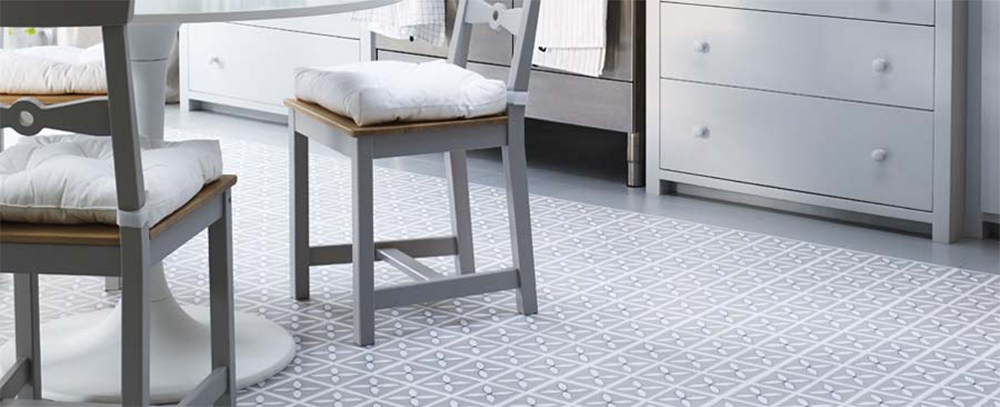 Luxury vinyl tiles are water, stain and slip resistant, which makes them a great choice for wet areas including kitchens, utility rooms, bathrooms, shower rooms and downstairs WCs. Simply mop up any spills without causing damage to the floor.
But there's no need to stop there – with so many designs, colours and finishes available, you're spoilt for choice for an indulgent flooring solution anywhere in the home.
Kitchens and bathrooms
Vinyl flooring has traditionally been associated with kitchens and bathrooms, and LVT offers the same advantages. LVT tiles are stain and water resistant, meaning easy cleaning without the risk of leaving behind any unsightly marks. The anti-slip surface ensures the highest levels of safety, particularly in those areas of your home that are susceptible to water spillages.
Bedrooms and living areas
Add a sense of luxury, comfort and warmth to your living and sleeping areas that are practical and functional too. From wood and natural stone to an array of quirky designer patterns, you're bound to find the perfect complement to your interior décor. Whether it's in the master bedroom, the nursery or the sitting room, there'll be no cold tiles needing rugs or slippers on your feet – LVT tiles are warm and comfortable underfoot.
High traffic areas
Halls, stairs and landings are the busiest areas in your home, demanding a hard-wearing flooring solution that can cope with constant traffic and high wear and tear. With top marks for visual appeal, practicality and performance, luxury vinyl tiles are a great flooring solutions for these areas too.
For more more tips & ideas, see "Set The Right Tone With World-Class Flooring".