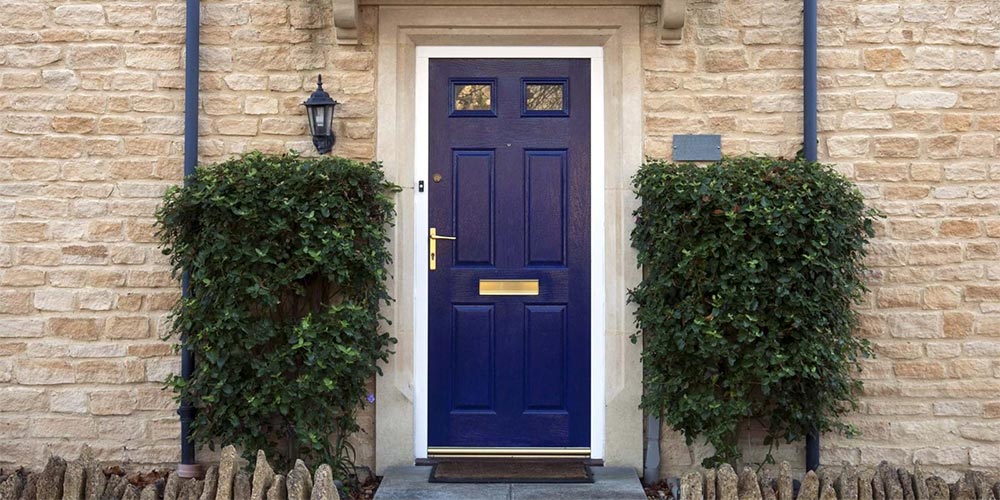 Your door isn't just a part of your home that's only function is to secure you when at home and secure it when you're outside. It provides much more than that, it's what you come home to every day, and it's what visitors see when they arrive. A stunning front door can improve your facade, as well as the lighting and ventilation inside.
If you're undecided about what type of door to use and you don't know what things to consider, we've prepared this guide to prepare you for the ins and outs of purchasing a front door.
Factors to consider in choosing a front door
Aesthetics – As we said in the intro, your front door can heavily influence your facade. When it comes to aesthetics, it's crucial to think about things like the door's style, colour, and material. Furthermore, you also have to consider what you want other people to think when they arrive at your home. For example, do you want them to think your home has a bold or subtle aesthetic?
When looking for doors, make sure to ask your trusted door company for a portfolio of designs and previous projects, so you can get an idea of what styles you want and about current trends in door design.
Security – A door is an entry point to your home. While the lock certainly does a good job for door security, a good door lock can hardly do anything when the door can be brought down in one try because the manufacturer uses a low-quality material. Burglars can find a weak point, and there you go, they can easily open your door. Aside from the material, the door also has to be fitted by a professional to ensure its security.
You want a door with a strong frame with premium fixings. If you can, you should also try to get doors with additional security features like Safeglass panels and security screens.
Durability – A door is an investment for your home, and like any investment, you want it to be worth the money. It's why it's vital to ensure your door is made of premium material and built well. Furthermore, by having a strong and durable door, you can have a barrier protecting you from dangers outside your home.
Insulation – Your door can influence the temperature in your home. If your door has poor thermal insulation, it will be colder inside, which is a hassle during cooler months. In the summer, your home will be hotter. Due to this, your air conditioning system will have to work hard and consume more energy to maintain the temperature inside to your liking, leading to an increase in your energy bills and an uncomfortable home environment with cold and warm spots.
Other than the temperature, a good front door can also help you keep the noises outside away from your home so you can live peacefully.
Maintenance – Doors also require maintenance, especially for a wooden door. Some of the care your door needs is making sure that it's installed properly and cleaning it from time to time. Furthermore, some materials need more maintenance, especially wood, and unlike glass doors that only require regular cleaning.
It's also important to consider where you live, as the maintenance needs for your door may be different according to where you are.
Types of front entry door designs
Single vs double doors – Most doors use a single door configuration due to space limitations. However, if you have the space for a double door installation, the designs and materials used in double doors are very good, too.
Single door layer vs 2-in-1 front door design – Both doors offer good security. However, 2-in-1 doors can let more light and fresh air inside during hot days without being a risk to your security. It's also a good option for those with pets.
Transparent vs opaque – Glass manufacturing is so good nowadays that you can use a beautiful glass door for added light and facade without worrying about durability and security.
Colour – Color is down to personal preference and how it fits the house. To get the perfect colour, make sure to tell your trusted door company about the message you want to give and how you want it to look with your home. You can also see some samples in showrooms or choose a custom colour. It's always better to have it professionally painted and stained, as it looks better and protects the material more effectively.
Door frame design – Even if you use a high-quality door, it won't be secure without a robust door frame. When replacing doors, make sure to replace the door frame, as well. Furthermore, the door frame can also add aesthetic appeal, so make sure to look at different frame styles and materials.
What to expect from St Albans door specialists
Choosing a door design isn't easy and isn't cheap, either. To get the best out of your money and get the best design possible, here are some tips:
Get a single door company to design and install your new front door.
Expect and demand the best from the company.
Choose a company with pride in themselves and what they do.
Choose a door company/supplier that's well-known in the industry.
Make sure they will put customers first.
For the best security and aesthetic appeal, it's crucial to have St Albans door specialists providing you with professional door company assistance.