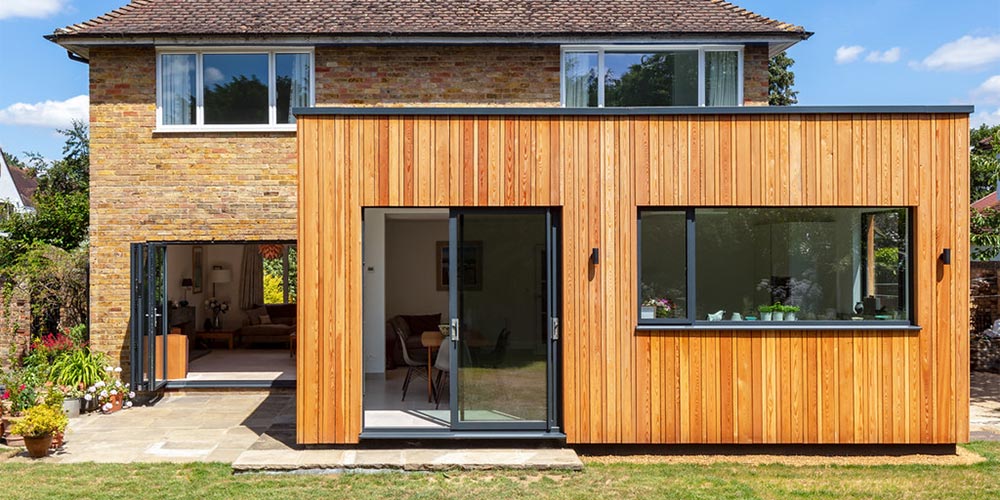 Building an extension is an exciting and rewarding project, but it also requires a lot of planning and preparation. The first questions you will probably find yourself asking include: How much will it cost? How long will it take? And do I need planning permission? But once all of those are out of the way, the choice regarding materials presents itself front and centre.
There are a wide range of modern materials, such as beam and block flooring and monocouche render, that are becoming increasingly popular amongst self-builders and renovators due to their numerous benefits over the older, more traditional alternatives. Here, we look at five such options available to you, and evaluate the potential reasons for choosing to include them in your new extension.
Beam and Block Flooring
Beam and block floors, where concrete slabs are placed in between train track-like T-beams, are perfect for self-builds as they require no ground preparation and are pre-cut to fit, making them extremely straight-forward to install. They save further time at the beginning of the project as they provide a safe working surface for follow-on jobs, and, as it is a completely dry method, you don't have to rely on good weather.
The main benefits of beam and block floors are a result of their dense and inert nature. They are completely resistant to vermin, rot, frost, damp and fire (also making them great for overall safety), and offer excellent acoustic insulation, drowning out unwanted noise pollution.
Liquid Screed
Liquid screed provides a smooth and level surface on which to place your chosen floor finish, be that tiles, carpet, wood, laminate or other. Screeds ensure that the floor is completely flat, which is particularly vital for tiles and vinyl, as it prevents them warping or bending.
If you're planning on installing an underfloor heating system, a liquid screed is definitely something you'll want to consider. The screed flows around the heating pipes, covering any free space and voids. Eliminating voids equals greater conductivity, allowing the heat to diffuse evenly across the floor.
I-Joists
I-joists are engineered wood joists designed to eliminate the problems commonly associated with a standard timber joist. I-joists feature thick flanges at both the top and bottom, creating an "I" shape. They can be utilised in floors, roofs or walls.
The main long-term benefit of I-joists is perhaps that they reduce shrinkage almost completely, eliminating the annoyance of squeaky floorboards over time. I-joists are also far more time-effective to install than traditional joists, as less than half the amount of joists are typically needed, making the overall installation time three to four times quicker.
Monocouche Render
The French word monocouche literally translates as "one coat". Monocouche offers an alternative to the standard brickwork render, and is becoming increasingly fashionable. Not only does it look sleek and sophisticated, it provides increased weather resistance, is low maintenance and generally long-lasting (at least ten years).
The type of cement used in monocouche also allows for pigmentation, meaning you can choose your colour in advance – no need to paint the entire exterior of your house! Monocouche keeps colour well, and rarely fades at all.
Prefabricated Roof Trusses
Roof trusses provide structural framework to support the roof fabric, and can be designed to accommodate virtually any roof shape. While roofs generally have to fit in with the rest of the building, if you're erecting a large rectangular extension, your options become much more plentiful. Prefabricated trusses, made in advance, fit these sorts of builds perfectly, and offer many advantages over those cut-to-fit on site.
Because they have been designed in advance, prefab roof trusses are obviously quicker to install, but more than that, they are able to clear greater spans without the need for additional supports, and also negate the requirement for high level structural supports, saving money too. The fact that they don't need to be cut on site also of course saves time and money on labour.
Summary
Planning an extension is a long process, and you'll no doubt want to evaluate all your options thoroughly. But hopefully this article has provided an initial insight into some of the benefits modern materials offer, particularly their ability to save you time and money, as well as reducing the chances of any structural or aesthetic problems developing further down the road.
Image Source: https://www.flickr.com/photos/granitarchitects/46157461881