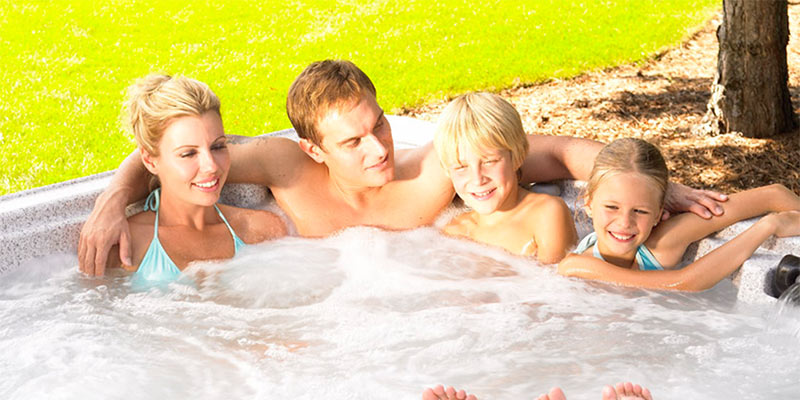 There is nothing more important in life than spending quality time with your family. However, in today's fast-paced world, it can be difficult to set aside time to be spent with your loved ones. Owning a hot tub provides an enjoyable activity that brings the entire family together to relax and enjoy each other's company. From taking a relaxing soak to participating in a fun-filled game night, below we will take a look at how a hot tub can increase the amount of quality time that you spend with your family.
Activity Center
As soon as your hot tub is installed, it will become the focal point of your backyard. It is simple to transform your hot tub into an activity and social area by placing some patio furniture, a BBQ and a sound system nearby. Once your area is set up and ready to be enjoyed, your hot tub space becomes the perfect place to celebrate family birthdays, achievements, holidays or just to simply relax after dinner. There are also a number of waterproof hot tub games on the market such as card decks and board games which can make your family game night even more enjoyable while soaking in your hot tub.
Health
Hot tubs not only boost your immune system by stimulating the lymphatic system and increasing blood flow. The sweat produced by the warm water also helps flush toxins and cleanse your body. If a family member is suffering from a cold or flu, a hot tub can be soothing and help their recovery. Hot tubs offer a number of wellness benefits and will keep your family healthy and able to spend more quality time together.
Fitness
Water brings out the playful side in both adults and children. When your family owns a hot tub, you will notice that you will spend more quality, active time together. A hot tub is a great tool to help teach children how to swim in addition to encouraging play and movement. For adults, it is a great way to exercise to keep fit and healthy. Performing simple motions in a hot tub provide excellent strength training due to the water resistance. Plus, a hot tub's warm water helps to loosen muscles and prevent injuries.
Social Center

There is no better social center in your home than a hot tub. In today's technology-driven world where everyone is so involved with their tablets and smartphones, relaxing in a hot tub is the perfect excuse to unplug and unwind. Quality family time can be spent together without the distraction of electronics and even the most internet addicted teenager will still enjoy a relaxing soak in the family hot tub.
In addition to increasing the amount of quality time your family spends together, hot tubs have a number of other health and wellness benefits. Download a hot tub buyer's guide to learn more about the advantages of becoming a hot tub owner.