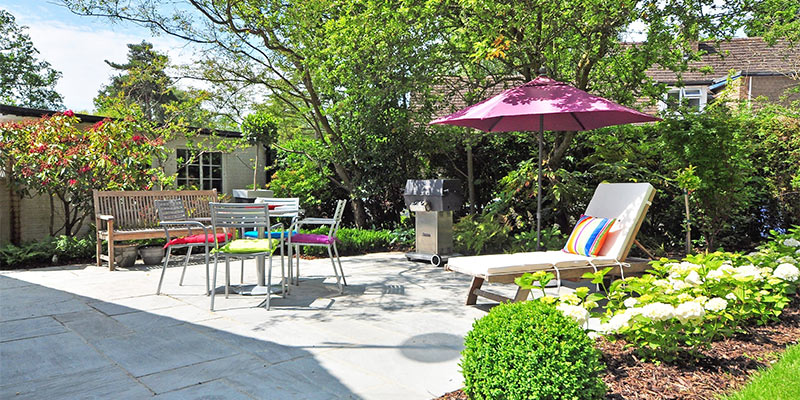 Your backyard should be a comfortable and inviting oasis where you'd love to spend a full summer day basking in the sun. If the thought of doing so currently fills you with dread, then maybe it's time to give your backyard a makeover. Here are five tips to make your outdoor space more beautiful and enjoyable so you can take advantage of the great weather.
Update Your Patio
Replace your worn out wooden deck or concrete slab with a more durable material, such as granite or limestone. These materials are great for outdoor living as they are gentle on bare feet. For something a bit trendier, try porcelain. Dekton is a new but trusted option as well. It's a combination of quartz, glass, and porcelain that's UV and scratch resistant.
While replacing your patio isn't for those with small budgets, it will definitely offer the biggest transformation.
Build a Fireplace or Fire Pit
Add a little extra ambiance to your backyard by adding in a fun place for everyone to hang out at your barbecues. Fireplaces make for the perfect outdoor spot for everyone to gather around and warm up once the sun goes down. And if you're worried about cost, go with a fire pit. They're less pricey and they're perfect for the kids when they want to roast some marshmallows.
Add a Retaining Wall
Does your backyard currently look like a lump of dirt? It doesn't have to if you install a retaining wall. Retaining walls are great for controlling erosion while leveling a steep yard. Choose a stone wall for a refined look or throw in some boulders for a majestic atmosphere that your friends and family will love.
Hang Some String Lights
Turn your backyard into a night-friendly zone by handing up string lights along the perimeter. Lights will keep things safe for the kids while also adding a decorative flair. Choose some white Christmas lights if you're on a budget, but for a chicer look, try old-fashioned bulbs for a modern feel.
To hang your lights, you may need to install some anchor poles. An easy way to do this is to stick the pole into a planter, fill it with cement, and then plant some flowers on top of it. If you're in a pinch, you could even wrap lights around trees for a festive atmosphere.
Invest in an Outdoor Kitchen
Make your backyard the go-to hangout spot this summer by adding in a complete outdoor kitchen (grill included). Outdoor kitchens are more than just your typical barbecue. By adding a bar with some nice countertops, barstools or some chairs, it will be the perfect place for family and friends to gather around and have a drink.
Install Bird Feeders
To truly make your yard come alive, install bird feeders throughout your space. In just a few minutes, your outdoor area will be filled with birds happily tweeting as they fill their empty bellies. Different birds like different foods, so have spaces for hummingbirds, cardinals, woodpeckers, and whatever other types you'd like to attract. You'll never tire of watching them flit from feeder to feeder.
You don't need to completely renovate your backyard to make it a livable space. Rather, small tweaks and changes can go a long way. Turn your space from an eyesore into a veritable Mecca with a few of the above tricks. If you need more help, contact CT Stone today for your stone patio, pool, or retaining wall needs.