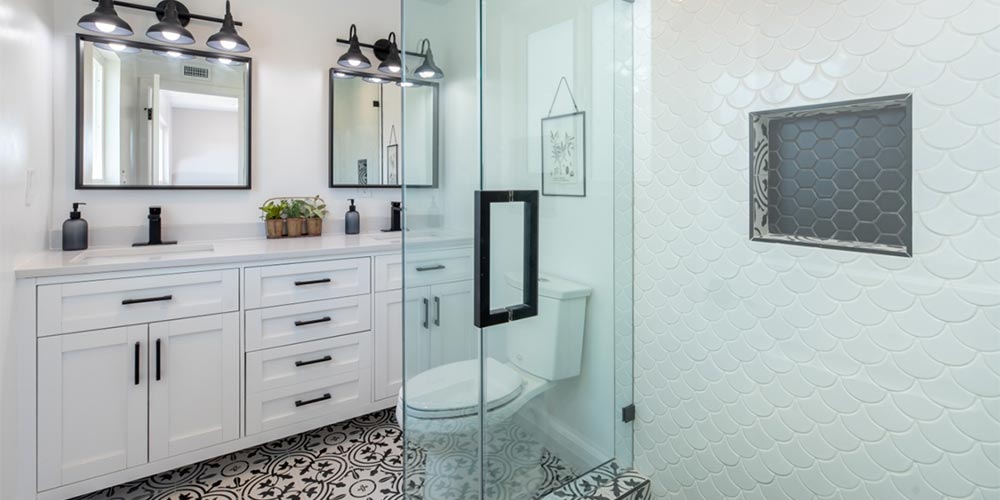 Investing money in our homes is one of the best ways to ensure a healthy return if invested correctly. Decorating your property to the style you love will turn your house into a home, but will it add value to your investment? One area that you can definitely add value to your property is in the bathroom.
We believe that if done correctly, a new bathroom can add around 4-5% of your home's value to the asking price. Not only will this be beneficial should you want to sell, but it will also help when renegotiating a mortgage deal. So how much should you anticipate spending on your new bathroom? Do you even need to upgrade? We have some suggestions below that might help you to answer these questions.
What Is the Condition of Your Current Bathroom?
If your bathroom is a lovely shade of green and has more limescale than tap, then the chances are that you need to replace your bathroom, and fast! However, the main issues with older bathrooms are often the wear and tear that hides beneath the surface. Old toilets will use twice as much water as a newer, water-saving alternative. Old taps will have limescale, and debris built up in the pipes, and dated decoration may be hiding all sorts of bacteria and mildew build-up.
Bathrooms, as a general rule, should be updated every 10 years. This is particularly important for those wanting to save energy and reduce their water consumption. As well as toilets with smaller water tanks, you will also be able to install taps and shower units that use less water and therefore save you money (not to mention look great on your EPC).
The Property Market Today
With the economy in complete turmoil, thanks to the events of 2020, the property market is one area that people are watching with great interest. Surprisingly, the property market doesn't seem to have been as affected as is did in the 2008 recession. In fact, in some areas such as London, the average house price has continued to rise up by 2.3% in the first quarter of 2020. Well, known property search engines have seen a huge rise in people selling their homes, and properties becoming SSTC is in line with 2019.
This data shows that property is still a very worthwhile investment and that by adding value to your property will help your investment to grow. The average house price as of Feb 2020 is £246,341, with 4% of this figure being £9854. By installing a new bathroom into your home, you could add enough value to pay for your legal fees, removal fees AND have enough left over for that new sofa you've been eyeing up!
How Much Would It Cost to Install A New Bathroom?
Of course, getting the figures right is the name of the game when it comes to property, and if you want to install a new bathroom simply because you want to add value to your property, then you should first work out what value it is going to add before you commit to a budget. Let's take the above example; if installing a new bathroom is likely to add over £9k to your property, then your budget should be under £5k.
Remember that while you want to save as much money as possible, you don't want to scrimp on quality and need to invest in a high-end look. Researching the right items for your new bathroom is essential, and you should consider wisely each purchase before you commit financially. For more information on how to choose the right bathroom for your home, take a look at this article, which lays out point by point how to choose the right toilet for your new bathroom.
Ways to Save Money
There are many ways to stick to your budget, but here are a few of the key elements where you can shave a few pounds off the overall bill.
Hunt for A Bargain
As we have previously mentioned, it is really important that you invest in high-quality items for your new bathroom. However, you can still afford quality on a tight budget if you are happy to hunt for a bargain. Hardware and bathroom stores often have end-of-season sales, bargain corners, or occasional voucher deals (you'll need to sign up to their mailing list to receive these). You can also find a great deal if you look at reselling sites such as eBay or Gumtree. Builders or renovators will often sell unopened, brand new bathroom items on these sites simply because they were surplus to requirement.
Add Luxury Details
Even the most average-looking bathroom suite can be made to look more expensive with some clever luxurious touches. Adding more expensive taps, a high-end bath panel, or even just investing ore into the decoration will all help to give your room a high end feel and will help to offset any cheaper items that you might not want to draw attention to.
Do Most of The Work Yourself
A word of warning; there are some people in this world that, if they try a DIY task themselves, cause more damage than good. Suppose this sounds like you (and you know who you are), then skip this step. However, if you do have something of a handy mentality, then tackling the installation of a new bathroom will save you a lot of money. Some jobs should be left to the professionals, such as installing an electric shower, but on the whole, if you are up for the challenge, you could install almost all of the bathroom yourself and save yourself hundreds of pounds if not thousands.
Where to Spend Money on Your Bathroom
There is no getting away from the fact that you are going to need to spend money on your new bathroom, especially if you want to add the maximum amount of value to your property. Here are a few places where it is wise to spend your budget.
The Bathroom Suite
While we don't advocate spending all of your budget on the bathroom suite, we do think that it is worthwhile spending a good chunk of it. A cheap bathroom suite will show it's worth when installed into a good quality home. In fact, it's hardly worth wasting your money on a cheap bathroom suite at all. If your budget is tight, then we recommend buying a mid-range suite, but where possible, buy as high quality as you can afford. Additional high-end suite elements such as wall-hung toilets and shower cubicles go a long way to making a more appealing room. To learn how to install a wall hung toilet, take a look at some instructions here.
The Flooring
Many people forget to allocate money for the flooring out of their budget and therefore end up spending the dregs of their cash on whatever they can find. Don't be those guys! Instead, think about your flooring carefully and consider what type you'd think would look good in your home. Think about the usage; will it be a family bathroom (and therefore need a non-slip floor)? Will it be the showpiece to offset a neutral décor? Give your flooring a bit more consideration and a bit more cash, and you will find yourself with a serious statement bathroom. If you think you can reuse the existing flooring, then you might want to try and give it a deep clean. For more information on how to thoroughly clean your bathroom, take a look at this helpful website.
The Finishing Touches
Adding some finishing touches to your bathroom will change the scheme entirely and will help buyers to see themselves living in your home. Think about decorative items, shelving, and plants to help give the room a more homely feel. These additions don't have to cost the earth, but it would be useful to have a theme running throughout them. Think about that and try to tie them into the colour scheme as well.
Renovating your home is a great way to both add value and increase your investment, as well as provide you with a cleaner and more modern bathroom. Remember always to do the sums to make sure that you don't overspend on your bathroom and to add some finishing touches to make your new bathroom more homely.
Sources:
https://www.gov.uk/government/news/uk-house-price-index-for-february-2020
https://resi.co.uk/advice/home-extensions/how-much-value-does-a-bathroom-add.