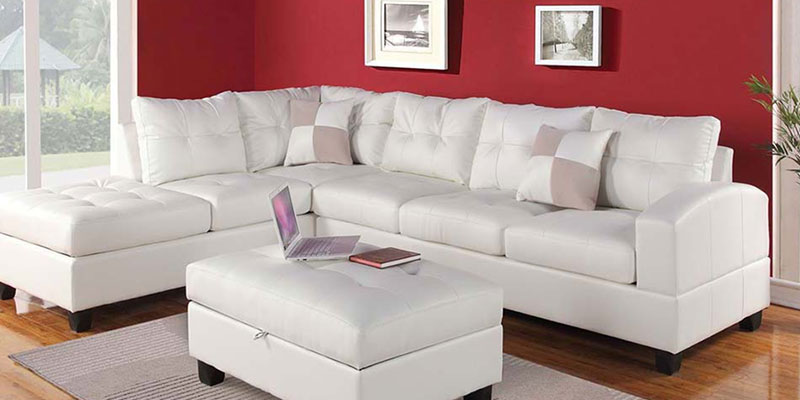 Choosing a corner sofa that fits the size & layout of your living room can be a little confusing. Our friends from Best Buy Furniture Direct have provided this expert guide to make sure you buy one that you'll be happy with.
Buying a sectional sofa can be challenging, especially if you've never had one before. If it's not your first sectional, then you know both good and bad sides of the sectional sofa, but if you make right decision based on your living room layout, then there will be no bad sides.
The general thing that can always be seen when looking for sectional sofas is "Left Facing Chaise" or "Right Facing Chaise" to make the right decision with this, it is crucial to understand the meaning of "left and right" chaise.
It is an industry standard in the furniture industry to describe the sectional sofa and what hand side is going to be the chaise when facing to it, not sitting on it.
If you look up in the online furniture store, you will see in the product description Left Facing, Right Facing, and the 3rd option is reversible, this means the chaise can be assembled on either side.
Choose the size and shape
Sectional sofas are space savers and come in many different sizes and shapes. Typical small sectional will have two seat sofa on one side and a small chaise on the other side.
Regular size sectionals are the most traditional ones and come with 3 seat sofas on one side plus the corner, then the chaise on the other side.
The last style is where you will see no chaise on either side, instead just sofas with armrest, and all this called "L" shape sectional sofas.
Other popular sectional in the furniture industry that will have many unique styles for this type, are the "U" shape sectional sofas.
In U-Shape sectionals, you can see either sofa on each side and with a connected sofa in the middle or chaise on one side, sofa on the other side with armrest and another big sofa connecting this two pieces in the middle that has no arms.
Interior designers recommend avoiding using sectional sofas in the living rooms that have a tree or more openings, doors.
Select suitable material
Typical materials used in nowadays sectional sofas are bonded leather match, top grain leather, and various types of fabrics.
Another material we may come across when looking for sectional sofa is a PU or VINYL.  It is cost efficient to choose this material; however, we can't expect long lasting life time for this materials.
Everyone can benefit from this topic to make the smart decision before choosing their sectional sofa.
There are many furniture stores that offer sectional sofas. However, the chances are you will find more selections on the internet than in the retail stores. Even if you like to shop local, many local online furniture stores will offer you not only more styles to choose from, but prices can be unbeatable. Like in Los Angeles the search results showed that Best Buy Furniture Direct has over 1500 unique sectionals to choose from with free In-Home Delivery and easy return policy that give confidence to shop online. Find your best online local store to shop a high quality and affordable furniture!