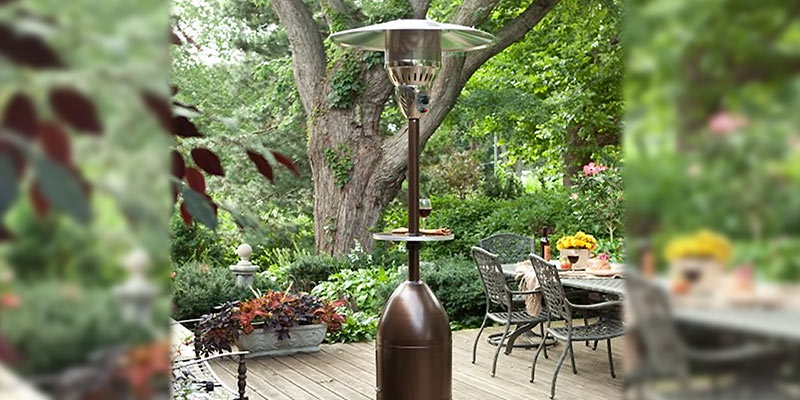 Patio heaters make your outdoor space usable whatever the weather. They have changed the rules on alfresco dining forever but they also add ambience and sophistication in their own unique way but which design is right for you? To work this out there are a few things that you need to consider.
How big is the space?
The space you want to heat will determine the patio heater you choose. They are available in both gas and electric and in a choice of heat outputs, styles and sizes. Patio heaters produce heat at a constant level. Free standing gas patio heaters are the most common and they can heat a radius of between 3 and 10 feet depending on the model you choose. They work best when in the centre of the space they are heating. If you want something more compact then a table top heater might be more suitable. They are smaller, more affordable and will keep you warm as you enjoy some quiet drinks around your patio table. However, they are not really suitable for larger spaces so bear that in mind if you have a very big family or are purchasing your heater because you entertain a lot and have a large garden to heat.
The gas heaters are the more portable option as you can run them even if you are not close to a source of electricity. However, if you don't like gas then you could buy an electric heater. Most electric heaters are either halogen or infrared and offer a considerable cost savings in comparison to their gas counterparts as  they heat objects rather than air. As such, they work well in any environment. They need to be connected to the mains to work but as they can be wall mounted they are more discreet than their gas counterparts.
Other considerations
While you might have you heart set on either one or the other it is also worth considering the running costs, your budget and the aesthetics of your heater.
Electric heaters tend to be cheaper to run. They cost 6-24p per hour compared to their gas counterparts which cost between 41p-£2.13per hour depending on the size and model.Starting at just £29.99 electric heaters are also cheaper to buy. However, gas patio heaters can be used pretty much anywhere in the garden (within reason) as they run on a bottle not the mains so they offer more flexibility and are more portable. Their real flame also provides a charming ambience that you can't get with an electric patio heater.However, that charm comes at a price and with most starting from around £99 you're paying a price for that wow factor.
Gas models tend to be more attractive to look at because they cannot be discreetly placedand have to be on display. You can buy them in a range of shapes and sizes but all of them are impressive. Their electric counterparts blend into their environment subtly but are still practical enough to produce a decent amount of heat so that you can use your garden as another room even if the temperature isn't very inviting.
Before making a decision you need to decide whether you want a heater that is practical and discreet or a focal point which is portable. If you're unsure on which heater to buy PatioMate are a friendly UK based heater review site that breaks down the numbers and costs for you.