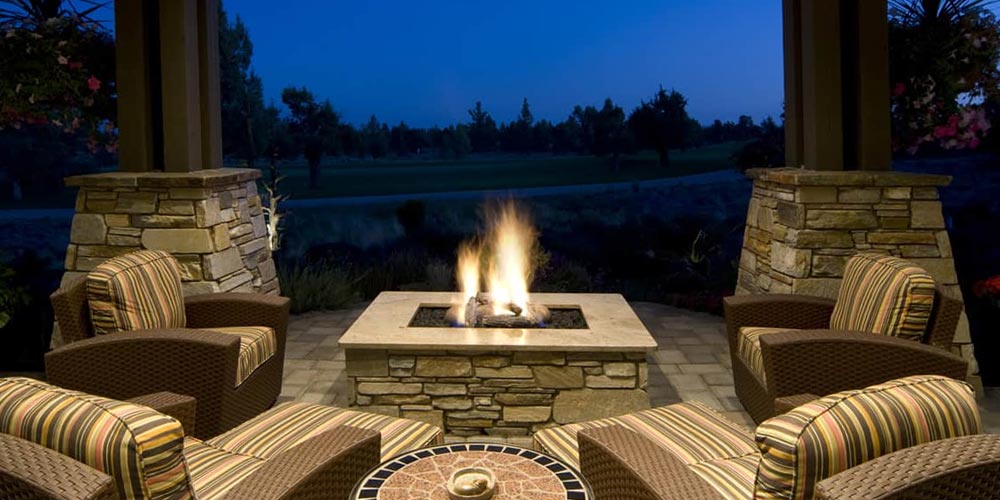 With summer comes freedom of expression. By this, I mean you do not have to be locked up in the house and stay under heavy covers all day. You can always experience the joy of the living space beyond your living room.
Summer does not occur throughout the year. Due to this, when its summer, lots of people like taking advantage of a change in season to spend ample time in their compounds. If you fall into the category of people that enjoy spending so much time outside during summer, then your outdoor experience might be incomplete without a tabletop fire pit.
With a tabletop fire pit, you will be able to derive a lot more pleasure from the time you spend in your backyard during summer.
Will you be shopping for a tabletop fire pit any time soon? You must know what to look out for.
That being said, below are certain factors to consider when choosing a tabletop fire pit.
Look Out for Style
When taken at face value, most tabletop fire pits are not really different from each other. However, when looked at critically, the various tabletop fire pits actually have different styles.
The shape of a tabletop fire pit will go a long way in determining how its fire burns. So, when considering the shape of a tabletop fire pit, it is important that you look just beyond the aesthetics that its shape has to offer and consider what effect its shape has on the type of fire it produces.
Durability
One of the easiest ways to get value from whatever you purchase is by using it in top conditions for a long time. And a tabletop fire pit is not any different.
When shopping for a tabletop fire pit, one thing you should always be on the lookout for is how durable it is before going ahead to buy it.
Tabletop fire pits come with various parts. You, therefore, will need to take out time to look through these various parts to ensure that they will last the test of time.
Level of Safety
The various types of tabletop fire pits might seem to carry out the same function primarily. They, however, do not offer the same level of safety. With each design of a tabletop fire pit is a different level of safety. There are certain tabletop fire pit designs that keep whatever flame is produced hidden. Also, there are designs that do not make an attempt at concealing the flames. They simply let the flames burn at will. The rate and the way a flame burns will go a long way in determining how safe it is and if it can be left lying alone around your patio without any form of supervision.
If you live in a place where there are no kids, you might not have any cause to be troubled if the design of a tabletop fire pit is one that lets it burn without restrictions. But if you have children around. You need to buy a tabletop fire pit that has a style that makes it possible for children to feel as safe as possible around it.
Best Tabletop Fire Pits
To get the best value for your money when shopping for tabletop fire pits, you must get the best tabletop fire pit within your budget. For this to be done, you must know what the best tabletop fire pits in the market are.
That being said, below are some of the best tabletop fire puts for various budgets.
Regal Flame Manrow
This tabletop fire pit is durable, has an attractive style, and keeps the fire protected from interference. It is not pricey but produces a flame that can best be described as excellent. When you purchase the Regal flame manrow tabletop fire pit, not only will you have access to a powerful and bright flame, you will also own a tabletop fire pit that has a unique design.
Although this tabletop fire pit can be used indoors and outdoors comfortably, it does not burn for as long as most people would want it to.
Fire Topper
This tabletop fire pit is one that you are certain will give you good value for your money. It offers its users lots of safety as its bowl never gets overheated. Still, on safety, this tabletop fire pit features fire-safe pebbles which go a long way in ensuring that fire does not burn out of control.
Fire Topper runs on propane and can be trusted to get hot in the shortest time possible. Also, the fact that it makes use of a propane tank means you do not have to struggle to troubleshoot it if you encounter any challenges while using it.
Fire Topper comes with a bowl that is properly insulated. It, however, can be difficult to assemble. This means if you are making use of a Tabletop fire pit for the first time, you will struggle to assemble it.
Outland Living Series
Made from tempered glass and a durable base, the Outland living series is a tabletop fire pit that gives you the freedom to control the flames that it produces. The fact that it comes with a tempered glass means you do not need to worry about overheating or cracking occurring. Also, you will not have to deal with a metal top which remains hot for a long time after the fire has burned out.
This tabletop fire pit can be gotten for $550. Although this price seems a little on the high side, it is absolutely fair as this device comes with lots of amazing features.
Hiland GSF-PR-PC
Hiland might be popular as an amazing tabletop fire pit. But that is not all there is to it. It is a brand that gives customer care an utmost priority. This means you can always get the best of support from professionals once you purchase t. It comes with a year's warranty. The implication of this is you can return it if it gets bad before a year runs out.