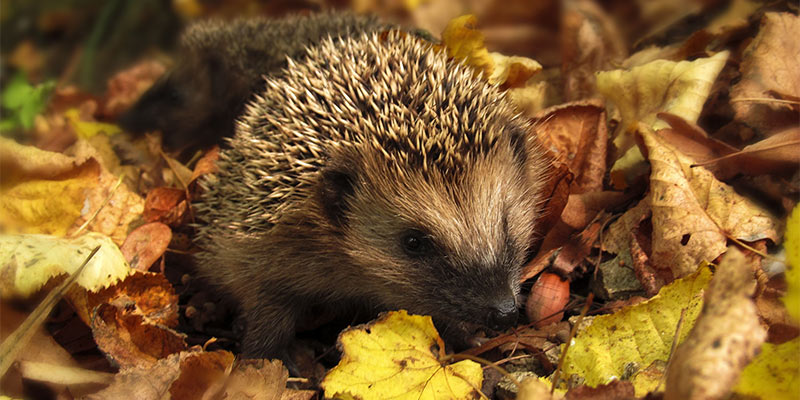 Want to enjoy the outside of your property this autumn? Then here are a few things to bear in mind:
Trim and tidy
To make the most of your garden this autumn, keep on top of your seasonal garden maintenance, such as raking up fallen leaves. Keep your paths, patios and steps clear to avoid slip hazards, so that you can enjoy a stroll around your garden throughout the changing seasons. In addition, give your lawn a little attention, aerate, feed and reseed or re-turf it, if necessary.
Though pruning advice changes from plant to plant, generally speaking, plants are pruned after they've finished flowering. Autumn is also a good time to trim your hedges – so you may have your work cut out for you over the coming weeks. However, if you're not sure when to prune the plants in your garden, look them up on the RHS website for more detail.
Give thought to the wildlife
However, be sure not to be too tidy, as our garden wildlife loves a bit of coverage. The odd stack of twigs or a pile of leaves at the back of a border provides ideal shelter; while leaving some seed heads unpruned will provide food and cover. If you have a bird bath, keep it topped up over the coming months and if you have a pond, float a tennis ball in it, so ice can't form, so the wildlife has a water source.
Think ahead
To enjoy your garden throughout the seasons think about introducing all year round colour and interest. Autumn's a great time to amend your planting plans and introduce additional colour by sowing hardy annuals, planting spring bulbs, dividing your hardy perennials or planting bare rooted roses.
Instant impact for you
Introduce additional plants for instant impact this autumn, from bulbs such as Sternbergia, Nerine and Leucojum autumnale to herbaceous perennials such as Asters, Dahlias and Anemones. Also, plant shrubs and trees with eye catching foliage and berries, if room allows. Step out and garden to enjoy the outside areas of your home this autumn.
Check your garden structures
In addition, ensure your garden's structures from fences to gazebos, summer houses to greenhouses are all in good condition. Keeping on top of maintenance now will minimise damage over the winter months and give you the best chance of enjoying your garden as the season's change. There's nothing like a leisurely coffee sipped in your garden on a brisk, clear autumnal morning, and a little sheltered area such as that bench under your gazebo – might be just the place.
Seasonal house maintenance
Finally, keep on top of your home's seasonal maintenance. While the days are still dry, touch up the paint on your exterior word work, have your gutters cleared and the condition of your roof checked. For North east flat roofing solutions, contact the skilled team at Findley Roofing and Building, they'll ensure your roof is in good condition, so you won't have to worry. Ensuring your roof is robust, is perhaps the most important step you can take to ensuring your home remains secure, warm and water tight as the seasons change.
So there you have a few ideas on how to enjoy your home's outside areas this autumn, now it's time to dig out those gardening tools and get to it.