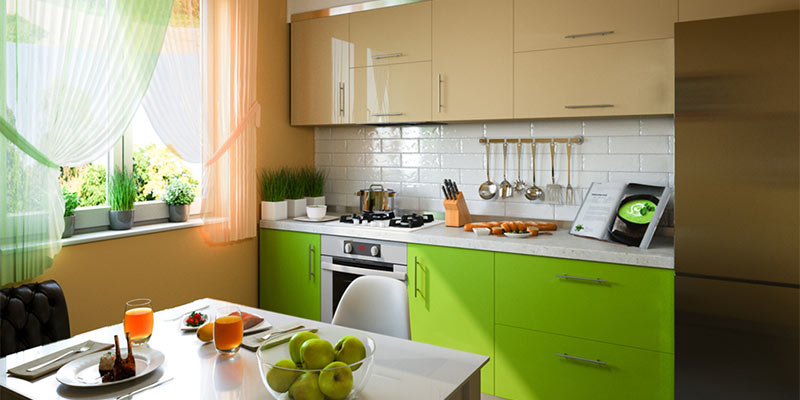 Keeping up with the increasing demands of today's mostly fast-paced society ends up with a lot of people spending less time cooking – or not even cooking at all – and resorting to having prepackaged meals delivered to their doorstep or dining out at some casual food joint instead. As a result, some homeowners haven't been paying as much attention to their kitchen as they should. If you're one such homeowner, you might want to start cooking more for you and your family, and doing so can become a lot easier for you once you get to make your kitchen more inviting that might just make you want to spend more time there.
Why Should You Make Your Kitchen More Inviting?
Making your kitchen more inviting can cost you a lot, but here are some convincing reasons as to why you would want to do so.
You're looking to increase the marketability of your entire house.
You want to update the old-fashioned look of your kitchen to make it more apt for the modern era.
You feel like adding some features that the previous owner of your house didn't consider back then.
You want to make your kitchen accessible to any members of your family that have disabilities.
How Can You Make Your Kitchen More Inviting When Cooking for the Family?
No matter how big or small your kitchen may be, here are some things that you can do to make it more inviting when cooking for the family so that it can live up to its reputation as the heart of the home.
1. Break down the walls that separate your kitchen from the rest of your house
Your kitchen doesn't have to be an entirely enclosed space where you're cooking meals in isolation.
If your kitchen has some walls that divide it from your living room, you might want to tear them down.
Blending your kitchen with your living room enables your family to more easily interact with you while you're preparing a full meal made just for them.
2. Put a smaller countertop in your kitchen for your children to use
You would want to teach your children the virtues of cooking as early as their tender age by letting them help in your kitchen.
However, they might not be able to reach the countertop and cabinets that your kitchen currently has, or you might have to carry them so that they could grab a specific utensil they need.
You would want to add a smaller countertop in your kitchen that's about the same height as that of your children so that they could do simple food preparing tasks and play a little while you're cooking.
3. Add a hint of nature to your kitchen
Kitchens don't always have to be so clinical that one might mistake yours for some hospital pantry.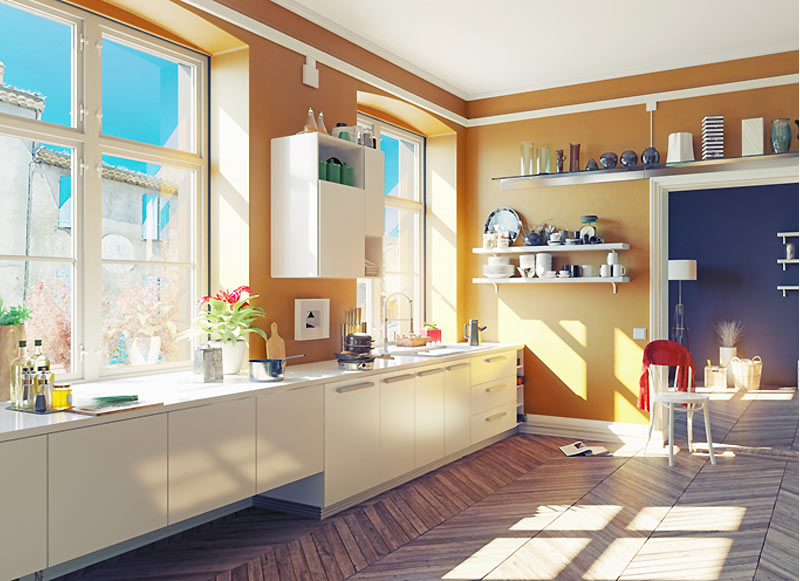 Having wooden countertops and cabinets in your kitchen can give it a more rustic feel compared to settling for granite or stainless steel.
You can also add some indoor houseplants or herbs to your kitchen that you can hang in a corner or place near a window.
4. Install some low voltage halogen lights in your kitchen
Fluorescent lamps tend to give off too much of a bright light that makes your kitchen feel a bit too sterile which is why you would want to switch to low voltage halogen lighting instead.
Low voltage halogen lights are warmer and crisper, and they let the colors of your kitchen float more compared to fluorescent ones.
Using low voltage halogen lights also helps you significantly reduce your electricity costs.
5. Keep your kitchen clean at all times
While this last thing sounds a lot like already stating the obvious, you wouldn't want to forget it anyway.
You should make sure to clean the countertop and floor of your kitchen once you finish cooking.
You should also make sure to wash all the dishes and utensils in your sink so that unwanted pests wouldn't ruin your kitchen.
Conclusion
With food options becoming more and more convenient, some homeowners had forgotten to take care of their kitchen that they don't even spend as much time cooking in there. However, as cooking has been getting some much-needed resurgence in popularity in recent years, more and more homeowners are starting to realize the importance of having a kitchen in their house. If you're one such homeowner, you should start reading the things listed above that you can do to make your kitchen more inviting when cooking meals for your family. Before you know it, you just might have been bitten by the cooking bug that would find you spending a lot more time in your kitchen. We hope you liked this article from Appliance Reviewer.
About the Author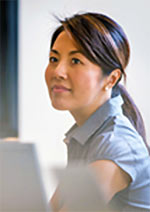 Sara Worth is an expert reviewer and writer at Appliance Reviewer – a comprehensive and unbiased online guide, which helps readers to buy the right appliances for their home. She moved from Manchester to London where she studied electronics. At the same time, she was working as a freelance writer and also pursued her passion to be an independent interior designer. After graduating from university, she worked for over 10 years as an electronic engineer, consulting with some of the largest appliance manufacturers around the world. Sara has since joined the team at appliancereviewer.co.uk where she uses her vast knowledge of style and functionality to write about the best home appliances available on the UK market – Helping her readers to make an informed decision on their investment purchase without having to try each item first. When she isn't writing or fixing things around the house, Sara can be found enjoying live music with her friends, or relaxing in front of the fire with her dogs.