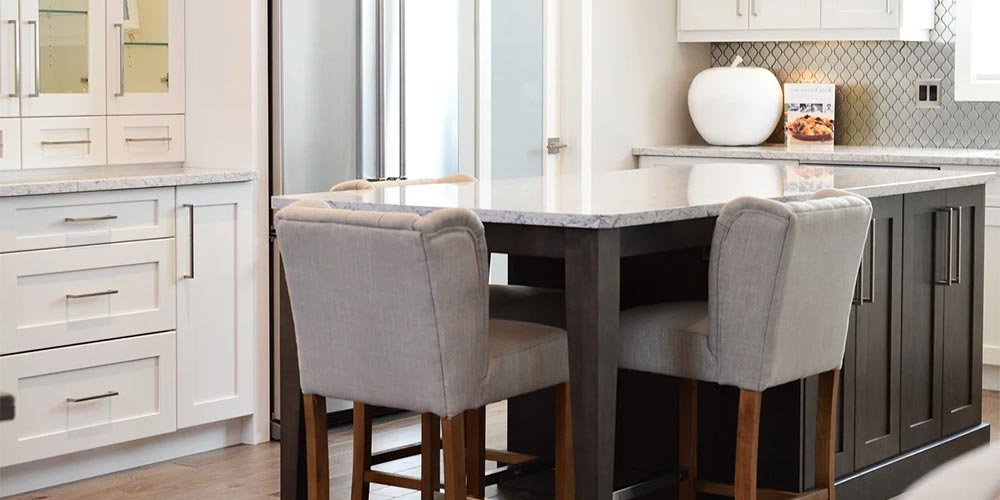 With 2021 dominated by green cabinetry and copper accents, you're likely wondering, what does 2021 have in store?
If you're looking to update your kitchen, it can be a hard task. Trying to stay on trend, yet ensuring that everything flows and fits in with the rest of your space can be a hard job. Perhaps you don't even know where to start. If so, you're reading the right article!
We've taken a look over all of the latest expert predictions and put them all in one place, so you can know exactly what the biggest trends will be in 2021.
Compact Designs
Whether your space is narrow, square or broken up, you'll agree that space is at a premium. This is where a compact kitchen design comes to rescue. This is because they benefit from minimal clutter and maximum efficiency.
Hot Water On Demand
It has been predicted that hot water taps will be a sought-after item for any kitchen throughout 2021. Purchases have especially increased recently due to more of us working from home and therefore wanting hot water on demand for making tea and coffee quickly in between zoom calls and other such meetings.
Dark Surfaces
It's become more and more common to opt for darker kitchens. Having dark worktops and countertops offset by lighter furniture and bright pops of colours can be an excellent way to create a feel of luxury and sophistication.
Often viewed as an accent colour, darker colours such as black and dark grey, on surfaces such as worktops, floors and splashbacks can be used to make a room feel much more inviting. Particularly when you combine this with a textured wood or ceramic knobs it can create an excellent rustic, homely charm.
Downdraft Extractors
Even extractor fans are being reimagined in a more futuristic design for kitchens.
More and more people are shifting towards downdraft extraction systems which will remove odours and vapours directly from the source i.e. the hob.
This can be particularly important in open-plan kitchen living spaces, as a head-height extractor hood above an island can create a visual barrier and conflict with an open-plan space.
Having a downdraft extractor integrated into your worktop can give you a larger creativity of design and taps into the trend for much more minimal, professional design.
Structured Simplicity
The trend for streamlined kitchens is also set to reach new heights. A less-is-more minimalist approach is becoming a popular way to create a calming space with clean lines.
In fact, this contemporary look is easy to achieve, with practicality being a key factor. All you need to choose is high-quality materials, strong lines and functionality.
Other important factors are integrated appliances and hidden storage to ensure that the smooth lines aren't disrupted.
Adding Wall Decor In Your Kitchen
Whether it is hanging kitchen wall art, painting directly on the walls of your kitchen, installing shelves on whom you can add various decorative pieces, culinary wall art can take your kitchen to a whole new level.
Calming Colour Schemes
Whilst darker colours are still hugely dominating cabinets going forward, a trend is also growing for calming paint choices for walls and free-standing furniture.
Give your kitchen a new lease of life by freshening it up with gentle, soft colours such as dusky pink, soft grey and sage green. All of these colours will bring a refreshing feel.
Statement Taps
No kitchen is complete without taps, so why not let them shine as a statement piece!
Brass, industrial style taps with unusual handles and other such interesting features are all a great way to draw the eye and compliment the whole space.
You can also pair these with similar finishes for cupboard and draw grips to keep a consistent style throughout.
Add a Modern Twist on Traditional Pieces
While traditional styles also still remain popular, such as shaker cabinetry, 2021 will incorporate traditional with a modern on-trend colour.
Adding a traditional design with a statement contemporary colour for a modern twist.
Is your kitchen due a remodel in 2021? Make sure to listen to our tips above and make sure you're on trend coming into the new year! If you are looking to purchase a new appliance to improve your overall space, remember to purchase from a reputable retailer such as Howards Electrical, leading provider of Range Cooker Stoke.