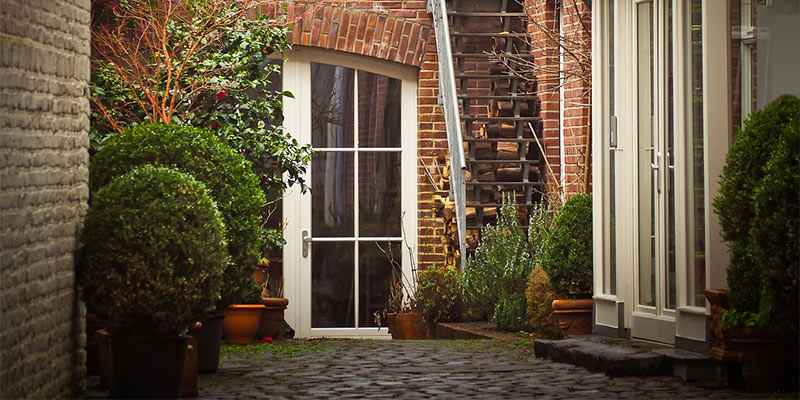 If you've been searching for a home to rent, you realize just how dramatically outdoor space can vary from place to place. Single-family homes generally provide you the most, while apartments usually come with the most limitations, often providing only a small balcony or patio, if they provide any outdoor space at all.
While it might seem like an afterthought in your search, especially if you're looking at units where you don't expect to get much of it, outdoor space can prove some of the most fun and functional your home has. It's not about how much you're provided, but how you put the space to work for you
Choose the right furniture
If outdoor space is tight, you might not have room for a full dining set, but that doesn't mean you have to give up on the notion of taking your meals in the fresh air. Even small balconies and patios typically have space for a narrow two-top or bar table.
Likewise, if you can't fit your preferred outdoor seating on you balcony , think narrower. Go for a bench or a chaise instead. There are always multiple ways to outfit a space, so don't deem the outside area unusable just because it's small.
Make it a fun-time space
The same space it would take to house a two-top table can probably accommodate many smaller versions of game tables. While it's unlikely you'll have clearance for pool or snooker, two-way outdoor game tables, such as foosball or ping pong, are good options.
Or, if you don't even have foosball table clearance, think smaller. While eight-feet is regulation, any size weather-resistant table can be put to use for a rousing game of outdoor beer pong. And let's be real, who's playing regulation beer pong anyway?
Blend outdoor and indoor space in a winter garden
If you have a glass balcony or patio door, that means you have decent-sized windows, and decent-sized windows are all you really need to grow a winter garden. Bonus if you're in the Northern Hemisphere and the windows are southern-facing. Not only is a winter garden pretty much your only garden-growing option if you have no yard and limited space outside, but it's a great way to grow food all year long.
Typical fall harvest vegetables, like squash and root vegetables, can handle a slight chill, so you can keep them beyond the patio door in cooler months, while you move their warmth-loving counterparts, like herbs, indoors, keeping yourself with a constant supply of freshly-grown foodstuffs.
Some rentals may even permit you to install a vinyl enclosure on your balcony, which creates a quasi-greenhouse, extending the growing season and expanding the variety of plants you can grow.
Finding the right amount of outdoor space in a home or apartment rental can be challenging, but by being creative, and making the most of the space you do have, you might find any amount of space can prove space enough.