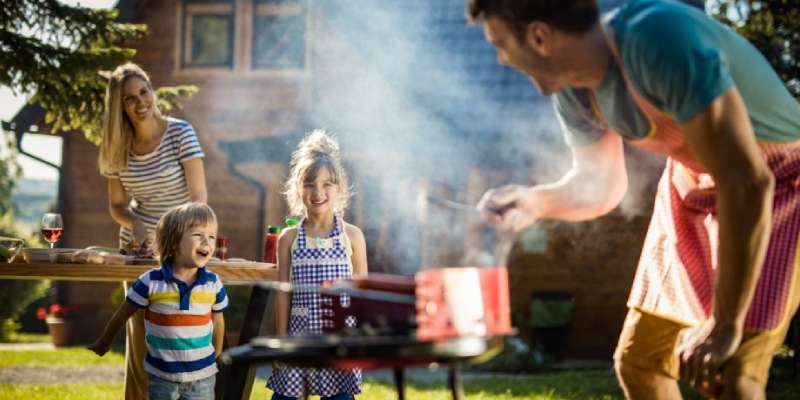 As the warmer months are upon us, the nothing quite like dining under the sun, in the great outdoors. Therefore, there's no surprise why so many of us, (when the weather is just right) jump to the chance, of bringing out those paddling pools and fire up the BBQ at every opportunity.  Hosting a BBQ, gives excuse to bring friends and family together, but let's not forget the potential of health hazards brought along with it.
From ensuring food is cooked thoroughly and at the right temperatures, to keeping people at safe distances away from the heat of the grill, it's important to stay aware of the safety so that everyone can make the most out of your BBQ without the risk of injury.
That's why Flogas, provider of Gas for BBQs, offer precautions to consider.
Preparing your food
Across the UK, each year there is an estimate of one million reports of food poisoning. With that in mind, it's clear to assume that many of us are still not taking the appropriate precautions when handling and storing food.
Sadly, the warmer weather can bring a hot spot for bacteria to breed (which increases the chances of food being contaminated, which then leads to food poisoning risk) but fear not, after following these guidelines, you can keep all you BBQs guests safe as possible.
Start by sticking by the rules of the four 'c's:
1. Chilling
Always defrost your BBQ food overnight in a fridge, rather than leaving it to defrost at room temperature.
Allow any leftover cooked foods to cool and then store them in a fridge (within a two-hour window).
Don't overfill your fridge – overfilling stops air from circulating properly.
Regularly check the temperature of your fridge with a thermometer. In-built fridge temperature gauges don't always give the correct temperature!
2. Cooking
When cooking meat, ensure it reaches the right temperature for long enough to kill any bacteria. If in doubt, use a cooking thermometer! For beef burgers, before eating the inside temperature should be roughly 71°C[1]. Sausages should be 65°C, and it's 73°C for chicken.
If you slice into the cooked meat, it should be steaming hot throughout.
None of the cooked meat should look pink when you cut into the thickest part.
All of the juices from the meat should run clear once cooked.
3. Cleaning
Always clean any utensils, plates and chopping boards before and after cooking.
Don't wash chicken or any other raw meat as splashing water containing harmful bacteria could spread to your food preparation areas.
4. Cross-contamination
Cross-contamination often occurs when raw food touches or drips onto surfaces. Always use different plates, chopping boards and utensils for raw food and cooked food.
Washing hands in hot soapy water before and after handling food will reduce the risk of cross-contamination.
Ensure that any raw foods are kept separate to food that's ready to eat.
Safety Precautions around Gas BBQs
Choosing to use a gas-powered BBQ brings many advantages over a charcoal BBQ. As well as being quicker to set up and easier to get going, they give users greater control over the temperature, meaning food is more likely to be cooked properly before serving.
With any gas-powered appliances, it's important to follow some basic safety rules when cooking with gas cylinders:
Cylinder safety can vary from brand to brand. Always follow the manufacturer's advice when handling and using BBQ gas cylinders.
If you need to change your gas cylinder, make sure that the tap is properly switched off before you start.
If you think there's the possibility of a leak on the cylinder or pipework, isolate the source and call your cylinder supplier's emergency number immediately.
After you've finished cooking, turn off the gas cylinder first (to ensure that any remaining gas is used), then turn the BBQ off at the controls.
Safety precautions around BBQs in general
Along with understanding the values of food safety and staying safe when handling gas, next comes some general safe BBQ tips to bare in mind to help prevent unwanted incidents:
It may sound obvious, but never barbecue indoors or on balconies.
Be aware of where you are placing your BBQ. Keep it on flat ground as far away from flammable surfaces as possible (this includes sheds, fences, trees and tents).
If there are children or pets nearby, keep them well clear of the cooking area.
Keep a bucket of water or sand nearby in case of an emergency.
After cooking, do not attempt to the move the BBQ until it is cool.
Despite the dangers associated with BBQs, they shouldn't prevent you from impressing your guests with your amazing cooking skills, but just bare in mind to keep safety upfront.
[1] https://www.dailymail.co.uk/femail/food/article-4672208/How-cook-type-meat-perfect-BBQ.html