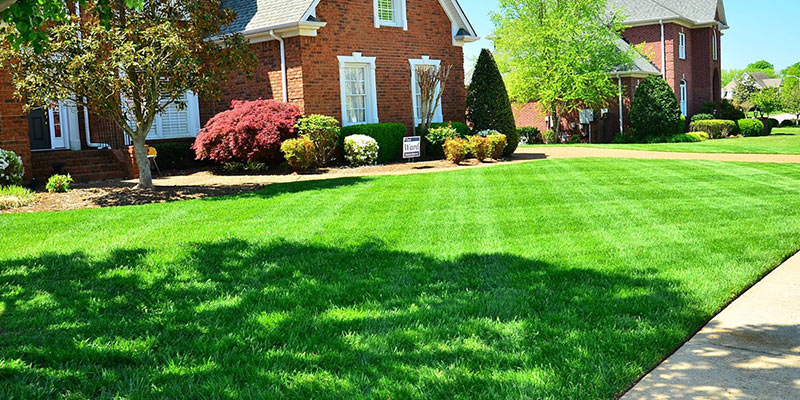 In order to create a beautiful lawn throughout the year, you need to begin working on it during spring. A lot of homeowners face the daunting prospect of preparing the lawn for the warm months ahead. Right from mowing to cleaning and seeding, there are multiple lawn care tasks that encompass a number of responsibilities. If you manage to cut corners now, it will mean that by the end of summer, you will be spending the weekend preparing for spring lawn care oversights. Keep the below-mentioned tasks in mind and you will have a lush, thick green carpet in the summer.
 Dethatching
Lawn clippings and dead grass can accumulate and will get matted into thatch. This will prevent germination of new grass and will also promote the growth of fungus and lead to pest infestation. You need to dethatch the lawn with the use of a lawn rake.
Cleanup
A lot of spring care involves cleaning away the ravages left behind from winter. You need to take your rake and prune the shears. Take a good walk around the lawn and keep looking for plants that did not survive. Remove the dead branches from bushes and trees and get rid of leaves and twigs you find on the grass.
Aeration
In some areas of the lawn, the soil will gradually become compacted and not suitable for grassroots. Here you need to carry out mechanical aeration in order to reverse the damage caused.  Give roots enough space to spread and allow the air and nutrients to penetrate the soil.
Weed treatment
Weed control should be a high priority for lawn care during the months of spring. If you do not handle the weeds now, you will spend the entire summer dealing with them. You can prevent weeds by using the pre-emergent herbicide. If there are bare patches on the ground, you can avoid the herbicide and choose to go for a grass seed.
Equipment maintenance
Before the season is in full spring, you will have to inspect all the tools including the sprinkler and the mower. Every six months, Alan Lander from Hydro Dynamics Corp (https://hydrodynamicscorp.com/) recommends that you test each sprinkler head in your irrigation system to make sure none are broken or clogged. Well maintained and efficiently functioning equipment can make your job much easier and convenient.
Prevention is better than cure. If you put in time and effort in lawn care and maintenance, you will be able to enjoy a lovely green lawn during the months of summer. Starting off on the right path in spring can help ensure that the grass thrives through the rest of the year and will give you exactly what you are looking for. A little effort during spring will go a long way. You need to set a day aside for the maintenance of your lawn and you will be happy to see the results in the long run.