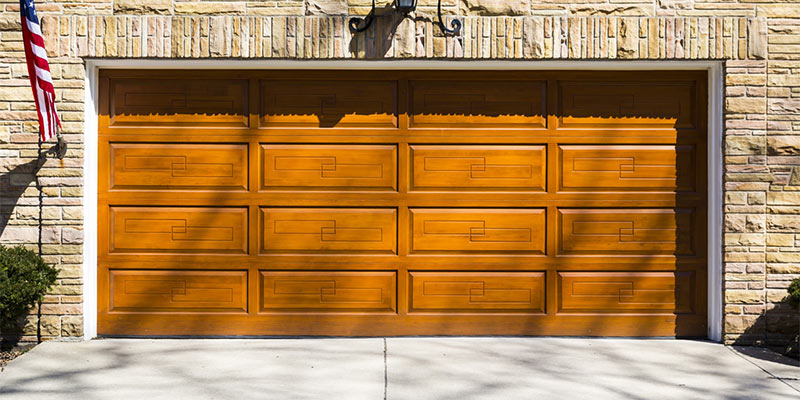 Although often overlooked, your garage doors have a big impact on the overall appearance of your home's exterior. While you may have taken them for granted as you drive in and out of them, they are one of the first things you see when you come home every day. Sprucing up your garage doors can add tremendous curb appeal, in addition to promoting a sense of calm and pride whenever you return home!
The traditional garage door is typically made out of wooden panels and, due to constant exposure to the outdoor elements, a little worn down. Fortunately, there are plenty of options that you can explore to upgrade your garage doors with ease.
Powerwashing
Although the easiest fix, few of us have the exteriors of our homes, garage doors included, power washed. Regular power washing on a yearly basis can help to remove residue and dirt that makes your garage doors appear dull. By removing this residue, you also reduce its impact on the deterioration of the wood on your garage doors.
Refinishing and Staining
If the wood on your garage doors has lost its shine, it may be time to refinish. This is the best option for natural wood doors and enhances the texture of the wood. A topical stain can the be applied to enhance the wood's natural shine and provide a more luxurious aesthetic. Stains provide an excellent choice as you can customize the tone by choosing a lighter or darker stain. Stains also come in cooler tones and warmer tones that contain more red.
Even synthetic doors can be upgraded by creating an imitation wood look. This is typically achieved by painting the doors brown, followed by a glaze.
Go Bold
If the natural or deeply stained wood look does not work with your aesthetic, you might consider painting your door a bold color instead of staining. Bold does not necessarily need to mean bright, although it can if bright red suits your tastes. For colonial or traditional style homes, a traditional color like slate or a deep, grayish blue often does the trick.
When painting a bold color, be sure to take into consideration any trim on the house. For the most coherent look, the garage door should match or complement the trim on the house.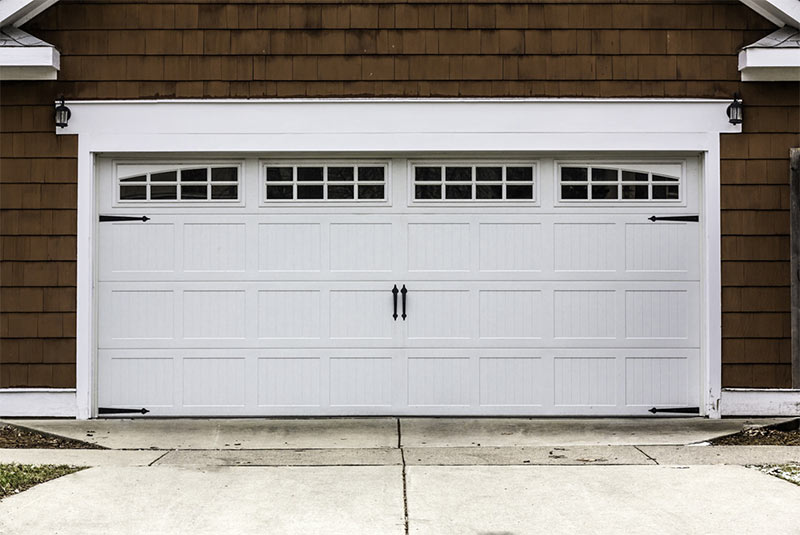 Accents
'The devil is in the details' is a saying for a reason. Once you have spruced up your wood, it may be time to take a look at the hardware. There are many options available here from stainless steel to wrought iron. Even if your garage is mechanical and push-button operated, a nice piece of hardware can make a statement.
Another option is to add additional paneling, for purely aesthetic reasons. Common arrangements for paneling include forming an 'X' shape across the front (also known as cross-hatching), or two 'X' shapes side by side for wider doors. You can also use paneling to create other geometric schemes. Additional paneling can sport the same stain or paint as the rest of the door, or you can create more of a statement by adding a contrasting color.
Style changes
Sometimes a change in the garage door structure is what is required for a new look. Such changes might include adding windows if your doors do not currently have them. You might even paint on faux-windows to achieve a specific aesthetic. Please note, faux windows should only be used on the uppermost part of tall garage doors where it is harder for passersby to notice that they are false! Thankfully, this also happens to be ideal placement for true windows.
Depending on the style of your home, a different style garage door may be a good option. For instance, instead of the traditional roll up garage door, you might opt for carriage doors. These provide an immensely luxurious aesthetic, suitable for more traditional homes.
Conclusion
There are plenty of options when it comes to making over your garage doors. Once you have made the decision to spruce them up, take into consideration the aesthetic of your garage and the house itself, and then decide what kind of statement you would like to make. Between washing, refinishing or restructuring, you have a number of ways to turn your garage doors into statement pieces.
Andy Adams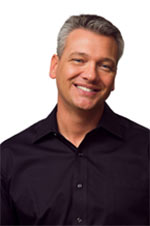 Andy is a DIY expert who loves to take on a new renovation project. He also loves cars and works for prestigegaragedoors.co. In his spare time, Andy enjoys surfing and looking for new renovation projects that he can sink his hammer into. He has a loving family and 2 dogs.