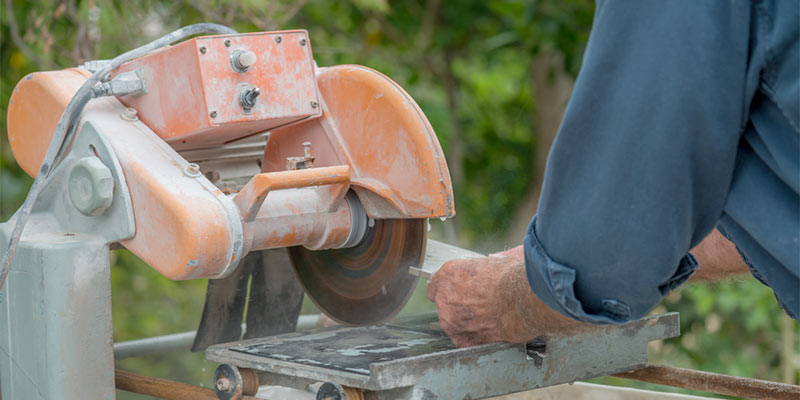 Are you in need of a good tile saw? If you are, you are in for a rough job of finding a good one. That's not because there aren't any out there, it's just that there are so many on the market that it's sometimes difficult to pick the one that is best for you. If that is the situation that you have found yourself in, you're in luck. This short treatise will show you how to buy the best tile saw for your use.
Tile saws are indispensable for those who are professionals as well as DIY enthusiasts. For ease of use, this short introduction has been divided into short sections that will help you find what you want to know easier.
Why a Tile Saw?
If you work in construction and spend any time at all woking with tile, chances are good that you could use a tile saw. Likewise, if you are a do-it-yourselfer who wants to get professional results for their efforts, a tile saw could spell the difference between what you want and second-rate results. Either way, you probably know that a tile saw can deliver clean, precisely cut tile every time. Obviously, there are a lot of ways of cutting tile, but none can deliver the results that a dedicated tile saw can.
The Advantages of Owning a Tile Saw
There are many advantages of owning a tile saw. These are just a few of them.
Versatility: Tile saws cut through materials like a breeze. A tile saw not only cuts your tile precisely, but your productivity will increase as well.
Lightweight: If you remember the tile saws of old, you probably remember them as being heavy and difficult to move around. Not anymore. Today's tile saws are lightweight and easy to move wherever you need them.
Variability: Do you have thin tiles as well as thick tiles to cut? Today's tile saws will do the job.
Safety: Today's tile saws are safer to use than ever before. Today's tile saws are built with protection from overheating, so you can work and keep on working.
Quality: Today's tile saws are made with quality uppermost. Not only that, but tile saw blades are made to last and are easy to replace when need be.
Types of Tile Saws
There are many different types of tile saws on the market today. They all boil down to two types, tabletop and handheld.
Handheld Tile Saws
Handheld table saws are not are powerful as tabletop models, but they do have several distinct advantages. These include their ability to handle special cuts, do touch-up jobs, as well as doing small jobs. They are also great at cutting both man-made and natural materials.
Tabletop Tile Saws
Tabletop tile saws are best for high precision work. They work with water to reduce debris and particles.
Tabletop saws are excellent for doing large jobs with equal precision. You can also use a tabletop tile saw with a miter attachment in order to achieve specialized cuts.
Things to Consider Before You Buy a Tile Saw
Blade Types: The type of blade that can be used with your tile saw is an important consideration when choosing a tile saw. Wet/dry blades are best for cutting dry. If you make only wet cuts, the best for you are diamond blades.
Water Source: If you plan on using water in your cutting, be sure to choose a saw that has a reliable water source. This keeps the blade from overheating.
Blade Capacity: Blade capacity refers to the number of tiles you can cut with your saw as well as the thickness of the tiles it can cut. Be sure you check on both before you buy a table saw.
Blade Adjustment: Your ability to adjust the blades on your tile saw is very important, especially if you plan to use a miter attachment or other accessories.
Power: The higher your saw can cut, the more it can do. This is especially important if you plan on cutting thicker tiles. If you plan on only cutting small tiles, something less powerful such as 0.5 horsepower should do the job.
There are a lot of things to consider when selecting a tile saw. Fortunately, by doing a little homework into what you need, and by taking time to find what you want, there's a lot on the market to meet your needs.