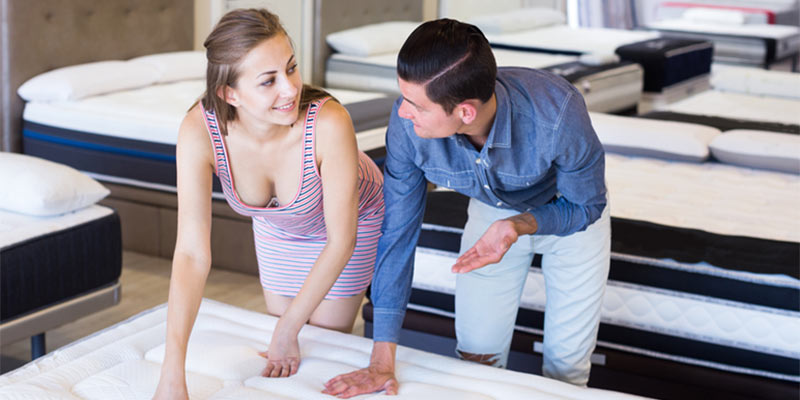 Thinking of buying a new mattress? Don't settle for less and let the wrong one compromise your sleep. While you can't really buy peace because it springs up from within, you can purchase a mattress that will lull you to a sound sleep. The way the mattress bounces to match the moves of your body and at the same time, the feeling of firmness it possesses to fully support your frame are enough to aid in your sleeping. Okay, before we start to doze off, let us share some tips on how to choose the perfect mattress for your home.
When choosing what to buy, there can be many factors to consider – your place, your budget, and the right type are among many others. Let's admit it: not all of us can buy a state-of-the-art mattress, but since we spend approximately one-third of the day sleeping or simply staying in bed, here are some helpful tips to guide you in selecting the perfect one.
Consider The Age Of Your Mattress
The first reason people decide to change their mattress is its age. The average span of a mattress is eight years; if yours is older, you should consider buying a replacement. However, this also depends on other factors. Your mattress may already be over ten years but still has the same quality. In this case, you can redirect your money to your home's other needs. At the same token, even if the pad is only four years old but gives you a restless time and you wake up often in pain, getting a new one is not a bad idea.
Determine Your Budget
How much money you're willing to spend for a mattress is a major consideration before heading out to a shop. Having a cap will help you stay focused on the amount that has been decided and avoid unnecessary extras that come with high prices. A budget, in essence, will keep you grounded.
When determining your budget, don't go for super-cheap options, but remember that a high price doesn't always mean quality either. It pays to do your research first before going to shop, and even better if you can do your research online checking the websites of the stores for their ongoing sales and keeping note of the prices of your chosen mattress brand and type. Store-hopping will only often leave you tired, while not being able to compare the prices of the mattresses you like. Additionally, mattress stores often make it difficult for shoppers to compare their prices with other stores.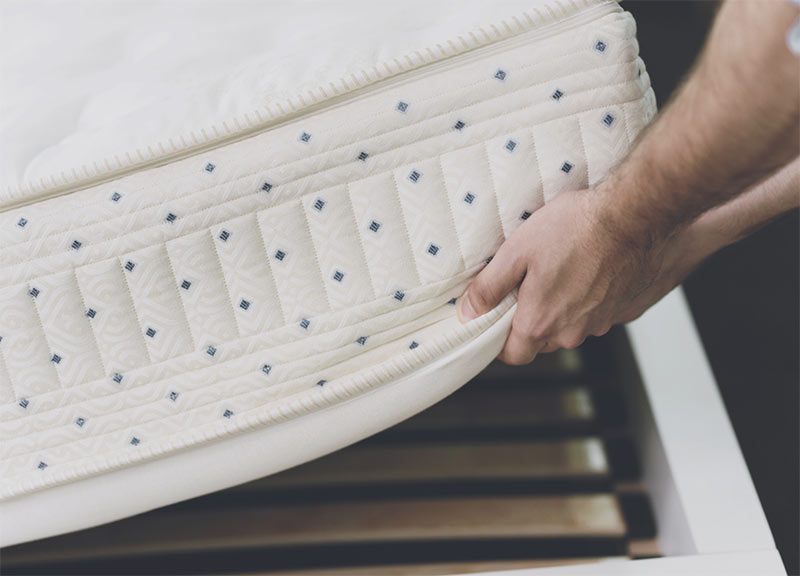 Understand The Mattress Type You Need
Before you even decide on buying the cheapest mattress type you can spot, remember that there can be many types of mattresses to suit a person's needs and personal preference. With a variety of mattress types available in the market, choosing the right type is often the hardest decision a shopper will make throughout the process. We've provided a guide to the different mattress types available to help you decide.
1. Memory foam
As the name implies, this type is made of memory foam. The advantages of memory foam include:
It provides great support.
It relieves pressure.
It is excellent for sleepers who want body contouring and shaping and marked hug.
Old memory foam mattresses are known for the term "sleeping hot," but due to advancement in design, memory foam mattresses nowadays have incorporated quality cooling properties that create a much cooler pad. You can also do something to reduce the heat the foam retains.
2. Latex
Latex mattresses are built from latex foam, which has types of cooling and comfort properties. The advantages of  latex mattresses include:
It has great responsiveness.
It provides superior comfort and bounce and has remarkable cooling properties.
It is best for sleepers who look for responsiveness, bounce, and coolness.
It is great for those who want foam, but don't want the hug associated with memory foam mattresses.
3. Coil
Also known as innerspring, coil-type mattresses are among the most widely used types of mattress. Innerspring mattresses have one or more layers of coils. Coil mattresses have evolved over the years; there are now a variety of sub-types depending on the number and layers of coils used. The advantages of coil mattresses include:
It provides excellent support and comfort.
It is excellent for sleepers who are looking for traditional spring, bounce, and superb edge support.
4. Hybrid
Made with a combination of different materials, including latex, memory foam, and coils, among others, hybrid mattresses are often the final choice for many sleepers. A hybrid mattress has the following advantages:
It is designed to maximize a certain material's benefits while keeping the cons to a minimum.
It is best for those who want to have a taste of everything good. It provides great support, bounce, and cooling.
5. Pillow-top
Pillow-top mattresses can fall into the categories mentioned above. They have added a layer of soft material on the cover and have the following benefits:
The layer adds extra cushion and comfort.
It is best for sleepers who like a more cushion-like mattress.
If you're unsure which brand to go for, read this excellent guide comparing Tuft and Needle vs Casper mattresses.
Establish The Firmness You Want
The firmness of your mattress can affect the quality of your sleep. The hardness or softness of the mattress you'll buy should depend on your height, weight, and sleeping position. A mattresses' firmness can be any of the following:
Soft – this is best for sleepers who sleep on their side and often change positions when sleeping. Soft mattresses follow the mold of the body, relieving pressure from body parts.
Medium soft – this is also great for those who often change positions when sleeping but still want to have a little more support.
Medium firm – best for individuals who sleep on their back, medium firm mattresses provide lower back support.
Firm – this mattress type is ideal for those who suffer from back pain and who prefer to sleep on their stomach.
Choosing the perfect mattress is more complicated than it sounds. It involves a lot of factors and entails a series of decision making. We can't blame anyone for taking this seriously since sleep is synonymous to rest, and what better way to gain quality sleep than having a comfortable mattress!